Jose Mourinho says Chelsea have a chance of pulling off a shock Champions League win this season - if they can get past Galatasaray.
Sky Bet
Loading Market ...
Mourinho has consistently played down his side's hopes of winning trophies this term, and as he faced the media in Istanbul on Tuesday, he pointed to "four or five" clubs better placed to triumph in Lisbon in May.
But twice in recent history, Mourinho has upset the odds to conquer Europe - first when his Porto team won in 2004, and again when Inter beat holders Barcelona on their way to the 2010 title.
And the Chelsea manager was not ruling out a repeat as he spoke to the media on the eve of his side's last-16 first-leg tie with the Turkish champions - and a reunion with Didier Drogba.
He said: "We are not favourites - that's obvious - but I think when a team reaches the quarter-final, anything is possible, so I think this round is very important for every team.
"The ones that reach the quarter-finals can start having a little feeling even if they're not a favourite: Chelsea won (in 2012) when not favourite, I won it twice when not a favourite, and I didn't win it when my team was one of the favourites to win it.
"This competition, because of the knockout format, has a little space for a surprise but it's clear there are at least three, maybe four or five teams that are by quality, experience and status obviously favourites."
Galatasaray may lack the Champions League pedigree of Barcelona, Real Madrid and Bayern Munich, but they beat Mourinho's Madrid in the home leg of last season's quarter-finals.
Roberto Mancini has since replaced Fatih Terim as boss, but the likes of Drogba, Wesley Sneijder and Felipe Melo remain at the heart of the team.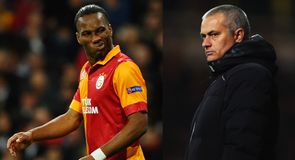 "They were a good team then and they are a good team now," Mourinho said. "If last season was very difficult for Real Madrid, this season for Chelsea is not going to be different."
Mourinho admitted it would be "a strange feeling" facing Drogba, the man whose final act of an eight-year Chelsea career was scoring the winning penalty in the 2012 final.
But he said: "We have to do our job and he has to do his job."
Watch Chelsea take on Galatasaray live on Sky Sports on Wednesday. Coverage begins on Sky Sports 1 at 7pm
What will be the outcome in the match Galatasaray vs Chelsea?