Blues four-warned
Gary Neville says Chelsea face the very real risk of missing out on the Premier League top four.
Last Updated: 10/04/12 11:53am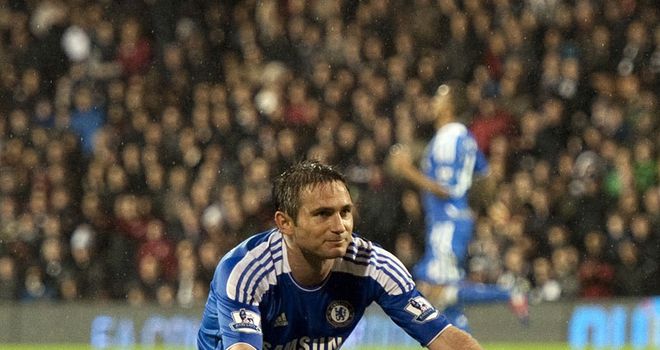 Gary Neville says Newcastle have a great chance of finishing in the top four of the Premier League following Chelsea's draw with Fulham.
The Magpies are now level on points with Tottenham in joint fourth after beating Bolton 2-0 to record their fifth straight league win, two points ahead of the Blues who could only draw away at Fulham.
Roberto Di Matteo's side may be in the FA Cup and Champions League semi-finals, but Sky Sports expert Neville says it'll be a bitter blow for Chelsea if they miss out on qualifying for Europe's top competition next season.
"The Champions League is the obsession, I think, of every club - particularly Roman Abramovich who is the owner," said Neville. "The FA Cup probably represents the best chance of success because obviously it is probably easier games; the Barcelona games are going to be tough.
"But the bread and butter, the nuts and bolts is the Premier League. They have to be in the Champions League next year.
"They are serial Champions League semi-finalists - they are brilliant in the Champions League, Chelsea, and have been for a number of years and they've shown again this year, even when they are not having the best league season, their experience in Europe against Napoli and Benfica - Valencia earlier in the season - and their quality.
"They've got two big games against Barcelona but they have to be back in the Champions League, and that is really the priority.
Reflecting on Newcastle's bid to finish in the top four, he added: "They have a real chance, Newcastle, because it has got to the point now where it is so late on in the season - there are only six games to go - that we can no longer turn around and say 'well, they'll fall away'.
"They are not falling away, they are still there in a great position. It [Tottenham's loss] was a real surprise - I never expected it because of the way they played against Chelsea and Swansea. It has happened, but I think they'll get a little bit of comfort from Chelsea's result."
Difficult
The challenges come thick and fast for Chelsea from Sunday when they take on Spurs in the FA Cup semi-final at Wembley, kicking off at 6pm, before they entertain favourites Barcelona at home in the first leg of the Champions League semi-finals.
The Blues then travel to Arsenal on April 21 before tackling Barca in the return leg three days later; after playing QPR in the Premier League on April 29, their next opponents are Newcastle on May 2, at Stamford Bridge.
It's a run-in that Neville feels will stretch the Chelsea squad to its limit.
"I think their own success is going to be their biggest problem in the next few weeks," he said. "They've played 12 games in 38 days - averaging a game every three days.
"They've now got a minimum of eight games [left this season] starting with Tottenham at Wembley, Barcelona, then Arsenal, then Barcelona. It really is such a difficult period - but that's what happens when you're successful.
"Anybody who plays at Wembley will recognise that it saps your legs like no other pitch: the occasion, the pitch is huge, the grass is always lush.
"Then to play Barcelona at home, then have to go to Arsenal away, and then go to Barcelona away - it's a real test and challenge for Di Matteo and those Chelsea plaeyrs because he's having to change six players every match just to keep it fresh.
"It's just such a huge test for a young manager at this level to cope with. He's doing really well at the moment but we saw against Fulham that his players were a little bit tired in certain areas and where it shows most is in your attacking play. They are going to have to put an immense effort in over these next few weeks.
"You would fancy Chelsea [to finish in the top four] if they had a clear run with no cup games because of their experience and their quality, but I would still have maybe even Newcastle and Tottenham ahead of Chelsea at this moment.
"I can't help thinking that that Wembley game and those two Barcelona games with the Arsenal game sandwiched in-between is going to be a huge, huge problem for their legs and their energy."