Crystal Palace co-chairman Steve Parish insists there is no ill-feeling towards Tony Pulis after he left his role as manager just before the season started.
Sky Bet
Loading Market ...
Palace's preparations for the new Premier League campaign are in disarray following the shock departure of Pulis, who ended his Selhurst Park reign on Thursday after talks with Parish.
The Welshman is believed to have grown disenchanted after overseeing a miraculous escape from relegation, with reports suggesting he was frustrated at the club's transfer activity during the summer.
Parish is saddened by Pulis' decision, but does not feel 'let down' by his sudden exit, just two days before Saturday's 2-1 defeat at Arsenal.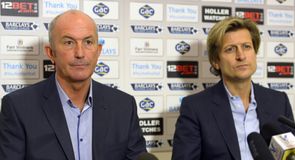 "I can't explain it, I'd love to be able to tell you everything that went wrong," he told Match of the Day.
"There was a good transfer budget agreed, there was a lack of targets that I think the manager felt was good enough in the window and it came to a point where he felt he didn't want to carry on.
"I can't have people at the football club who aren't 100 per cent committed to what we're trying to do, so reluctantly I agreed to let him out of his contract.
"I can't be let down for what he achieved for us. He doesn't owe us but we don't owe him. He did a fantastic job for us but we are what we are. I got this club from administration to where we are now by taking decisions to create a positive environment.
"If people don't feel they can work in that environment then it's fine for them to move on."
Caretaker boss Keith Millen hopes to be in contention for a permanent role, while Malky Mackay and Tim Sherwood have been linked with the job.
Parish has admitted that any replacement for Pulis must have top-flight experience and fully expects his old boss to find employment again in the near future.
"You'll have to ask him but I think he intends to work," added Parish. "You have to assume that if he doesn't want to be at this club there's one that can give him the things that he wants and can make him happy."