Reading manager Brian McDermott has promised more to come from his side after a slow start
Last Updated: September 26, 2012 7:11pm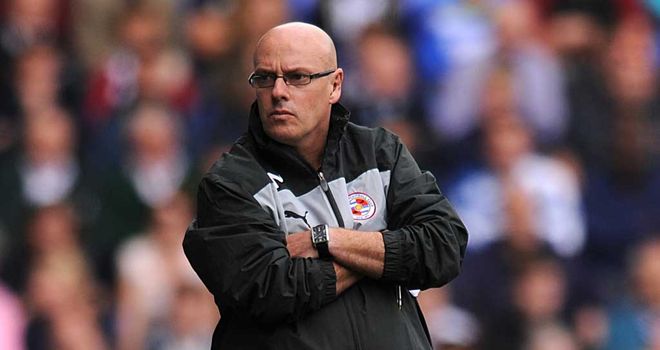 Brian McDermott: Believes his Reading players have more to offer
Football Betting

Football Betting

£10 Free Bet
Reading manager Brian McDermott says he is not concerned over his side's poor start to the Premier League campaign because he feels his players have more to offer.
The Royals, promoted to the top-flight at the end of last term, sit rock-bottom of the fledgling table having taken just one point from their opening four games.
Defeats by Chelsea, Tottenham and West Brom mean Reading's season is yet to ignite but McDermott is refusing to get downhearted over the slow start.
He told Sky Sports: "If after our last two games every single one of our players had played to the maximum level and we'd got beaten the way we got beaten, I'd be concerned.
"I can't honestly turn round and say to you that at Spurs too many played to the max level, and I can't against West Brom either.
"From the players' point of view they'll know there's so much more to come and I know there's so much more to come."
McDermott is reluctant to dwell on the opening four results and prefers instead to look at how he can prepare his side for their upcoming games, with a Capital One Cup trip to QPR next on the agenda on Wednesday night.
"You do what you have to do," he added. "You change things around.
"I had the self-same thing last season and the season before. You have to get the right formula, you've got to get the players to gel."
"From the playersu00bf point of view theyu00bfll know thereu00bfs so much more to come and I know thereu00bfs so much more to come."
Brian McDermott
He continued: "You have to do everything you can and just do the right things. If we keep doing what we think are the right things, the results will come.
"We can only manage what we've managed - those games have gone. I very much look at the moment that we're in and make sure we do the right thing and that starts tomorrow, that's all we can do."
Despite being yet to register a win with his side in the league this season, McDermott says he is enjoying the experience of top-flight football.
"I'm loving the challenge of the league. It's a fantastic league," he added.
"I'm enjoying every single moment. I'm not enjoying the results at the moment, but they'll change."