McGeady has Premier ambition
Spartak winger will stay in Moscow for remainder of contract
Last Updated: May 22, 2012 11:05pm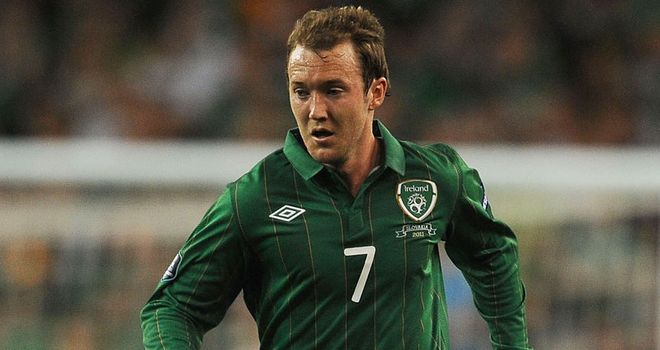 Aiden McGeady: Republic of Ireland winger intends to see out contract with Spartak Moscow
Football Betting

Football Betting

£10 Free Bet
Aiden McGeady insists he intends to see out his contract at Spartak Moscow but would welcome a move to the Premier League in the future.
The 26-year-old Republic of Ireland international joined up with his Euro 2012-bound team-mates on Sunday having been voted as one of the best 33 players in Russia following his second season at Spartak.
McGeady has two years of his existing contract remaining, and, while he admits he does not see himself staying beyond the confines of that deal, he is not agitating for a move.
Asked if he thought the chance to play in England would come his way one day, the Glasgow-born winger said: "I am not too sure.
Ambitions
"Eventually, if I stay at Spartak for the next two years and my contract runs out, I would think so, but I am not really thinking about that at the minute.
"I am not thinking about leaving or thinking about upping sticks and getting myself to England or wherever.
"I am quite happy where I am - that's all there is to it.
"I am obviously settled there. I had a few issues a couple of months back, but we had a great end to the season, so I am happy there just now.
"I have still got two years left on my contract. Of course, I still have ambitions to play in England or wherever. I wouldn't want to stay there past my contract."
Flattering
Speculation mounted over McGeady's future after a temporary loss of form earlier in the season which saw him briefly fall out of favour at Spartak.
Former Celtic boss Martin O'Neill, now at Sunderland, among others has been linked with a move for him, but the midfielder remains relaxed about the situation.
He said: "There's nothing really to deal with. It's just speculation, that's all. Until Spartak say to me I am up for sale and a team comes in and puts in a concrete bid for me, there's nothing really to think about.
"Of course, when you get linked with teams, it can be flattering and give you a little boost.
"Obviously, everyone gets excited whenever they see their name linked with some teams, but that's all it is, just speculation."