Kennedy back in Gers frame
Sale owner ready to bid to take over at Ibrox
Last Updated: April 19, 2012 7:00am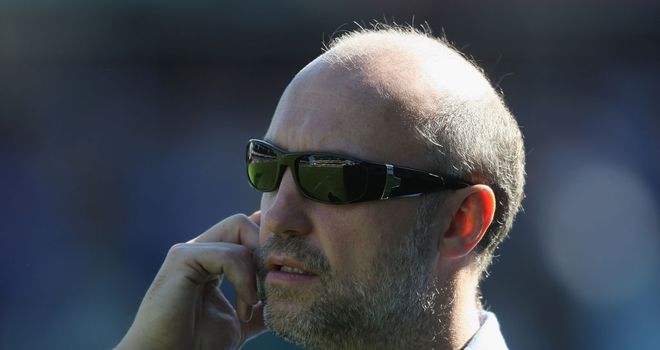 Brian Kennedy: Back in for Rangers
Football Betting

Football Betting

£10 Free Bet
Brian Kennedy is back in the race to take charge of Scottish giants Rangers, a source close to the club's administrators has confirmed.
The Sale Sharks owner saw a previous bid rejected last month for being too low.
He had hinted that he would return to the table if he felt the club's future was in jeopardy and he has now contacted administrators Duff and Phelps.
The source said: "Brian Kennedy has spoken to the administrators with a view to making a proposal. He is back in the frame."
American tycoon Bill Miller and Bill Ng, a Singaporean businessman, are rival bidders while former Rangers director Paul Murray's Blue Knights consortium, originally backed by Kennedy, have stepped aside to help facilitate what they hope will be a quick deal with any of the other bidders in order to save the club from liquidation.
However, despite "intensive discussions" taking place Wednesday and into the night, the takeover saga shows no signs of reaching a conclusion soon with Duff and Phelps frustrated in their attempts to get an unconditional bid on the table.
While it is not yet quite clear what Edinburgh-born Kennedy is offering, it is believed some of the conditions attached to bids from Miller and Ng cannot be fulfilled or guaranteed by the administrators who are continuing to work towards a resolution.
The apparent impasse is not good news for Rangers fans or manager Ally McCoist, who on Tuesday called for the administrators to name a preferred bidder as soon as possible after expressing concerns over the protracted nature of the bidding process.
The source said: "The administrators are acutely aware of the desire to get a deal done as soon as possible.
Conditions
"They want to accept unconditional offers but all bids have conditions and some of them can't be fulfilled by administrators."
It is believed one of those conditions involves Ticketus, the London-based investment firm whose money allowed Craig Whyte to buy the club from Sir David Murray last May.
Ticketus, who have rights to £27million of season tickets at Ibrox for the next three seasons, confirmed they are still speaking to the Blue Knights and Ng, but will leave it to the administrators to chose the preferred bidder.
A spokesman for Ticketus said: "Despite some reports we have been talking to Paul Murray by phone on and off since Monday, we are still talking about a possible joint bid.
"We are also still in discussion with the Singaporean bidders."
The Rangers Supporters Trust shared a statement they say is from Kennedy on their official Twitter and Facebook pages, where the Sale Sharks owner indicates he has "substantially" increased his offer to administrators.
The statement read: "I confirm that today I have improved my offer to the Administrators substantially, with the objective of accelerating the choice of preferred bidder, preventing the possibility of a newco acquisition, and flushing out pretenders constipating the process.
"I await a response from the Administrators. I will not rest until I have stretched every sinew to breaking point in safeguarding the future of this great club."