Augsburg midfielder Daniel Baier has signed a new contract which ties him to the club until the summer of 2014.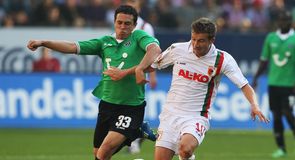 The 27-year-old's previous deal was set to expire at the end of the season and he is said to have been the subject of 'concrete enquiries' from other clubs.
But after lengthy negotiations, Augsburg, who sit just one point outside the Bundesliga relegation zone, have succeeded in convincing Baier to sign a new deal.
The club's general manager, Andreas Rettig, told their official website: "Even though it was very difficult to agree this, this new deal is the best solution for everyone involved.
"Daniel Baier had received many concrete enquiries and we are delighted to have signed new terms with him. Daniel has been key to our sporting success at Augsburg."