Hamburg striker Marcus Berg has been ruled out for two months after suffering a fractured collarbone.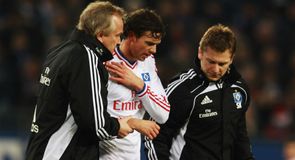 The Sweden international sustained the injury in his club's 1-1 draw at Augsburg on Saturday, which was the final weekend of fixtures before the Bundesliga's winter break.
Berg, who has been a bit-part player this season, has since been ruled out for eight weeks and the only positive for general manager Frank Arnesen is that the forward will not miss too many matches.
Arnesen told Sportinformationsdienst: "Marcus Berg is injured. He will be out. This is a real pity and I feel very sorry for him.
"Hopefully he is to be back soon. Fortunately we are about to have the winter break, though he will miss not so many matches now."