Ryan Bennett and Matthew Briggs have withdrawn from the England Under 21 squad for their European Championship qualifying double-header with Iceland and Belgium.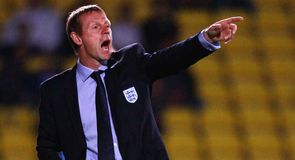 Defender Bennett, who made his debut in October's 2-1 win over Norway, has returned to Peterborough after reporting for international duty with an injury.
Fulham full-back Matthew Briggs was due to meet up with Stuart Pearce's squad on Tuesday, but has also suffered an injury and will remain with his club.
Meanwhile, Liverpool's John Flanagan and Everton's Ross Barkley have left the U21s in order to cover two injuries in the U19s for Thursday's game against Denmark.
Flanagan and Barkley will therefore miss Thursday's U21s Group 8 qualifier at the Weston Homes Community Stadium, but will re-join Pearce's squad for Monday's match in Belgium.