Napoli right-back Christian Maggio has declared that he hopes to remain at the club for many more seasons.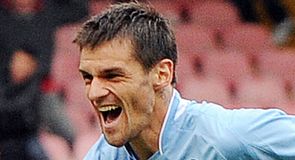 The versatile 29-year-old helped Napoli finish third in Serie A last term and is now looking forward to the start of the new campaign later in August.
There has been talk of Maggio signing a new deal and he maintains that he is fully committed.
"I want to stay at Napoli for many years," he told Mediaset Premium. "The contract renewal? I'm quiet and at this moment I am focused on the new season.
"In the pre-season camp we are working well, this will be a very intense year.
"Our goal is to repeat the excellent performance of last year, and we will do everything to improve. "