An alleged non-payment of a £2million transfer-fee instalment has seen West Ham request the Italian Football Federation to suspend Alessandro Diamanti's registration with Brescia.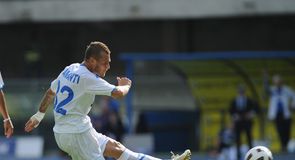 The striker left Upton Park after just one year, hitting eight goals in 30 matches, to join the then Serie A side in August 2010.
But the latest instalment of the £2m transfer fee has not been paid, according to the Hammers, and the Championship club have called on football's governing bodies to intervene.
A statement from West Ham read: "Due to the failure of Brescia to pay the latest instalment fee, West Ham have asked the FIGC (Italian Football Federation) to suspend the player's registration and requested that the national association and Fifa impose sporting sanctions until the matter is resolved."
He has since scored six goals in 31 appearances for Brescia and earned his first Italy cap.