The Mexican Football Federation has revealed that five players in the Concacaf Gold Cup squad have failed drugs tests.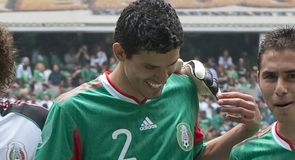 Decio de Maria, general secretary of the Mexican FA (Femexfut), said the quintet had tested positive for the banned substance clenbuterol.
De Maria named the players as goalkeeper Guillermo Ochoa, defenders Francisco Rodriguez and Edgar Duenas and midfielders Antonio Naelson 'Sinha' and Christian Bermudez.
Ochoa and PSV Eindhoven defender Rodriguez both featured in Mexico's opening Gold Cup game, a 5-0 thrashing of El Salvador.
News of the failed tests has surfaced just hours ahead of their second group game against Cuba at the Bank of America Stadium in North Carolina.
The five players have now been suspended but any further sanctions they face still has to be determined by Femexfut.
Investigation
"Last night we received the anti-doping analysis of 14 players of the 'Tri' (national team) that were done on May 21 and five players showed positive," De Maria told a news conference.
"The substance for which they were positive is Clenbuterol. The players will be withdrawn from (coach) Jose Manuel de la Torre's team."
De Maria said Femexfut had informed Fifa and the Gold Cup organisers to open an investigation.
"The cause is believed to be because of (eating) beef or chicken between May 17 and 20 so an investigation will be made with the food suppliers. For the time being we don't see any negligence by anyone, not even theirs," De Maria added.
"We know there is a health alert throughout the country because of food contaminated with clenbuterol and that will be taken into account for the investigation."