Everton manager David Moyes was full of praise for defender Phil Jagielka following their defeat to Manchester United.
Sky Bet
Loading Market ...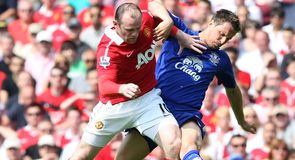 The Toffees contained the Red Devils for much of the Old Trafford clash on Saturday prior to Javier Hernandez's late winner.
United play the game at an electric pace and Moyes was thrilled with how Jagielka coped with the home side's passing play.
Very good
"You saw again that Jagielka is a very good defender," said Moyes. "He has great recovery.
"He is athletic and at grounds like Old Trafford, where Manchester United are quick to make through passes, he is able to cope with it.
"He is in the top three or four centre-halves in England - and England have some good centre-halves."