Fiorentina defender Juan Manuel Vargas has declared that he intends to honour his contract with the club.
Sky Bet
Loading Market ...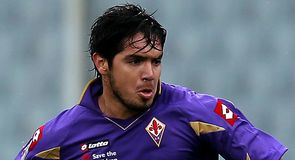 The Peru international has produced a series of impressive performances in Serie A to reportedly attract the interest of several major European clubs.
AC Milan and Barcelona are among those to have been linked with the 27-year-old, but he is not paying much attention to the transfer talk.
Vargas has a deal with Fiorentina until 2013 and has no intention of going anywhere for at least another two years.
"The rumours do not interest me," Vargas told Tuttomercatoweb. "I am under contract with the Viola and I intend to respect it.
"All I am thinking about is finishing off the season well, which has been conditioned by injuries."