Quotes of the week
Who's been saying what in a sporting week of verbal sparring?
Last Updated: July 19, 2012 12:33pm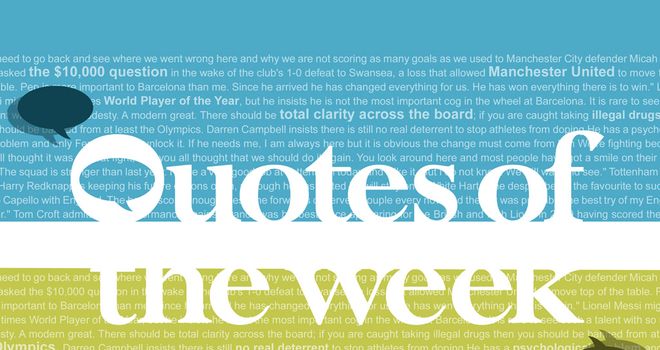 Zlatan, Wiggins, Haye and Khan all star in this week's edition
"Now I think the people in Paris will have something else to see besides the Mona Lisa." Super-agent Mino Raiola gifts his client Zlatan Ibrahimovic to the people of Paris.
"I'll have to learn about them but, for sure, they know who I am." You can always count on Zlatan for a quote.
"Between you and me I think a lot of people are shocked by the income the player you are talking about will make." French government spokeswoman Najat Vallaud-Belkacem is less enthused about the purported £220,000-a-week Ibrahimovic will earn - after tax! Let's just hope Mino has warned his pal about the 75 per cent Super Tax set to be imposed on people who earn more than a million.
"If the lad had any brains he'd stay under Roberto for another year or so." Dave Whelan's pillow talk to Victor Moses.
"The sponsorship had become embarrassing." Coca-Cola marketing guru Marcelo Pontes pulls the plug on his brand's association with Ronaldinho.
"People at the club are sure that it was a way that Manchester United used to put me out of the team and stop Liverpool ... I had no problems with Evra. It was only a handshake and I was OK with that. The media in England showed the moment when I passed in front of him but they didn't see that he had his hand low before. Only the media in Uruguay and Spain showed that I wanted to shake his hand. But in England Man United has this political power and you have to respect that and shut your mouth ... I don't show my emotions on the field but outside I do - and I cried a lot with all the Evra stuff. The trial week was so complicated for me. My wife and I cried a lot during that week." The walking and talking PR disaster that is Luis Suarez.
"He could sell sand on the beach." Danny Cipriani on the part chief executive Steve Diamond played in convincing him to join Sale Sharks.
"My goal celebration is a knife between the teeth. In Italy it means a warrior." Fabio Borini warns the Anfield faithful what to expect...hopefully.
"There are hopefully enough police on this race to find them and send them to a football match or something." Leader Bradley Wiggins suggests an alternative sport for those spectators who reportedly threw tacks on a road Tour de France riders have to negotiate.
"If I felt I had to take drugs, I would rather stop tomorrow and work in Tesco stacking shelves." Team Sky's Wiggins stifles a yawn as the topic of doping rears its head again.
"I felt a few years ago I was failing as an athlete. I never really fulfilled my potential and I think the last few years, with the right people around me (at Team Sky), I've started to realise my potential. This is a star team. We've got the world champion and each rider in their own right is capable of something in the Tour de France." An ever quotable Wiggins pays tribute to his Team Sky team-mates.
"He's a little bit like a Flat equivalent of AP (McCoy) in that I expect he makes an incredibly boring husband as he comes home and pours over video after video." Racing manager David Redvers bigs up his jockey Craig Williams.
"I do know a little bit about this because I'm a qualified football referee. I've been at the receiving end of it and I do think that it (abuse & swearing) has gone too far." Culture, Media and Sport Secretary Jeremy Hunt always wondered why players referred to him as 'a Hunt'.
"Golfer by day, movie star by night. This is how we roll." Justin Rose prepares for the Open with the red carpet treatment at a film premier.
"I've just packed my wellies, flippers & snorkel." Ian Poulter isn't expecting a tan from Lytham & St Annes.
"I see they say £10m is my price, (so) I go and talk with Sir Alex, and he says to me £5m. So who is telling the truth, what do you think? And the truth is I love this club, but I am not going to be useful to anyone if I am not playing. I want to help. But for unknown reasons it's not going to happen, or my chances will be limited, so it's better for everyone if we say goodbye." Dimitar Berbatov eyes the Old Trafford exit.
"Freddie's a great trainer. I'm taking the whole blame, it was my fault. There are a few things we shouldn't have done in training camp and could have done differently, but me and Freddie will sit down and talk through it. But I was the one in the ring, I'm the one making the mistakes and I'm not blaming anyone." Amir Khan blames no-one but himself for defeat to Danny Garcia...although he may replace trainer Freddy Roach for his next fight.
"I did an interview on Radio Five and my quote was taken out of context on the BBC website on their news pages. I didn't say 'If I was Amir I'd retire,' I said, 'If it was me, I'd retire.' I'm 35 years old, I'm three times world champion, if I'd have lost like that, I would have retired. I don't think Amir Khan should retire! That's ludicrous. Why would I tell a 25-year-old to retire?" Carl Froch has Khan smarting after having his quotes taken out of context.
"Carl's always got his little things to say, I think I'll leave it at that really. I'm a young fighter, I'm 25, I'm not talking about retiring, I'm still young and I've got a lot in me. If he wants to retire, he can retire, he's talking about retiring. I'm in a tougher division. I'm fighting better opposition and I'm a bigger name than him, and I think that's what burns him really." Khan's response. Meow.
In the words of Harry Hill there's only one to settle this...FIGHT!!
"It is more difficult to win the title when you are defending champions. We start again as if from nothing, we must forget that we won the title. Every team will want to beat us and we must work harder than ever." Roberto Mancini warns his Manchester City players that defending a title is tougher than winning one.
"We had a driver that missed a turning. Well, out of 100 coach journeys that is likely to happen." Lord Coe refutes reports that athletes endured travel problems en route to the Olympic village.
"I hope it is not a one off, based on what I have experienced and how much I have enjoyed it this week. The different FAs may have opposed it, but people who I have met face to face have been nothing but positive. I am not a politician, but from what I have experienced, I just hope fellow British footballers can experience what I have." Ryan Giggs revels in his role as Team GB captain.
"It has been immense. The week away could not have gone any better, all the boys have really got on. I just want to embrace this and enjoy every moment. This is something I am going to cherish for the rest of my life." Craig Bellamy has been equally gushing about the London 2012 experience.
"People said that was a black eye for boxing, well the bags have gone from boxing's eyes now. The crowd have gone home happy with a smile on their face. That's the bottom line. Whatever beef I had with Dereck before the fight is over now from my side and I hope it's vice versa." David Haye puts to bed his feud with Dereck Chisora after their well-received Upton Park ruck.
"The beef is over for me as well....now we can eat in the same restaurants and go in the same clubs. After the fight we made up." Chisora joined in with the goodwill post-fight.