Rep of Ireland v Cyprus preview
Reid doubtful for Cyprus clash
By Stephen Bramley. Last Updated: 17/10/07 3:28pm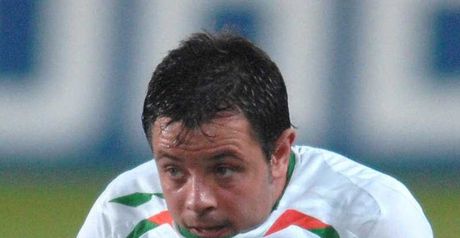 Reid: Major doubt
Andy Reid is a major concern for Republic of Ireland ahead of their Euro 2008 qualifier against Cyprus at Croke Park on Wednesday.
The Charlton midfielder produced a man-of-the-match performance in the creditable goalless draw against Germany on Saturday night, but twisted an ankle in the process and is now rated a major doubt.
Reid played no part in Tuesday's training session and faces a late fitness test ahead of the Group D clash.
His loss would be a major blow for boss Steve Staunton who is already without Richard Dunne and Lee Carsley, who are both ruled out through suspension.
Standby
Wolves' Darren Potter, who has been troubled by a hamstring injury, is on standby if Reid misses out.
However, Staunton is able to call upon Paul McShane, who has completed his suspension and is likely to replace Dunne, while Stephen Hunt could slot in for Carsley.
Manchester United's John O'Shea is also expected to return after his ankle injury but Shane Long is out after picking up a groin strain against Germany.
With qualification now a distant dream, Staunton will be hoping his side can finish in third spot behind Germany and Czech Republic.
He will also be keen to exact revenge on Cyprus, who hammered Ireland 5-2 in Nicosia a year ago.
European Championship Qualifying

Wed 17th Oct - Group A

Kazakhstan

1 - 2

Portugal

Azerbaijan

1 - 6

Serbia

Belgium

3 - 0

Armenia

Wed 17th Oct - Group E

Russia

2 - 1

England

Macedonia

3 - 0

Andorra

Wed 17th Oct - Group B

Ukraine

5 - 0

Faroe Isl

Georgia

2 - 0

Scotland

France

2 - 0

Lithuania

Wed 17th Oct - Group C

Turkey

0 - 1

Greece

Malta

2 - 3

Moldova

Bos&Herz

0 - 2

Norway

Wed 17th Oct - Group F

Denmark

3 - 1

Latvia

Liechtenstein

3 - 0

Iceland

Sweden

1 - 1

N Ireland

Wed 17th Oct - Group G

Luxembourg

0 - 2

Romania

Holland

2 - 0

Slovenia

Albania

1 - 1

Bulgaria

Wed 17th Oct - Group D

S Marino

1 - 2

Wales

Rep Ire

1 - 1

Cyprus

Germany

0 - 3

Czech Rep
Tables
European Championship Qualifying Group A
European Championship Qualifying

| Pos | Team | P | Pts |
| --- | --- | --- | --- |
| 1 | Czech Republic | 5 | 13 |
| 2 | Iceland | 5 | 12 |
| 3 | Netherlands | 5 | 7 |
| 4 | Turkey | 5 | 5 |
| 5 | Latvia | 5 | 3 |
| 6 | Kazakhstan | 5 | 1 |
European Championship Qualifying Group B
European Championship Qualifying Group C
European Championship Qualifying

| Pos | Team | P | Pts |
| --- | --- | --- | --- |
| 1 | Slovakia | 5 | 15 |
| 2 | Spain | 5 | 12 |
| 3 | Ukraine | 5 | 9 |
| 4 | Belarus | 5 | 4 |
| 5 | Macedonia | 5 | 3 |
| 6 | Luxembourg | 5 | 1 |
European Championship Qualifying Group D
European Championship Qualifying Group E
European Championship Qualifying Group F
European Championship Qualifying

| Pos | Team | P | Pts |
| --- | --- | --- | --- |
| 1 | Romania | 5 | 13 |
| 2 | Northern Ireland | 5 | 12 |
| 3 | Hungary | 5 | 8 |
| 4 | Finland | 5 | 4 |
| 5 | Faroe Islands | 5 | 3 |
| 6 | Greece | 5 | 2 |
European Championship Qualifying Group G
European Championship Qualifying

| Pos | Team | P | Pts |
| --- | --- | --- | --- |
| 1 | Austria | 5 | 13 |
| 2 | Sweden | 5 | 9 |
| 3 | Russia | 5 | 8 |
| 4 | Montenegro | 5 | 5 |
| 5 | Liechtenstein | 5 | 4 |
| 6 | Moldova | 5 | 1 |
European Championship Qualifying Group H
European Championship Qualifying

| Pos | Team | P | Pts |
| --- | --- | --- | --- |
| 1 | Croatia | 5 | 13 |
| 2 | Italy | 5 | 11 |
| 3 | Norway | 5 | 9 |
| 4 | Bulgaria | 5 | 5 |
| 5 | Azerbaijan | 5 | 3 |
| 6 | Malta | 5 | 1 |
European Championship Qualifying Group I
European Championship Qualifying

| Pos | Team | P | Pts |
| --- | --- | --- | --- |
| 1 | Portugal | 4 | 9 |
| 2 | Denmark | 4 | 7 |
| 3 | Albania | 4 | 7 |
| 4 | Serbia | 4 | 1 |
| 5 | Armenia | 4 | 1 |
Related
Related Profiles