Group 4 round-up
Pasanen and Lampi score own goal to help Hiddink's men
Last Updated: 15/10/08 6:57pm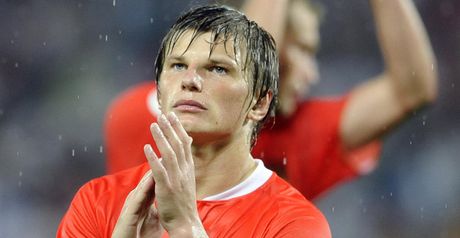 Arshavin: Netted a late third
Russia moved into second place in World Cup 2010 qualifying Group 4 with a comfortable 3-0 victory over Finland.
A first half Petri Pasanen own goal opened the scoring before Veli Lampi also netted at the wrong end after the interval and Andrei Arshavin extended the advantage in the dying minutes at Luzhniki stadium.
Russia entered the game eager for the three points after narrowly losing out to Germany at the weekend, while Finland defeated Azerbaijan in their last outing.
But Russia were forced to wait until midway through the first half to take the lead when Werder Bremen defender Pasanen committed his faux pas on 22 minutes.
Lampi followed Pasanen's lead and added a second own goal to double Russia's advantage with 25 minutes remaining.
Star player Arshavin then made sure of the points with a third goal with two minutes left on the clock.
The victory allows Guus Hiddink's side to leapfrog Wales behind Germany in the battle to reach South Africa in two years' time.
FIFA World Cup European Qualifying

Wed 15th Oct - Group D

Russia

3 - 0

Finland

Germany

1 - 0

Wales

Wed 15th Oct - Group C

Czech Rep

1 - 0

Slovenia

Slovakia

2 - 1

Poland

N Ireland

4 - 0

S Marino

Wed 15th Oct - Group B

Latvia

1 - 1

Israel

Luxembourg

0 - 0

Moldova

Greece

1 - 2

Switzerlnd

Wed 15th Oct - Group G

Lithuania

1 - 0

Faroe Isl

Austria

1 - 3

Serbia

Wed 15th Oct - Group H

Georgia

0 - 0

Bulgaria

Rep Ire

1 - 0

Cyprus

Italy

2 - 1

Montenegro

Wed 15th Oct - Group I

Norway

0 - 1

Holland

Iceland

1 - 0

Macedonia

Wed 15th Oct - Group A

Malta

0 - 1

Hungary

Portugal

0 - 0

Albania

Wed 15th Oct - Group F

Croatia

4 - 0

Andorra

Belarus

1 - 3

England

Wed 15th Oct - Group E

Bos&Herz

4 - 1

Armenia

Estonia

0 - 0

Turkey

Belgium

1 - 2

Spain
Tables
FIFA World Cup European Qualifying Group A
FIFA World Cup European Qualifying Group B
FIFA World Cup European Qualifying

| Pos | Team | P | Pts |
| --- | --- | --- | --- |
| 1 | Italy | 10 | 22 |
| 2 | Denmark | 10 | 16 |
| 3 | Czech Republic | 10 | 15 |
| 4 | Bulgaria | 10 | 13 |
| 5 | Armenia | 10 | 13 |
| 6 | Malta | 10 | 3 |
FIFA World Cup European Qualifying Group C
FIFA World Cup European Qualifying

| Pos | Team | P | Pts |
| --- | --- | --- | --- |
| 1 | Germany | 10 | 28 |
| 2 | Sweden | 10 | 20 |
| 3 | Austria | 10 | 17 |
| 4 | Republic of Ireland | 10 | 14 |
| 5 | Kazakhstan | 10 | 5 |
| 6 | Faroe Islands | 10 | 1 |
FIFA World Cup European Qualifying Group D
FIFA World Cup European Qualifying Group E
FIFA World Cup European Qualifying

| Pos | Team | P | Pts |
| --- | --- | --- | --- |
| 1 | Switzerland | 10 | 24 |
| 2 | Iceland | 10 | 17 |
| 3 | Slovenia | 10 | 15 |
| 4 | Norway | 10 | 12 |
| 5 | Albania | 10 | 11 |
| 6 | Cyprus | 10 | 5 |
FIFA World Cup European Qualifying Group F
FIFA World Cup European Qualifying

| Pos | Team | P | Pts |
| --- | --- | --- | --- |
| 1 | Russia | 10 | 22 |
| 2 | Portugal | 10 | 21 |
| 3 | Israel | 10 | 14 |
| 4 | Azerbaijan | 10 | 9 |
| 5 | Northern Ireland | 10 | 7 |
| 6 | Luxembourg | 10 | 6 |
FIFA World Cup European Qualifying Group G
FIFA World Cup European Qualifying Group H
FIFA World Cup European Qualifying Group I
FIFA World Cup European Qualifying

| Pos | Team | P | Pts |
| --- | --- | --- | --- |
| 1 | Spain | 8 | 20 |
| 2 | France | 8 | 17 |
| 3 | Finland | 8 | 9 |
| 4 | Georgia | 8 | 5 |
| 5 | Belarus | 8 | 4 |
Related