De Rossi at the double
Italians make it two wins out of two
Last Updated: 10/09/08 10:10pm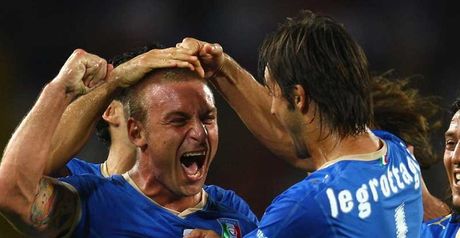 De Rossi: Match-winner
Daniele De Rossi struck twice to give World Cup holders Italy a 2-0 win over Georgia in their Group Seven qualifier.
The Roma midfielder netted a goal in each half to make it two wins out of two for Marcelo Lippi's men.
De Rossi broke the deadlock on 17 minutes with a superb striker from 30 yards out past Georgia keeper George Loria.
De Rossi won the match for the reigning World Cup holders with a thunder bolt from 30 yards in the first half and then he latched onto a clever pass from substitute Alessandro Del Piero a minute from time to secure the three points.
Georgia wasted a great chance to draw level on 26 minutes when Leven Mchedlidze missed a gilt-edged opportunity.
Italy made the game safe in the final minute when substitute Alessandro Del Piero set up De Rossi to score from close-range.
FIFA World Cup European Qualifying

Wed 10th Sep - Group D

Russia

2 - 1

Wales

Azerbaijan

0 - 0

Liechtenstein

Finland

3 - 3

Germany

Wed 10th Sep - Group F

Kazakhstan

1 - 3

Ukraine

Andorra

1 - 3

Belarus

Croatia

1 - 4

England

Wed 10th Sep - Group G

Faroe Isl

0 - 1

Romania

Lithuania

2 - 0

Austria

France

2 - 1

Serbia

Wed 10th Sep - Group H

Montenegro

0 - 0

Rep Ire

Italy

2 - 0

Georgia

Wed 10th Sep - Group B

Moldova

1 - 2

Israel

Latvia

0 - 2

Greece

Switzerlnd

1 - 2

Luxembourg

Wed 10th Sep - Group E

Turkey

1 - 1

Belgium

Bos&Herz

7 - 0

Estonia

Spain

4 - 0

Armenia

Wed 10th Sep - Group A

Sweden

2 - 1

Hungary

Albania

3 - 0

Malta

Portugal

2 - 3

Denmark

Wed 10th Sep - Group I

Iceland

1 - 2

Scotland

Macedonia

1 - 2

Holland

Wed 10th Sep - Group C

S Marino

0 - 2

Poland

Slovenia

2 - 1

Slovakia

N Ireland

0 - 0

Czech Rep
Tables
FIFA World Cup European Qualifying Group A
FIFA World Cup European Qualifying Group B
FIFA World Cup European Qualifying

| Pos | Team | P | Pts |
| --- | --- | --- | --- |
| 1 | Italy | 10 | 22 |
| 2 | Denmark | 10 | 16 |
| 3 | Czech Republic | 10 | 15 |
| 4 | Bulgaria | 10 | 13 |
| 5 | Armenia | 10 | 13 |
| 6 | Malta | 10 | 3 |
FIFA World Cup European Qualifying Group C
FIFA World Cup European Qualifying

| Pos | Team | P | Pts |
| --- | --- | --- | --- |
| 1 | Germany | 10 | 28 |
| 2 | Sweden | 10 | 20 |
| 3 | Austria | 10 | 17 |
| 4 | Republic of Ireland | 10 | 14 |
| 5 | Kazakhstan | 10 | 5 |
| 6 | Faroe Islands | 10 | 1 |
FIFA World Cup European Qualifying Group D
FIFA World Cup European Qualifying Group E
FIFA World Cup European Qualifying

| Pos | Team | P | Pts |
| --- | --- | --- | --- |
| 1 | Switzerland | 10 | 24 |
| 2 | Iceland | 10 | 17 |
| 3 | Slovenia | 10 | 15 |
| 4 | Norway | 10 | 12 |
| 5 | Albania | 10 | 11 |
| 6 | Cyprus | 10 | 5 |
FIFA World Cup European Qualifying Group F
FIFA World Cup European Qualifying

| Pos | Team | P | Pts |
| --- | --- | --- | --- |
| 1 | Russia | 10 | 22 |
| 2 | Portugal | 10 | 21 |
| 3 | Israel | 10 | 14 |
| 4 | Azerbaijan | 10 | 9 |
| 5 | Northern Ireland | 10 | 7 |
| 6 | Luxembourg | 10 | 6 |
FIFA World Cup European Qualifying Group G
FIFA World Cup European Qualifying Group H
FIFA World Cup European Qualifying Group I
FIFA World Cup European Qualifying

| Pos | Team | P | Pts |
| --- | --- | --- | --- |
| 1 | Spain | 8 | 20 |
| 2 | France | 8 | 17 |
| 3 | Finland | 8 | 9 |
| 4 | Georgia | 8 | 5 |
| 5 | Belarus | 8 | 4 |
Related