Manchester United 1 Swansea City 2: Louis van Gaal will now know size of task at Old Trafford
It turns out that you cannot win football matches just by looking all steely and declaring that you will. Signings could come soon
By Matt Stanger - Follow me on Twitter @MatthewStanger. Last Updated: 17/08/14 12:04pm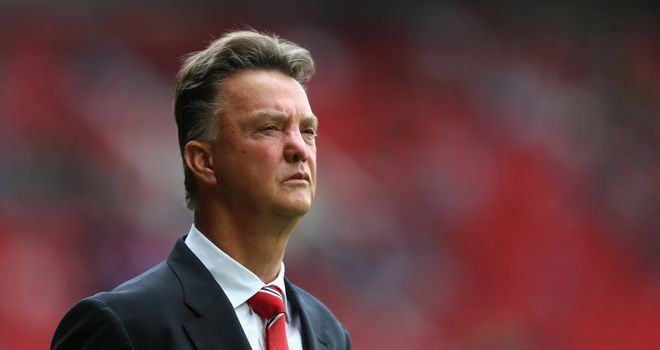 "Do what we have agreed. And then we will win." This was Louis van Gaal's final pact with his players before kick-off in his first competitive match as Manchester United manager.
"We have built up a lot of confidence and then it shall be smashed down because of this result"
Louis van Gaal
A prophetic statement to herald a new era with a new system and renewed sense of belief. But 90 minutes later it was clear that Van Gaal's force of personality alone cannot stop the rot at Old Trafford. As United stumbled through a performance to rival any of last year's frustrations, even the man who boasted the Midas touch at the World Cup was powerless to find a solution.
It was United's first home defeat on the opening day since 1972, the sort of record that David Moyes used to break with unerring frequency during his brief reign. Van Gaal's arrival was supposed to draw a line in the history books; no more statistical water torture and being bullied by the underdogs, United would now return to setting records for the right reasons.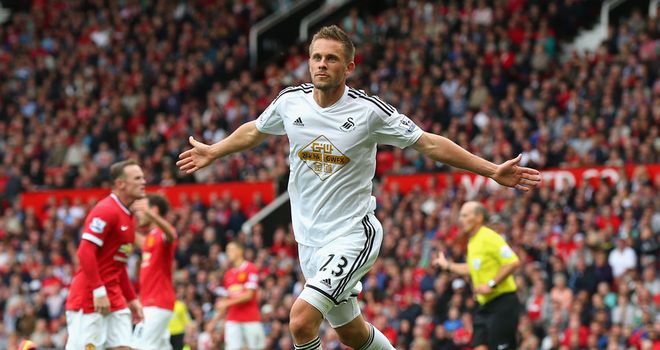 Gylfi Sigurdsson celebrates scoring Swansea City's winning goal to make it 2-1 at Old Trafford
Instead, Van Gaal's brave new world came crashing down around him as Swansea City battled to their first ever league win at Old Trafford. The manager's 3-5-2 formation lasted for all of 45 minutes before he was forced to adapt his decimated first XI and, while his substitutions were a key feature of the Netherlands' success in Brazil, here they failed to inject life into a dour display. United's defeat was characterised by an absence of invention in attack and vulnerability on the counter, a combination always destined to cause problems.
Premier League round-up
Spurs snatch a dramatic win after a controversial clash with West Ham while resilient Leicester open with a point.Read our Premier League round-up.
"Of course it's very disappointing, for the players, the fans, for me, for my staff," said Van Gaal in his post-match press conference. "When you have preparation time and you win everything and then the first match you lose, it cannot be worse. We have built up a lot of confidence and then it shall be smashed down because of this result."
The biggest disappointment for the manager was that the players failed to adhere to their pre-match agreement. Juan Mata, operating in his favoured central role, was hugely ineffective, while Javier Hernandez, starting on the opening day for the first time, was hauled off at the interval for Nani. Although Ander Herrera showed flashes of the skill and competitive nature that persuaded United to invest around £26million in his signature, his debut was cut short by Marouane Fellaini's introduction before Swansea scored their second.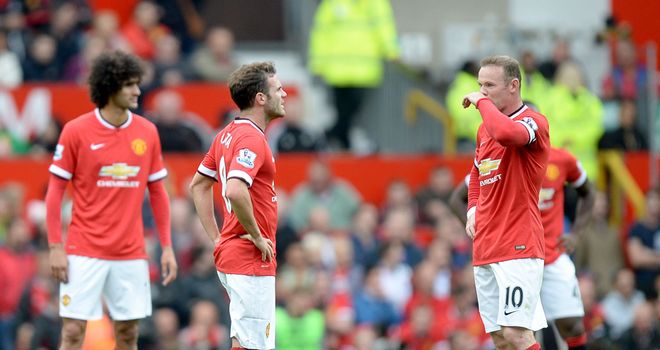 Juan Mata was ineffective as Manchester United fell to a shock defeat
It was not the stuttering start Van Gaal or the supporters expected, and yet no one was left surprised by the underlying truth the result revealed. United need new players, and fast, regardless of the wealth of talent missing on Saturday. Van Gaal's shopping list was the main point of discussion after the game, but the manager straight-batted concerns about his squad by answering that he had already highlighted the areas which need strengthening. "I know in what positions we need better players," he said. "We have to wait and see."
Patience is not normally a virtue for which football fans are famed, but if there is any consolation to United's following after this defeat, it is that Van Gaal will now truly understand the size of the task he is facing. "Because of our wins in the United States and our win against Valencia, the expectations are so high, and that I have seen in the first half - a lot of players were very nervous and making the wrong choices," he continued. "(But) that's Manchester United, you have to cope with that pressure."
It is now up to the manager to find players who can bear the responsibility. It is almost two months since United last made a signing while four members of the first-team squad have departed. With only two weeks of the transfer window remaining, time is running out to find the right additions.
"Do I look nervous?" Van Gaal asked journalists on Friday before his first taste of the Premier League. No one would dare say it, but had the same question been proffered at 3pm on Saturday, the answer would have been yes.
Table
Barclays Premier League
Related
Man Utd v Swansea

Louis van Gaal says Manchester United's 2-1 defeat against Swansea is very disappointing, especially after such success in pre-season, but insists it is only one game of many.

Garry Monk is adamant that Swansea City can play better despite shocking Manchester United 2-1 at Old Trafford.

Louis van Gaal felt Manchester United did not play as a team in the 2-1 defeat by Swansea City.