Leicester 2 Everton 2: Ross Barkley's injury not a catastrophe for Roberto Martinez's men
Steven Naismith and other options provide reasons for some optimism
By Peter Fraser - Follow on Twitter @PeteFraser_. Last Updated: 16/08/14 7:23pm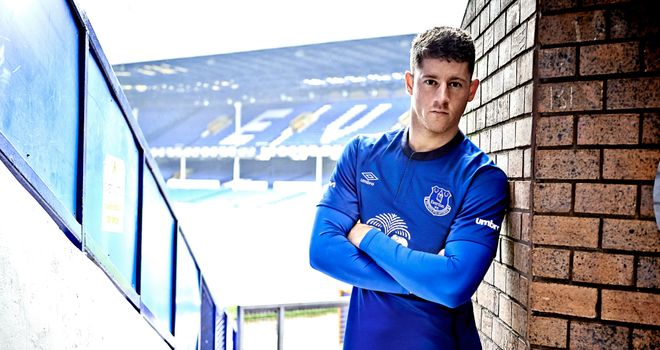 Ross Barkley would not have been the only player in Roy Hodgson's mind when he made the King Power Stadium his destination of choice for the opening afternoon of the 2014/15 Premier League season but the Everton midfielder would certainly have been prominent in the England manager's thinking.
That is a reflection of Barkley's standing in his country's top flight, despite the fact he will only turn 21 years old in December, and so it came as a disappointment for all, apart perhaps from Leicester fans, that the Merseysider was absent on Saturday and could continue to be until October.
Everton confirmed shortly before kick-off the news which had originally emerged on Friday of Barkley having suffered a medial knee ligament injury in training. He is expected to be missing for approximately six to eight weeks, possibly with the injury a consequence of 34 Premier League appearances last season followed by a trip to the World Cup at a time when his body will still be developing.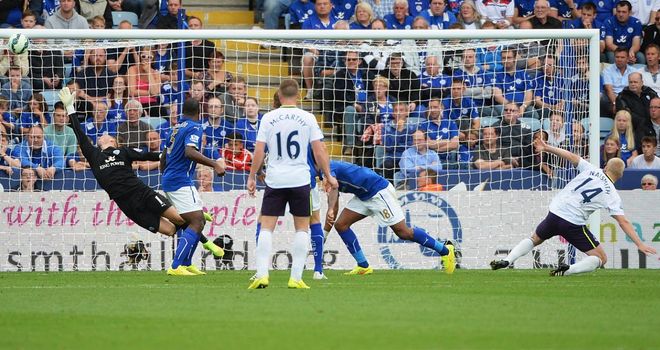 Naismith took his goal well to give Everton a 2-1 first-half lead at Leicester
That length of lay-off for Barkley has been widely judged as a catastrophe for Everton, who after some big investment in the summer are now under pressure to chase the top four and improve on last season's best Premier League points tally in their history. But is that really the case? For the deficiencies in other areas of Roberto Martinez's developing squad, midfield – specifically attacking midfield or the No.10 role - is probably the position in which the Goodison Park club are best stocked. 
Premier League round-up
Tottenham snatch a dramatic win after a controversial clash with West Ham while resilient Manchester United suffer a shock defeat.Read our Premier League round-up.
Kevin Mirallas and Leon Osman are both options who started sat on the bench against Leicester while Steven Pienaar could be moved centrally from the flanks. Muhamed Besic is another possibility if Martinez wanted to play the new boy slightly deeper to give Everton's midfield a bit more bite.
It was Steven Naismith, though, who was given the chance to play in the central, attacking midfield role in the 4-2-3-1 line-up, behind the slightly lumbering £28million Romelu Lukaku, at Leicester and the Scot did not disappoint against last season's Championship title winners.
For all the excitement which surrounds Barkley, his skilful dribbles and ability to carry the ball long distances when quickly transferring his club from back to front foot, Everton's 2013/14 Young Player of the Year is still learning his trade and has yet to fully develop that end product. No assists and just six goals in last season's Premier League gave plenty of room for improvement.
On top of that, there had already been whispers of Barkley having looked a little tired in pre-season amid a lucrative new contract and World Cup hype. This is not writing off Barkley, far from it, but Naismith's livewire performance (no player in either team covered more than his 12.47 kilometres on Saturday), goal and attacking intent at Leicester demonstrated that all is far from lost for Everton.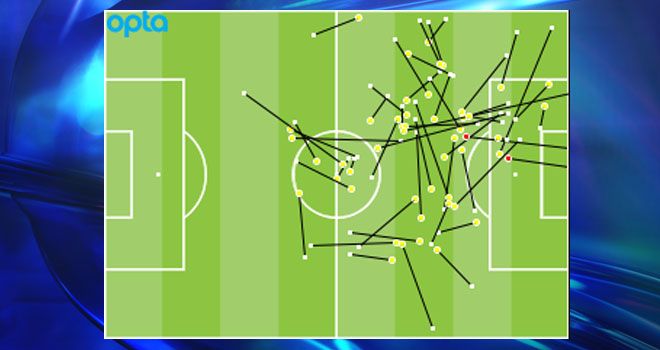 Naismith's passes (yellow) and shots (red) demonstrate he reguarly looked for attacking intent
In the first half versus Nigel Pearson's battling hosts, Naismith, who has made more league substitute appearances than starts in his two years at Everton, took his goal wonderfully in what was his first shot on target from two efforts while he played 24 passes at an accuracy of 79.2 per cent. Add to that 28 touches and winning 50% of his duels and it was a productive contribution.
At 27 years of age, with more than 230 career first-team starts and having played in the Champions League, former Rangers and Kilmarnock man Naismith is far more experienced in his craft. This is probably why his total of goals (five) in the Premier League in the last campaign was just one short of Barkley despite making 12 less starts.
Naismith's quality did decrease in the second half at Leicester when he, and Everton as a whole (see below graphic), allowed their opponents to equalise at 2-2. Indeed, at the final whistle, Naismith had seen slightly more of the ball with 33 second-half touches but he had not added to his total of goals or shots, his passing accuracy had dropped to 70.2% and his success in duels had decreased to 40%.
Everton (top) sat back in the second half while Leicester (bottom) pushed for their equaliser
This, as with Everton as a team, looked like it was part due to an intent to protect what had been a first-half lead and part a lack of top-flight match fitness on the opening day of a season against an opposition running on the excitement of being back in the big time after a 10-year absence.
But give Naismith a prolonged run in the first team, and with the other options at Martinez's disposal, and there is no need for Barkley to be rushed back from injury. The youngster should be allowed time to recover fully rather than risk any later injury as he matures physically. Barkley's injury is far from the end of the world for Everton.
Table
Barclays Premier League
Related
Leicester v Everton
Roberto Martinez fears Everton midfielder Ross Barkley could be missing for up to five months due to a knee injury.

Matt Le Tissier shares his thoughts on Leicester's 2-2 draw against Everton.

Tim Howard says as much as Everton tried to dictate play, Leicester created opportunities out of nothing to draw 2-2 with