Too much respect
If you approach a match with a siege mentality, it should not be a surprise when it eventually turns into a siege. Matt Stanger thinks Chelsea should have had more adventure at Atletico Madrid...
By Matt Stanger - Follow on Twitter @MatthewStanger. Last Updated: 22/04/14 10:44pm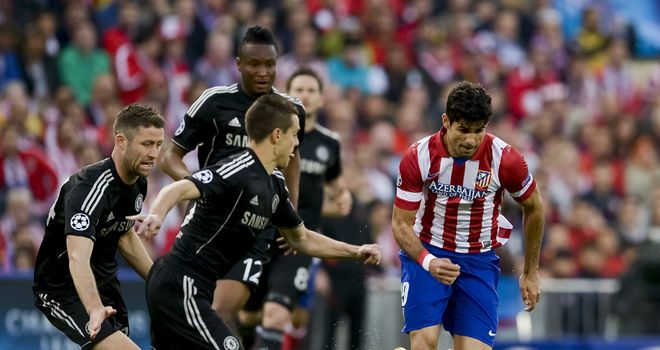 Diego Costa found Chelsea a tough nut the crack in the first leg of their semi-final
After Jose Mourinho's risible reaction to Chelsea's defeat by Sunderland, there were many who opined that the Portuguese's behaviour was precisely the reason he was overlooked by Manchester United in the summer. But Sir Alex Ferguson was no stranger to a tantrum and, after David Moyes' dismissal just 10 months into his tenure, United might still regret their decision.
Tuesday's match should make Ferguson, and those who acquiesced in his choice, feel a little better. United also reportedly had doubts over Mourinho's particular brand of football. Against Atletico Madrid, those doubts were reinforced as Chelsea failed to mount a meaningful attack in 90 minutes. If you approach a game with a siege mentality, it should not be a surprise when it eventually turns into a siege.
Ferguson was also pragmatic when it was necessary as United's 2008 semi-final win over Barcelona demonstrated. And, when he gets it right, Mourinho's counter-attacking system can yield some of the most exhilarating football around. Arguably the best performance we have seen in the Premier League this season was Chelsea's 1-0 win over Manchester City at the Etihad, with the visitors not only stopping a juggernaut that evening, but derailing it. City have not been the same since.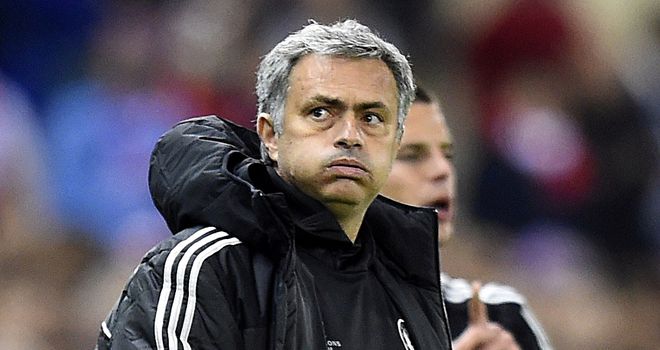 Jose Mourinho set up his team with a defensive mentality at the Vicente Calderon
But Tuesday in the UEFA Champions League was not a display Chelsea can boast about, despite getting the 0-0 draw for which they planned. The picture at the top of this article perfectly sums up their intention to kill the game rather than play it. The Blues were dogged, resilient and committed, but they lacked any impetus in the final third, with Fernando Torres cutting a lonely figure all night. At times it was hard to believe this was a Champions League semi-final and Mourinho will face questions about his approach as a consequence.
There are times when parking the bus is the best option and, while many claim Mourinho employed the tactic away to Arsenal, Manchester United and City in the Premier League, this was the first time Chelsea have been truly negative. They did not manage a shot on target until the second half, recorded just 31 per cent possession and completed only 63% of their passes in 90 minutes. Five players had a pass accuracy below 70% - in the interest of context, that is lower than the season averages for Liam Ridgewell and Danny Graham.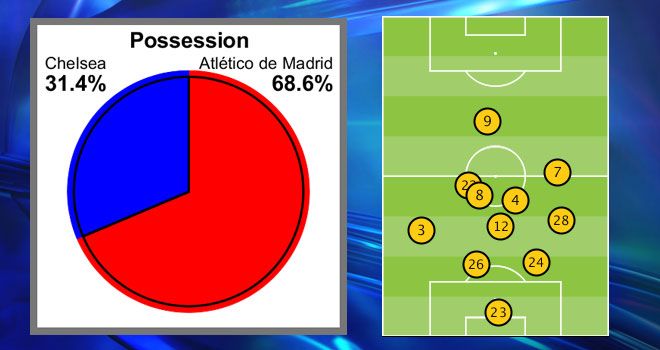 Chelsea had a minority of possession (left) while Fernando Torres (right; No.9) was isolated
Perhaps it was necessary to be cautious against a team who lead La Liga with only four games remaining. But this was not the attacking might of Bayern Munich or Real Madrid which Chelsea faced - this was Atletico's first semi-final at this level in 40 years, and Chelsea made them look like ever-presents. There is such a thing as showing too much respect.
Of course, Mourinho does not have to satisfy anyone but himself, the club's fans and Roman Abramovich and, despite how rotten Chelsea were in attack, they are in a strong position to make their second Champions League final appearance in three years. However, one wonders if Abramovich will be entirely happy with what he watched at the Vicente Calderon, or whether he will ponder if this is why he splashed out on Oscar, Willian and the absent Eden Hazard, and why he is planning to write another cheque for a new striker in the summer.
Chelsea might not be 'ready' to mount a convincing challenge across all fronts, as Mourinho has persistently reminded everyone, but they should be closing in on that aim by now. By defending for 90 minutes and only providing half a performance on Tuesday, it seems they are still some way from becoming the finished article - a team who can win in style rather than grinding out results.
A version of this article first appeared on Football365
UEFA Champions League

Tue 22nd Apr - Semi-Final
Tables
UEFA Champions League Group A
UEFA Champions League Group B
UEFA Champions League

| Pos | Team | P | Pts |
| --- | --- | --- | --- |
| 1 | Real Madrid | 6 | 18 |
| 2 | Basel | 6 | 7 |
| 3 | Liverpool | 6 | 5 |
| 4 | Ludogorets | 6 | 4 |
UEFA Champions League Group C
UEFA Champions League

| Pos | Team | P | Pts |
| --- | --- | --- | --- |
| 1 | Monaco | 6 | 11 |
| 2 | Bayer Leverkusen | 6 | 10 |
| 3 | Zenit St. Petersburg | 6 | 7 |
| 4 | Benfica | 6 | 5 |
UEFA Champions League Group D
UEFA Champions League Group E
UEFA Champions League Group F
UEFA Champions League Group G
UEFA Champions League

| Pos | Team | P | Pts |
| --- | --- | --- | --- |
| 1 | Chelsea | 6 | 14 |
| 2 | Schalke | 6 | 8 |
| 3 | Sporting Lisbon | 6 | 7 |
| 4 | Maribor | 6 | 3 |
UEFA Champions League Group H
UEFA Champions League

| Pos | Team | P | Pts |
| --- | --- | --- | --- |
| 1 | FC Porto | 6 | 14 |
| 2 | Shakhtar Donetsk | 6 | 9 |
| 3 | Athletic Bilbao | 6 | 7 |
| 4 | BATE Borisov | 6 | 3 |
Related
Atletico Madrid v Chelsea

John Terry has confirmed he is hoping to sign a new deal with Chelsea and finish his career at the club.

Mark Schwarzer believes Chelsea can perform better in the second leg against Atletico Madrid after replacing Petr Cech.

Ramires and Willian insist Chelsea have to take it one game at a time after Tuesday's draw at Atletico Madrid.