Luiz's struggle
David Luiz's inconsistency was highlighted in Chelsea's defeat by Paris Saint-Germain in the Champions League quarter-finals. Peter Fraser uses Opta data to analyse the performance
By Peter Fraser - Follow me on Twitter @SkySportsPeteF. Last Updated: 02/04/14 11:08pm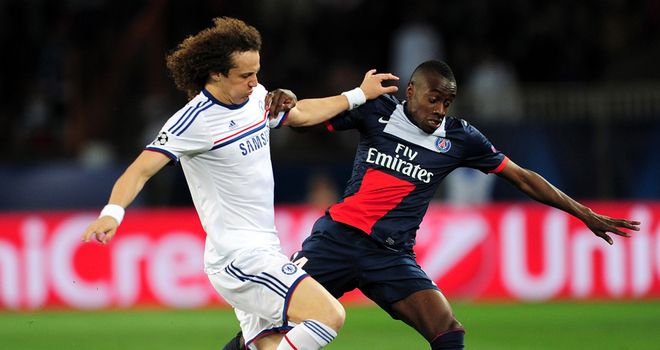 The sight of David Luiz lying tangled in a Parc des Princes goal net on Wednesday in Chelsea's 3-1 defeat by Paris Saint-Germain in the UEFA Champions League quarter-finals epitomised the Brazilian's night.
In France's capital, before kick-off in this first leg, much had been made of the absence of the cup-tied Nemanja Matic. How would Jose Mourinho's team cope against the attacking threat of the likes of Zlatan Ibrahimovic, Edinson Cavani and Ezequiel Lavezzi without their key, shielding midfielder? Not well, was the answer.
Luiz was the man tasked with filling that Matic void and expectations were not high given the reinvented defender was substituted at half-time in last weekend's damaging defeat by Crystal Palace in the race for the Premier League title.
This opinion was not helped in the early minutes against PSG when the former Benfica man was robbed of possession by Ibrahimovic in the build-up to Lavezzi's opening goal in just the third minute. It looked like Chelsea were in for a very long night.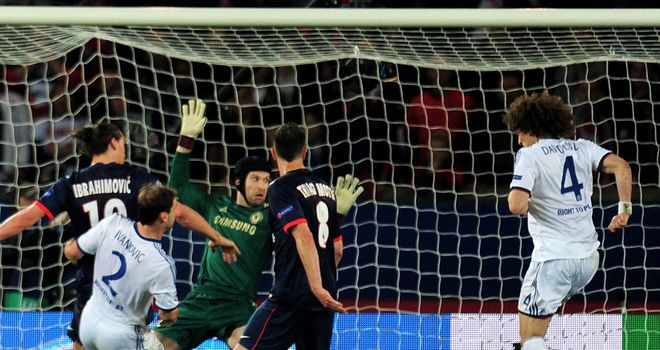 Mourinho's men, though, did turn the tide before half-time and Luiz played his part. Probably with the additional motivation of trying to rescue some personal pride in the wake of his earlier error, the 26-year-old was respectably responsible.
When Chelsea restored parity from Eden Hazard's penalty in the 27th minute, Luiz had touched the ball 33 times, eight more touches than any of his team-mates at that stage, and played 24 passes at an excellent completion rate of 95.8 per cent. He had also played 15 passes in the opposition half at a 100% completion rate.
It is not uncommon for a deep-sitting midfielder to have more touches of the ball than their team-mates while their pass completion rate percentages are commonly in the 90s due to the simple, short, square balls they play in front of their defence. However, the key to Luiz's touches was that they came in a controlled, central area as he gave Chelsea a strong spine down the middle of the field by avoiding any characteristic, reckless charges forward.
Restraint is the key in that midfield position and that is not a term frequently used to describe the on-field performances of Luiz, who is more associated with the sort of flamboyance which saw him produce a pirouette on the edge of PSG's box in the first half. But, for a time in Paris, he was doing what was required for his team and it looked like a display of a level to compare to when he was first successfully shifted into midfield last season under interim boss Rafa Benitez.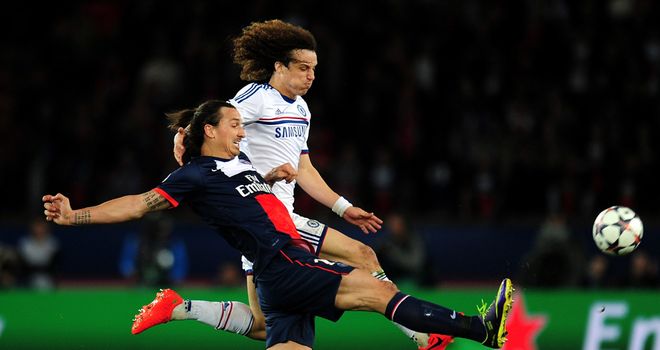 At half-time, Luiz had played 33 passes at a completion rate of 93.9%, more than any of his club colleagues, and he had made four tackles, which was a total double any of his team-mates. Again, these were not spectacular, raking passes to destroy the opposition but they halted PSG's momentum and gave Chelsea a platform and a path back into the match from their poor start.
But Luiz, it would appear, just cannot be trusted. It is a reason why reports suggest he will be sold in the summer to fund Chelsea's striker hunt.
Luiz's own goal, deflecting a free-kick into back of the net, 16 minutes after the interval followed his rash challenge on the flanks which had given away the set-piece in the first place.
It personified his second half. Gone was the restraint - and, some might say, maturity - of the first half. He dashed around the pitch in the manner of that much-used, brilliant PlayStation line since it was first uttered by Sky Sports' Gary Neville.
At the final whistle, Luiz had touched the ball 71 times, which was still more than any of his team-mates. However, his touches in the second half, even before Chelsea were chasing the game, were scattered around the field and that was a factor in Chelsea's loss of control.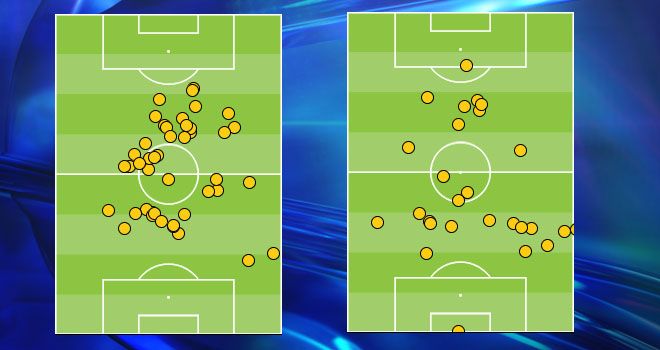 David Luiz's first half touches (left) were central before he become more reckless in the second half (right)
This is a player who will reach the age of 27 on 22nd April and he should, consequently, be approaching a level of his footballing peak. Sadly, that does not seem to be the case. Of Luiz's 19 duels against PSG, he won only 47.4%.
Mourinho demands of his players that they perform their specific job for the team. That Luiz seems incapable of fulfilling his duties for 90 minutes will mean the sigh from his manager could have been heard long before Javier Pastore's injury-time goal left Chelsea with a mountain to climb.
LIVE and exclusive on Sky Sports
Tables
UEFA Champions League Group A
UEFA Champions League Group B
UEFA Champions League

| Pos | Team | P | Pts |
| --- | --- | --- | --- |
| 1 | Real Madrid | 6 | 18 |
| 2 | Basel | 6 | 7 |
| 3 | Liverpool | 6 | 5 |
| 4 | Ludogorets | 6 | 4 |
UEFA Champions League Group C
UEFA Champions League

| Pos | Team | P | Pts |
| --- | --- | --- | --- |
| 1 | Monaco | 6 | 11 |
| 2 | Bayer Leverkusen | 6 | 10 |
| 3 | Zenit St. Petersburg | 6 | 7 |
| 4 | Benfica | 6 | 5 |
UEFA Champions League Group D
UEFA Champions League Group E
UEFA Champions League Group F
UEFA Champions League Group G
UEFA Champions League

| Pos | Team | P | Pts |
| --- | --- | --- | --- |
| 1 | Chelsea | 6 | 14 |
| 2 | Schalke | 6 | 8 |
| 3 | Sporting Lisbon | 6 | 7 |
| 4 | Maribor | 6 | 3 |
UEFA Champions League Group H
UEFA Champions League

| Pos | Team | P | Pts |
| --- | --- | --- | --- |
| 1 | FC Porto | 6 | 14 |
| 2 | Shakhtar Donetsk | 6 | 9 |
| 3 | Athletic Bilbao | 6 | 7 |
| 4 | BATE Borisov | 6 | 3 |
Related
PSG v Chelsea

French police have confirmed no arrests took place during an incident involving Chelsea supporters in Paris.

Jose Mourinho admits that he is not happy with his strikers' performances this season following Chelsea's defeat in Paris.

Glenn Hoddle says Jose Mourinho's tactical gamble backfired as Chelsea slumped to defeat in Paris.