Bad to worse
Manchester United are still in the hunt for Capital One Cup glory after a 2-1 first leg defeat to Sunderland on Tuesday night, but Adam Bate sees problems that show no signs of going away for David Moyes...
By Adam Bate - Follow @GhostGoal. Last Updated: 08/01/14 8:55am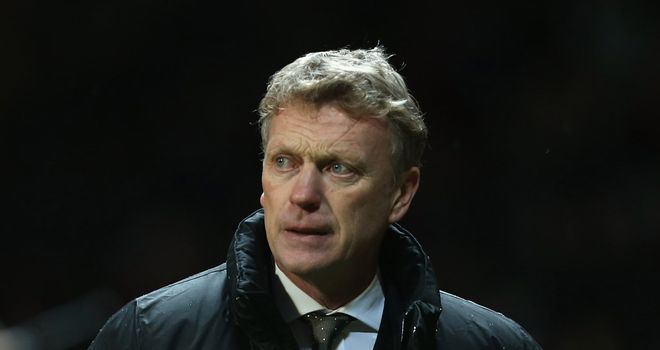 "Every single one of us will stand by David Moyes" chanted the away support at the Stadium of Light. Sir Alex Ferguson's plea made from the centre of the Old Trafford pitch back in May is becoming quite the cross to bear for the United faithful as the new manager lurches from one defeat to the next.
Be clear. This is no media witch-hunt - merely a reaction to a growing list of dismal statistics for the defending Premier League champions. Three defeats in a row for the first time in well over a decade with the ending of a 20-match unbeaten record against Sunderland coming just two days after a first ever loss to Swansea.
This sequence of results has added to the mood of desperation in the January transfer window as supporters look beyond the confines of Carrington for inspiration. Five points adrift of the top four, out of the FA Cup and now struggling for a crumb of comfort in the Capital One Cup. There is, of course, time to turn around a 2-1 first leg deficit and United remain favourites to progress. But even a home game against Sunderland is no banker in this scary new world.
Fabio Borini scored the winner from the penalty spot for Sunderland
There were ominous signs early on as Sunderland dominated possession in the opening stages, looking the more fluid team. Midway through the first half, the home side were outplaying United with 131 passes to their 81 - at a completion rate of 85.5 per cent compared to the visitors' 75.3 per cent - and enjoying 61 per cent of possession.
But then United gained a measure of control, seemingly remembering that their opponents have demons of their own, languishing as they are at the very bottom of the Premier League table. While it's traditional to expect men in their twenties and thirties to kick a ball around for money, United's positive play appeared to hinge on 40-year-old Ryan Giggs and the teenage talents of Adnan Januzaj.
Firstly, Giggs hit the crossbar with a deflected effort from distance before Januzaj had a goal ruled out when his veteran team-mate was correctly adjudged offside. Much of the creative burden has been foisted upon Januzaj and while he didn't waste a single pass in the opening 45 minutes, the fact that no United outfield player had fewer touches suggests that placing the team's hopes on the shoulders of an 18-year-old is a situation to cause concern rather than celebration.
It was the home fans celebrating in stoppage time of the first half as Sunderland took the lead. Failure to deal with a lofted ball to the back post, with Antonio Valencia particularly culpable, led to a cross coming across the face of goal, where arch-predator Phil Bardsley put Giggs under sufficient pressure to see the midfielder turn the ball into his own net.
There was a response after the break and the scores were level soon after the resumption. A dangerous corner swung in with the right foot of Tom Cleverley found the head of Nemanja Vidic and the captain did the rest to force the ball past Vito Mannone in the Sunderland goal. As discussed at length on the Sky Sports website last week, such is United's emphasis on crossing, there are times when it can seem their only hope of a breakthrough.
Bad luck?
Once again, United's supposed advantage in terms of quality was reduced to a scramble for a lucky bounce of the ball in the box. "I don't think there was one side better than the other one," Gus Poyet told Sky Sports afterwards. "There were not many chances. If you analyse, it was a couple of set plays and a penalty." While Moyes may bemoan his misfortune to come out on the wrong end of such a 50/50 contest, harsher judges might wonder why his side is continually allowing games to become little more than a crapshoot.
Lowly Sunderland showed that there is another route to goal as Poyet introduced the enigmatic threat of former Manchester City winger Adam Johnson. One drop of the shoulder later and the substitute had got away from Cleverley and the United midfielder foolishly attempted a body check inside the box. That Liverpool loanee Fabio Borini converted the subsequent penalty felt grimly appropriate.
Rafael then ran the risk of being sent off for a untidy lunge just minutes after receiving a yellow card as the visitors seemed intent on implosion rather than one of their trademark comebacks. That may yet come in the return leg between these sides in two weeks' time. But for now there will be more questions for Moyes. Expect the faith of those loyal followers to be tested further unless there are big changes at Manchester United in the coming weeks and months.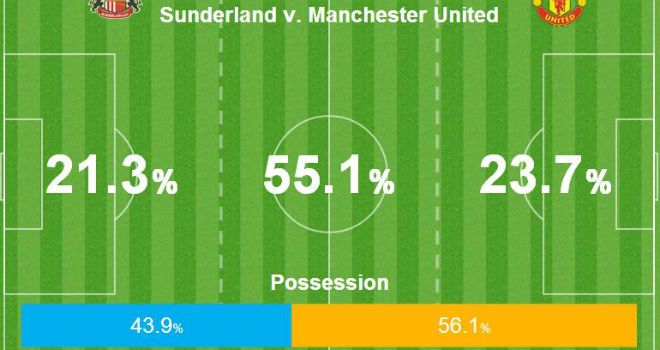 While Manchester United dominated possession the action areas suggest it was an even game
Andy Cole's view
"Manchester United are playing a lot of balls in front of their opponents at the moment and not getting behind. When you've got someone like Danny Welbeck who can stretch them with blistering pace and Januzaj, who I thought was their best player, you've got players who can cut teams open like Manchester United used to do. When they start doing that they'll start winning games again but at the moment you can see they're just lacking a bit of confidence."
LIVE and exclusive on Sky Sports
Related
Capital One Cup semi-finals 2014

Jose Mourinho thinks Chelsea's Diego Costa should be left alone to play football after a controversial outing on Tuesday.

Branislav Ivanovic's extra-time goal gave Chelsea a 2-1 aggregate win over Liverpool and a place in the Capital One Cup final.

Stefan Scougall believes another romantic chapter in Sheffield United's cup "fairytale" could unfold when they face Tottenham.