Take Zlat
Zlatan Ibrahimovic is enjoying his most prolific season in the Champions League and his display against Bayer Leverkusen was evidence he can end his status as the greatest player not to have won Europe's premier competition, writes Peter Fraser
By Peter Fraser - Follow me on Twitter @SkySportsPeteF. Last Updated: 18/02/14 11:06pm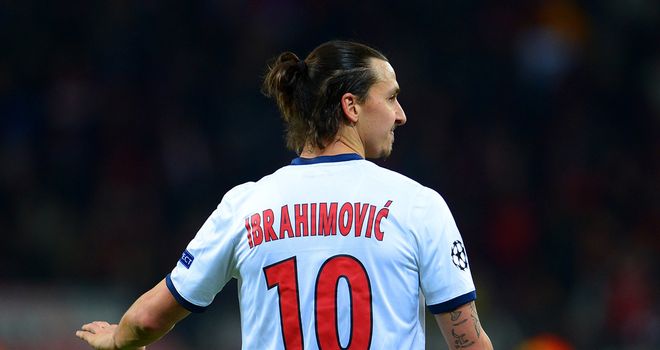 Zlatan Ibrahimovic: Scored twice in a devastating three-minute spell against Leverkusen
The enigma that is Zlatan Ibrahimovic. The Swedish striker has, and seemingly always will, split opinions. Genuine superstar, one of the all-time greats, or more of a cult hero? There are believers and non-believers.
Did You Know?
Zlatan Ibrahimovic has only scored seven goals in 31 games in the knockout stages of the Champions League
But, on Tuesday night in the convincing 4-0 UEFA Champions League last 16 first-leg victory at Bayer Leverkusen, Paris Saint Germain's striker demonstrated why he is a class act - and why his team must be considered serious contenders for this season's European Cup.
Up to the 39th minute, with PSG only leading 1-0, there had been back-heeled, showboating, unsuccessful flicks amid a host of occasions when possession had been lost in Ibrahimovic's almost lazy performance.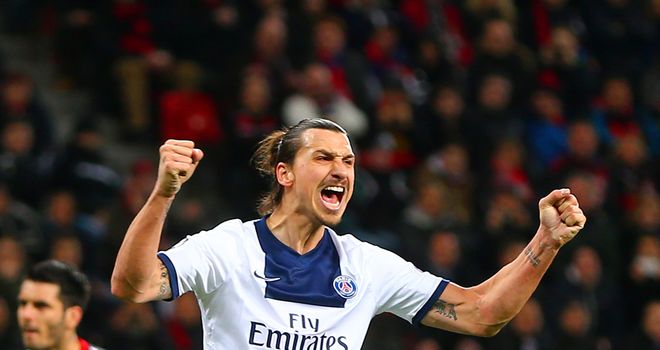 Ibrahimovic now has 10 goals in this season's Champions League and is the competition's top scorer
However, just more than five minutes later, when half-time arrived, the former Malmo, Ajax, Juventus, Inter Milan, Barcelona and AC Milan man - who has never won the Champions League - had superbly scored twice to give PSG a 3-0 half-time lead, which was already a seemingly unassailable advantage in the tie with the unravelling Leverkusen.
Prior to his goals, Ibrahimovic had been massively disappointing. It was exactly the performance which makes people question whether he is truly a player on a par with Cristiano Ronaldo and Lionel Messi as the best in the world; the sort of offering which makes people question his work ethic and professional hunger; the sort of display which makes people point to the fact he has never stayed more than three years at one club during his career; the sort of outing which makes people ask whether a player who before kick-off had only scored five times in 30 Champions League knockout games was a man for the big occasion.
But as the 32-year-old muttered to himself in the 35th minute, after an unnecessarily flashy attempted back-heel to team-mate Maxwell had flown out of play, it seemed to be a turning point. In the 39th minute came an unstoppable penalty hit into the goalkeeper's bottom right-hand corner before, three minutes later, a missile-like 20-yard finish with his supposedly weaker left foot. Ibrahimovic now has 10 goals in this season's Champions League - his most prolific in his career - and he has overtaken Ronaldo as the 2013/14 competition's top scorer.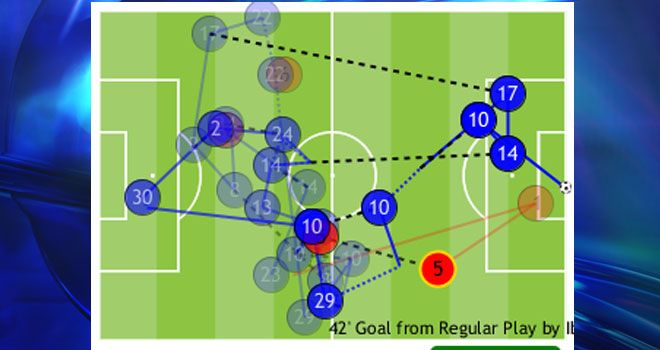 Weaker foot? Ibrahimovic's second goal was a superb, 20-yard hit with the Swede's left foot
Before then, after 20 minutes against Leverkusen, Ibrahimovic had lost possession five times. Only PSG right-back Gregory van der Wiel had a record to compare. Indeed, come half-time, Ibrahimovic had lost possession 11 times, more than any other player on the field. His pass completion rate was also only 84.2 per cent, which was less than any other outfield PSG player.
This does of course come as a consequence of Ibrahimovic's role as a striker; he comes with a risk factor. It is a reason why in Ligue 1 this season he has been dispossessed on average twice per game, which is equal with attack-minded Lucas Moura as more than any other PSG players. But he does, too, sometimes look like he thinks he is too good for opposition he considers not up to his standards.
Twenty-eight of Ibrahimovic's passes against Leverkusen had come in the opposition's half when the interval arrived, which was again more than any other player and demonstrates he was playing passes in areas where the opposition are more likely to incept.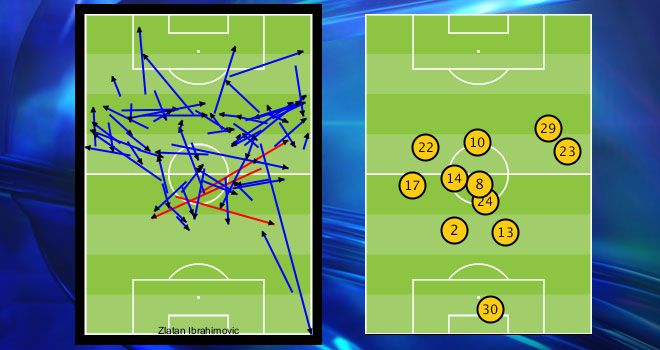 Ibrahimovic's (no.10) average first-half position was on the centre circle (right) but most of his passing was in Leverkusen's half (left)
But, against the Bundesliga side, he was also dropping deep to mean his average position at half-time saw him on the edge of the centre circle, while the likes of Van der Wiel flew forward on the right to give PSG some width.
The nature of the game against Leverkusen must also be taken into account. Sami Hyypia's team, out of form domestically having lost four of their last seven games, looked beaten before the match kicked off and this was not helped when they conceded the opener from the excellent Blaise Matuidi in just the third minute.
This allowed PSG, and Ibrahimovic alike, to cruise through the contest with an iron grip on the tie, which was underlined by substitute Yohan Cabaye making it 4-0 in the 88th minute. At the same time, though, there was a superb patience from Laurent Blanc's PSG as they calmly controlled possession and realised they did not need to over-exert themselves, particularly once Leverkusen's Emir Spahic had been sent off before the hour. PSG duly ended the game with a comprehensive 60.1% majority of possession.
| | | | | | |
| --- | --- | --- | --- | --- | --- |
| Versus Bayer Leverkusen | Shots | Shots On Target | Goals | Attempted Passes | Pass Success % |
| Zlatan Ibrahimovic | 4 | 3 | 2 | 88 | 93.2 |
Ibrahimovic personified this attitude. His performance was more of a cameo than overall brilliance. At full-time, he had won only 41.2% of his 17 duels. However, there had been more control and he lost possession only five times in the second half. His passing had also improved in the second half having increased his overall completion rate to 93.2% from 88 attempts.
This says it all. PSG as a whole and Ibrahimovic's role remains a work in progress but they should be considered a force to be reckoned with in this season's Champions League. If Ibrahimovic continues his current potency, with that trademark for suddenly scoring from a previously mixed performance - as demonstrated against Leverkusen - his long wait for a European Cup could come to an end. If he achieves that feat, perhaps he would no longer be considered by some as an enigma.
LIVE and exclusive on Sky Sports
Latest Poll
Tables
UEFA Champions League Group A
UEFA Champions League Group B
UEFA Champions League

| Pos | Team | P | Pts |
| --- | --- | --- | --- |
| 1 | Real Madrid | 6 | 18 |
| 2 | Basel | 6 | 7 |
| 3 | Liverpool | 6 | 5 |
| 4 | Ludogorets | 6 | 4 |
UEFA Champions League Group C
UEFA Champions League

| Pos | Team | P | Pts |
| --- | --- | --- | --- |
| 1 | Monaco | 6 | 11 |
| 2 | Bayer Leverkusen | 6 | 10 |
| 3 | Zenit St. Petersburg | 6 | 7 |
| 4 | Benfica | 6 | 5 |
UEFA Champions League Group D
UEFA Champions League Group E
UEFA Champions League Group F
UEFA Champions League Group G
UEFA Champions League

| Pos | Team | P | Pts |
| --- | --- | --- | --- |
| 1 | Chelsea | 6 | 14 |
| 2 | Schalke | 6 | 8 |
| 3 | Sporting Lisbon | 6 | 7 |
| 4 | Maribor | 6 | 3 |
UEFA Champions League Group H
UEFA Champions League

| Pos | Team | P | Pts |
| --- | --- | --- | --- |
| 1 | FC Porto | 6 | 14 |
| 2 | Shakhtar Donetsk | 6 | 9 |
| 3 | Athletic Bilbao | 6 | 7 |
| 4 | BATE Borisov | 6 | 3 |
Related