Here to stay?
Manchester City were far from outclassed by a Barcelona side who did not muster a single shot in the opening half-hour. This was a clash between equals, writes Sarah Winterburn
By Sarah Winterburn. Last Updated: 19/02/14 9:01am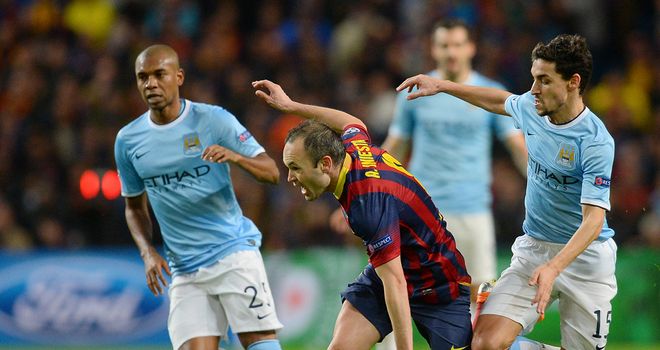 Manchester City did not seem to be outclassed by Barcelona's superstars
Remember when Manchester City had been schooled by a Bayern Munich side who had 21 shots at the Etihad in October and deserved even more than their comprehensive 3-1 win?
Could you say that about Barcelona's 2-0 win? Not a chance. City were not outclassed by Barcelona; on the contrary, they more than matched them until Martin Demichelis became the fall guy for Vincent Kompany failing to keep City's defensive line and leaving Lionel Messi to run free on goal.
There will be thousands of words written about the wisdom of spending millions and still ending up with Demichelis in your defence but the fact is that the Argentine had been excellent along with the rest of an incredibly disciplined City side until that moment. And just about every centre-half in football feels oddly compelled to make that challenge even with the double jeopardy of penalty and red card.
Yes, City sat back and invited Barcelona to keep the ball in the opening 20 minutes but at the end of that 20 minutes it was still the home side who had looked most dangerous, with a drive from Yaya Toure and a through ball from the exquisite David Silva showing that Barcelona could be vulnerable to counter-attack. Barcelona did not even muster a shot in the opening half-hour.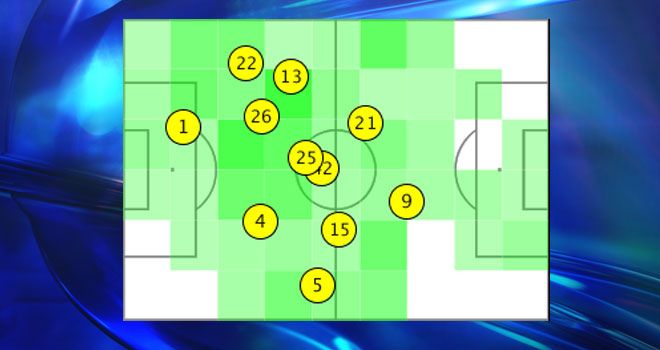 Man City dropped deep in the first 20 minutes at the Etihad before becoming more expanisve
By the time that first off-target shot was registered, City had left the safety of the 18-yard line and were matching Barcelona for intent. They were defending diligently, closing down quickly in midfield (the importance of Fernandinho to this City side cannot be exaggerated), passing crisply and finding Silva in the space between Barcelona's defence and midfield.
Tata Martino admitted after the game that Barcelona 'lost control' for periods of the game. That is not because - as Jose Mourinho would have you believe - this is a poor Barcelona side but because City made them lose control with quick pressing and equally quick passing.
They were scared of Silva, they were frustrated by Fernandinho and Yaya Toure and, for a while there, they were confounded by Demichelis looking like an excellent centre-half. Even after the Argentine had left the pitch, it was Victor Valdes rather than Joe Hart who had to make a crucial save to keep the score at 1-0.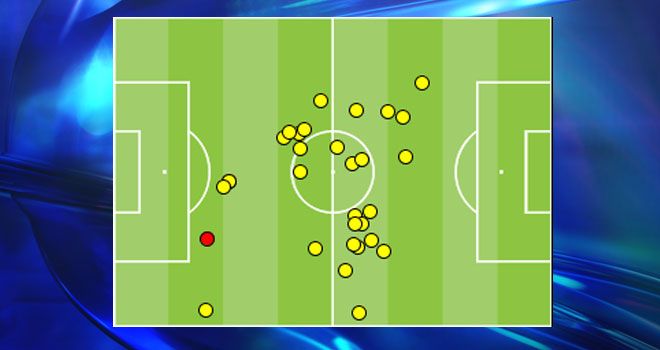 Fernandinho's passes (yellow) and interceptions (right) are vital for Pellegrini's City
Had it stayed at 1-0, you would have given a City side boosted by the return to fitness of Sergio Aguero and Samir Nasri half a chance of overturning that deficit in Spain, with Barcelona clearly rattled by the physicality of Toure and the guile of Silva. At 2-0 that chance has pretty much disappeared.
But City as a force in European football will not disappear with their almost-inevitable exit in the Camp Nou, for this City side - under an astute manager who learned from his mistakes against Bayern Munich and Chelsea and will surely learn from this one against Barcelona - has arrived on the European stage.
You may argue that City should have arrived on the European stage a few million quid ago but that argument is utterly irrelevant, because it is now a fait accompli.
On Tuesday night at the Etihad - in their very first Champions League knockout game - they took on Barcelona and came out disappointed with and possibly undeserving of a 2-0 defeat against the best club side of the last seven or eight years. They looked far from uncomfortable in such exalted company; they may have only recently arrived at this particular party but they will not be leaving any time soon.
"Of course I have a complaint, not only for the penalty and the red card. I think in the whole match we did not have a referee with impartiality to both teams. He decided the game. He decided the game because it was a foul by (Sergio) Busquets on (Jesus) Navas. The referee was three metres away and he did not blow the whistle and after that the foul from Demichelis is outside the box, it is not a penalty."
"For 10 minutes during the first half we lost control a little, but in the rest of the game we did well. We have to remain calm and continue along the same path because there is no time to relax as we must now start thinking about our next game in La Liga."
A version of this article first appeared on Football365.com
Tables
UEFA Champions League Group A
UEFA Champions League Group B
UEFA Champions League

| Pos | Team | P | Pts |
| --- | --- | --- | --- |
| 1 | Real Madrid | 6 | 18 |
| 2 | Basel | 6 | 7 |
| 3 | Liverpool | 6 | 5 |
| 4 | Ludogorets | 6 | 4 |
UEFA Champions League Group C
UEFA Champions League

| Pos | Team | P | Pts |
| --- | --- | --- | --- |
| 1 | Monaco | 6 | 11 |
| 2 | Bayer Leverkusen | 6 | 10 |
| 3 | Zenit St. Petersburg | 6 | 7 |
| 4 | Benfica | 6 | 5 |
UEFA Champions League Group D
UEFA Champions League Group E
UEFA Champions League Group F
UEFA Champions League Group G
UEFA Champions League

| Pos | Team | P | Pts |
| --- | --- | --- | --- |
| 1 | Chelsea | 6 | 14 |
| 2 | Schalke | 6 | 8 |
| 3 | Sporting Lisbon | 6 | 7 |
| 4 | Maribor | 6 | 3 |
UEFA Champions League Group H
UEFA Champions League

| Pos | Team | P | Pts |
| --- | --- | --- | --- |
| 1 | FC Porto | 6 | 14 |
| 2 | Shakhtar Donetsk | 6 | 9 |
| 3 | Athletic Bilbao | 6 | 7 |
| 4 | BATE Borisov | 6 | 3 |
Related
Man City v Barcelona

Fernandinho claims Manchester City had Barcelona "rattled" in the first leg of their Champions League last-16 clash.

UEFA have charged Manchester City boss Manuel Pellegrini after his verbal attack on referee Jonas Eriksson.

Manchester City manager Manuel Pellegrini has apologised for his verbal attack on referee Jonas Eriksson in midweek.