Costa Rica 0 England 0: Daniel Sturridge misfires, Frank Lampard steady, Luke Shaw a reason to be cheerful
Perhaps we could have expected England's tournament would end with a whimper and a goalless draw with Costa Rica means the Three Lions have experienced more stalemates at World Cups than any other nation in history. Have your say on the performances on Tuesday
By Peter Fraser - Follow me on Twitter @PeteFraser_. Last Updated: 24/06/14 8:09pm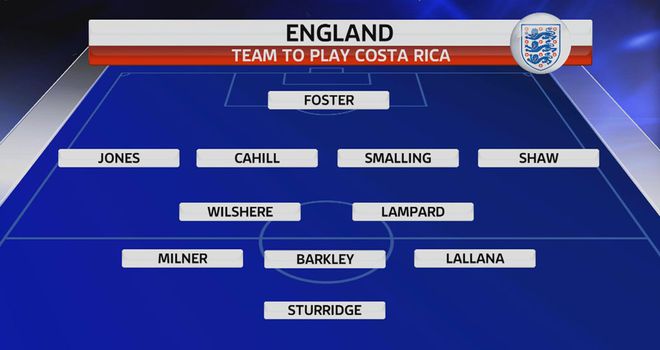 BEN FOSTER - 7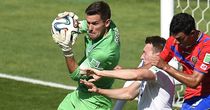 Having looked a little shaky when given a chance in the warm-up games before the World Cup, Foster answered any critics with a composed and confident performance as part of what was a decent defensive display by England. The goalkeeper's handling from crosses was impressive and one first-half save, tipping a Celso Borges free-kick on to the crossbar, was particularly spectacular.
PHIL JONES - 6
Costa Rica did not offer much of an attacking threat as they looked comfortable with the draw they required to win the group. Jones, though, was still dependable at right-back. He might not have offered much going forward but made three effective clearances.
GARY CAHILL - 6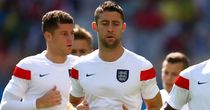 Cahill represented the experienced head at the back of England's much-changed defence and this could become a familiar role for the centre-half for the foreseeable future. Four interceptions and three effective clearances demonstrated Cahill's speed across the ground and his ability to read the game clearly.
CHRIS SMALLING - 6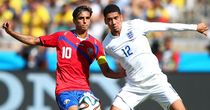 Smalling may have his critics but he did little, if nothing, wrong when given his chance at centre-back. Six effective clearances out of six represented the most by any England player. Smalling's passing accuracy of 86 per cent was also only less than Lampard of any player on the pitch. 
LUKE SHAW - 8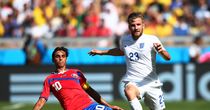 The teenager had an excellent game as a part of England's defensive performances and also looked to attack whenever possible. One of Shaw's second-half passes which released Lallana behind the Costa Rica defence was especially creative. There will likely now be a clamour for the reported Manchester United target to become England's first-choice left-back. 
JAMES MILNER - 6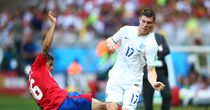 Milner has been a favourite during Roy Hodgson's reign for a reason, he is dependable. The versatile midfielder is not spectacular but reliable and that was the case again against Costa Rica. Playing on the right of midfield before swapping with Lallana for a period on the left midway through the first half, Milner completed two dribbles and produced one key pass.
FRANK LAMPARD - 7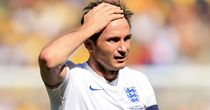 It remains to be seen whether this will be Lampard's last outing for England but, regardless, he would have wanted England to go out on a high. Sitting deep and with simple passing, he kept the ball very well in the first half with a passing accuracy of 95 per cent. A second-half free-kick which the midfielder blasted into the wall meant Lampard has had 40 shots at World Cups without having been credited with a goal. How he must wish goalline technology had come four years earlier.
JACK WILSHERE - 6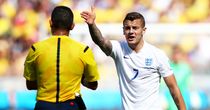 Starting in the deeper two of England's midfield alongside Lampard, Wilshere was the one of the pair who was given some freedom to get forward. That led to some nice interchanging with Barkley and Wilshere managed two key passes, more than any of his team-mates. The Arsenal man was also the subject of some rough treatment from Costa Rica's midfielders before going off for Gerrard in the 73rd minute.
ROSS BARKLEY - 6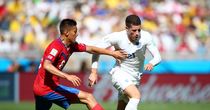 Barkley perhaps looked like he was a little too keen to impress and that meant he was a tad careless in possession at times. However, before half-time, the Everton man did have one good dribble before unluckily shooting when off balance. But Barkley was dispossessed three times, more than any other England player.
ADAM LALLANA - 6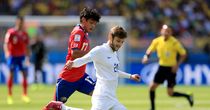 The playmaker was lively in the opening stages but too often lost possession and then faded as the first half progressed. At half-time, Lallana had touched the ball (23 times) only once more than Foster. Following the break, Lallana did make a few good darts to the by-line before he grew a bit frustrated and was booked for a clattering attempt at a tackle. He was then replaced by Sterling shortly after being clobbered by Giancarlo Gonzalez.
DANIEL STURRIDGE - 5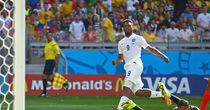 Not for the first time in England's dismally goal-shy World Cup, Sturridge's shooting boots went missing. The Liverpool striker's goal against Italy seems a long time ago and was ultimately the only time he found the back of the net in the tournament. Lethal in the last Premier League season, Sturridge had four efforts at goal against Costa Rica but did not once hit the target.
SUBSTITUTIONS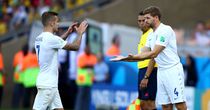 Steven Gerrard came on for what could be his last appearance in an England shirt but with just 17 minutes, plus injury time, remaining when he came on, the Liverpool man had only 14 touches. Raheem Sterling was introduced to try to add a bit of spark but was lucky not to be punished when losing possession deep in England's formation. Wayne Rooney looked England's best chance for a goal and was the only player from his country to have a shot on target in the game.
Have your say on England's performances below and then rate the players