Ross County and Inverness clash abandoned due to floodlight failure
Last Updated: 26/10/13 5:12pm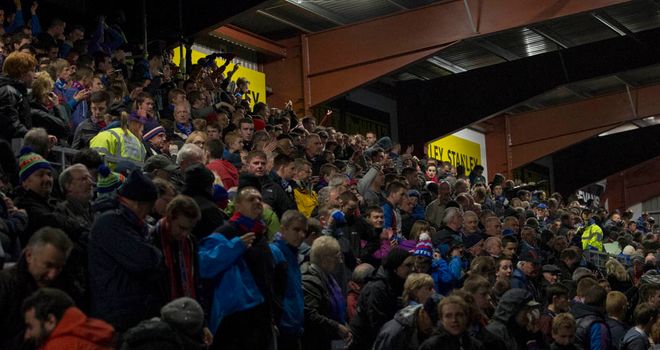 Fans at Ross County are forced to leave for home early
Friday's Scottish Premiership game between Ross County and Inverness was postponed due to a floodlight failure.
The lights went out at half-time at the Global Energy Stadium and despite a couple of aborted attempts referee John Beaton was forced to halt the match with the score still goalless.
The official admitted he had no other choice but to postpone the match once a third attempt to get the floodlights working failed.
"We've been speaking to the police, we've had two attempts to put the floodlights back on, the third attempt looked like it was going to work okay but obviously the lights are down again and we can't leave it any longer," he said.
"The officials are as disappointed as the players which is why we gave it as long as we possibly could.
"It's the last resort and the last thing we want to do, but we have to be fair to the fans. We've got TV as well, and the police, and ultimately we can't leave the players too long, then you risk injuries and other things, but naturally everybody's disappointed."
Inverness had looked the most lively in the opening 45 minutes with Nick Ross and Billy McKay going close, while Graham Carey and Ivan Sproule impressed for County.
In a flashpoint just before half-time Caley's Ross Draper and Mihael Kovacevic and De Leeuw were all booked after Kevin Luckassen was fouled.
Inverness boss Terry Butcher stated: "It's just one of those things. I'm not sure what the reason was but we live to fight another day and we'll come back and do it all again."
Table
Scottish Premiership
Related