End of the road
The most impressive performance of the Premier League season? So says Daniel Storey after watching Liverpool dismantle Tottenham in a 5-0 thrashing at White Hart Lane. It's a result that has cost Andre Villas-Boas his job...
By Daniel Storey. Last Updated: 16/12/13 11:21am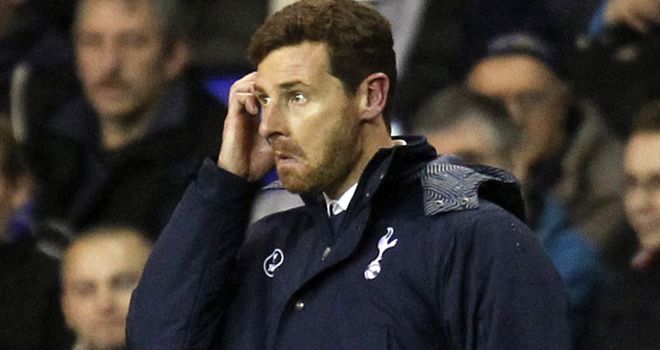 Wowsers. Coming into this match the two pertinent questions were whether Spurs could continue their mini-revival and whether Brendan Rodgers' side could arrest their away slump. Both queries were replied in the equivalent manner of someone screaming the answer into your ear. Liverpool were dreamy, the performance described by manager Brendan Rodgers as "the most complete during his time at the club," whilst Spurs were a total disintegration of a side.
Given the resurgence of Everton and Arsenal and the assumed presence of Chelsea and Manchester City towards the top of the table, it would be reasonable to assume that a maximum of one of these two sides will be playing Champions League football next season. If that's indeed true, there is currently only one logical answer.
Some victories, particularly those away from home, can often be described as plucky or fortunate, but this was nothing of the sort. Liverpool ran Spurs ragged throughout a first half in which they had 12 shots and 59 per cent possession. That seven of Liverpool's shots in the first half were from inside the area demonstrates just how easy it was to get behind their opponent's back line and create chances.
After the break, they failed to let up, particularly after the deserved dismissal of Paulinho, and fully deserved their five-goal lead by the final whistle. Liverpool had 20 shots in total, 13 of which were in the box and 10 of which were on target.
The worst aspect for Spurs is that this could genuinely have been eight or nine. Factoring in Mamadou Sakho's header against the post, Coutinho striking a post and Suarez spurning two one-on-ones, it is no exaggeration to claim that we could have been looking at records being broken for home Premier League defeats. That's fairly striking in a match between fifth and sixth at kick off.
Title challengers?
So, what ceiling, if any, do we put on Liverpool's potential achievements this season? Is there any reason to believe that they cannot be title challengers, sitting two points off top spot going into the Christmas period?
The first immediate conclusion is that this was, without doubt, the most impressive performance in the Premier League this season. Manchester City have been utterly ruthless at home, but doing so away from home (and against an opponent with real quality) is a very different matter, and Liverpool ticked each and every box.
Jordan Henderson was majestic, Raheem Sterling continuously dangerous, Joe Allen solid at the base of midfield and Luis Suarez his imperious self. Only one of those statements did I truly expect to be making.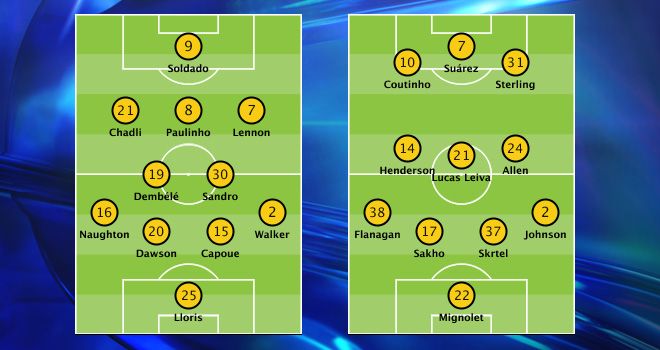 One impressive aspect of the performance is the young players that Liverpool can now call on to turn in such a wonderful display. Of the 13 players utilised, nine are aged 24 or under. That's a fantastic base for continued success. Finally, it is also rather easy to forget that this was achieved with a squad missing Daniel Sturridge and Steven Gerrard through injury. That's 12 league goals and eight assists taken out of the side.
Making assumptions and predictions has been a dangerous game where Liverpool are concerned, but are becoming less and less risky. On this form, the top four should be the least of the club's ambitions.
As for Spurs, it's all very well winning matches in the Europa League, and it's great to beat strugglers such as Fulham and Sunderland, but Andre Villas-Boas was only ever going to be judged on the fixtures against those teams likely to be competing for similar places. The defeat to West Ham may have been more feeble and the loss at home to Newcastle more surprising, but this was humiliating for a very different reason - like Manchester City a fortnight ago, it highlighted perfectly the worrying gap between Spurs' current level and that of those around them.
If the job of the manager is to get his players performing to their full potential, then Andre Villas-Boas has simply not performed up to task. This display lacked tooth, desire, heart, discipline, attacking verve, coherence or any apparent cohesion. That's the sort of situation that ends in an exercise in desk-clearing.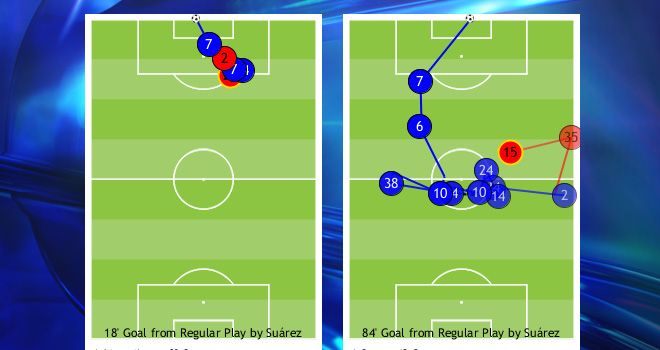 Luis Suarez cut through the Tottenham defence to score two brilliant goals
Soldado's struggles continue
It might have been different if he could have got his main forward scoring. In many ways, this could have been billed as the tale of two strikers. Whilst Roberto Soldado toiled and suffered yet again, Luis Suarez yet again proved his almost immeasurable worth to Liverpool. It is a scenario that can be expressed in rather pithy manner - in 11 Premier League games, Luis Suarez has scored two more goals than Spurs have in their 16 matches.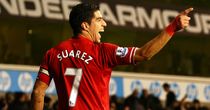 When does Soldado move from struggling to flop in our reasonable judgement? The continued excuse is that Soldado is starved of service, but Soldado had three more than reasonable chances to test Simon Mignolet, and yet hit the target with none of his three efforts on goal. For Suarez, four of his five shots required saves.
It is clear that Spurs failed to create enough attacking spark to adequately supply their Spaniard, but when you pay £26million for an international forward, do you not expect a degree of autonomy in creating chances for yourself. Jermain Defoe has been roundly castigated by Spurs fans, but the fact is that Spurs failed to register a single shot on target with Soldado as the lone striker. Something has to give.
Starring role for Henderson
Whilst the first goal owed much to the composure of Suarez, Jordan Henderson's effect cannot be underestimated. It was his run in behind Michael Dawson that initiated danger, and even when Dawson slid to intercept the pass, Henderson was the quickest to get a touch on the ball and send it through to his Uruguayan team-mate.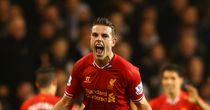 Such a theory was played out perfectly for Liverpool's second. Henderson drove forward and was found by an excellent first-touch pass from Philippe Coutinho. His first effort was actually pretty weak, but when presented with the second opportunity on the volley, Henderson guided it home for his first goal of the season.
Henderson struggled immensely to justify his fee early in his time at Anfield, but Steven Gerrard's (with Joe Allen as his replacement on Sunday) move into more of a quarterback role has allowed Henderson to operate higher up the pitch. He is currently reaping the benefits of being absolved of some defensive responsibility. He was rightly named as Man of the Match. His forward runs effectively created the first three goals, and there are now genuine reasons to believe that Henderson is finally beginning to truly grow into his place in Liverpool's first-choice side.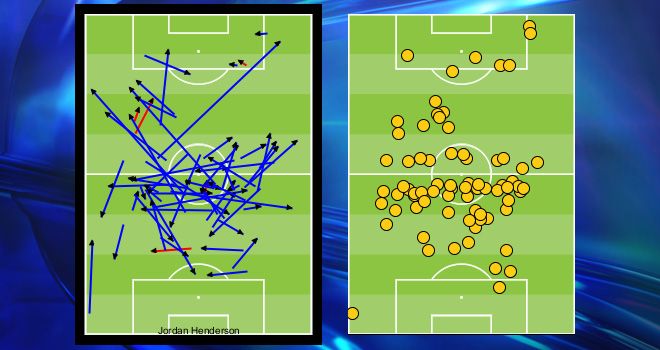 Jordan Henderson played more passes than anyone else and was a dominant figure in midfield
Tottenham's (lack of) defence
Not that breaching the Spurs defence proved particularly challenging. While some suggested Tottenham should have invested more funds on their defence in the summer, others pointed to the return of Younes Kaboul and the solid efforts of Dawson. Spurs would be fine, they argued. Well, call to the stand Walker, Capoue, Dawson and Naughton. Of course they have injuries, but as soon as that defensive line-up was named, you worried for Spurs. Is that defence even top half standard, let alone top four?
Capoue in particular struggled understandably to deal with the presence of such an in-form forward, whilst Dawson's first two notable contributions the slip-slide challenge for the opening goal, and the clothes line on Henderson that will see him miss Tottenham's next match. And then there was Naughton.
Tottenham's first choice left back is Danny Rose, who is possibly England's fifth choice behind Ashley Cole, Leighton Baines, Kieran Gibbs and Luke Shaw. Whilst that might not be an ideal situation, it's a whole lot more ideal than Kyle Naughton, taught a thorough lesson by Raheem Sterling, a 19-year-old not even in Roy Hodgson's first choice England squad.
Naughton had already given away two fouls on Sterling by the time Spurs fell behind, the goal forcing AVB to move Dembele to offer assistance to Naughton. Time and again he looked forlorn during a first half in which he won just one of his duels, made less than 70 per cent of his passes. You weren't sure whether you wanted him to be shouted at, cuddled or just taken to the vets and not brought home.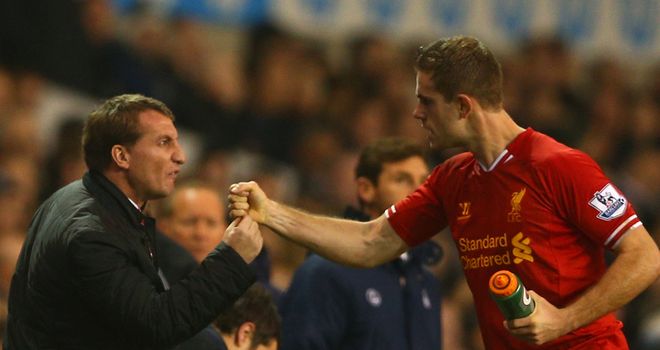 It was a performance more Championship than Champions League, and when you are replaced at half-time by a 21-year-old with 67 minutes of Premier League experience, it rather epitomises what everyone is thinking. Potentially the worst individual half of football of the season so far.
And has a Premier League defender ever suffered such a rapid fall from grace as Michael Dawson? It's less than two months since Glenn Hoddle and Ledley King wrote columns expressing their surprise at the Spurs captain's omission from the national team, but Hodgson has been proved right, right and a thousand more times right.
Almost since then, Dawson has done a decent impression of a man not totally in control of limbs or mind, and not completely trusting of his own ability to move and think simultaneously. Booed my his own fans after shanking a clearance out after 40 minutes effectively sums up the Spurs fans current feelings towards their skipper. In times of injury and strife, a captain is expected to rally his troops and raise his head above the parapet. Unfortunately, Dawson has done the opposite.
Flanagan joy
It is easy to overlook given Spurs' comparative bluntness, but Jon Flanagan rather came of age at White Hart Lane. Facing a combination of Kyle Walker and Aaron Lennon down the Spurs right, there were very real concerns for Flanagan's wellbeing before the game, particularly given the presence of Coutinho ahead of him, not necessarily a defensive winger.
Instead, Flanagan proved the doubters wrong. His pass accuracy of 89 per cent was almost 20 per cent better than Johnson on the opposite flank, and the threat from Walker and Lennon was expertly nullified. In fact, he actually offered more going forward than England's reserve right back.
Clearly a defender's work should never be judged on goals, but the unadulterated joy on Flanagan's face following his wonderful finish for Liverpool's third should warm the cockles of your Christmas heart. This was a man completely joyous with his lot.
So where do Spurs go from here? Looking at the teams that they have beaten in the league this season hammers a significant number of nails into the coffin of AVB's coffin. Crystal Palace, Swansea, Norwich, Cardiff, Aston Villa, Hull, Fulham and Sunderland. Not one team above tenth in the table has been defeated, with matches against Newcastle, Liverpool, Manchester City, Manchester United, Arsenal, Chelsea and Everton returning a grand total of three points. AVB has effectively created a mid-table side...
Villas-Boas' view
"It was difficult for us and Liverpool were spectacular today. They were really good pressing and couldn't let us play, and deservingly reached half-time 2-0 up. Our response came in the second half, but when we lost Paulinho the game was very, very difficult to turn and Liverpool started dominating possession, putting some balls in behind and we struggled. We didn't have any shots on target today, but I think we are the team with more shots in the Premier League, independent of our poor scoring record. Today, it wasn't to be. Liverpool had a great, great game and they deserve credit."
Rodgers' view
"It was fantastic. It was everything we'd wanted out of the game. First and foremost, our work-rate, how we pressed the ball as a team, was outstanding and that earned us the right to play. We got five goals and could easily have had seven or eight. That was probably the most complete performance since I've been here, and just continues the evolution of what we're trying to do. We just want to continue improving, continue to work on how we play. Today was great and I really enjoyed watching the team today in every aspect."
LIVE and exclusive on Sky Sports
Table
Barclays Premier League