Problem for Spurs?
Spurs have now scored just 33 goals in their 23 home games under AVB. After a 3-0 defeat to West Ham, Daniel Storey tells them to work on their patience...
By Daniel Storey - Follow on Twitter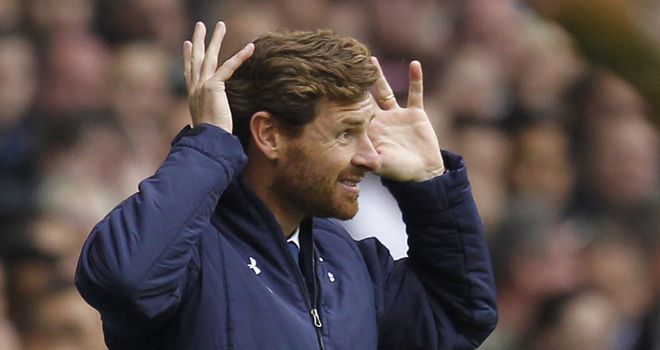 Andre Villas-Boas will need to find a way to break teams down better at White Hart Lane
In many ways, it is a compliment to Spurs' progress under Andre Villas-Boas this season. Last November, Sam Allardyce brought his West Ham side to White Hart Lane and picked a 4-4-2 formation with Andy Carroll and Modibo Maiga up front. The Hammers lost the game 3-1, a late Carroll goal nothing more than a consolation in a match that Spurs dominated, registering 22 shots in the process.
Fast forward a year (and without Carroll through injury) and Allardyce arrived with a rather different mentality. His side effectively played without a striker, with Maiga and Mladen Petric left on the bench. Ravel Morrison operated the furthest forward, but this was (at best) a bank of four with another sold five in front of them. West Ham came for a smash and grab (without using that as a critical term), and that is exactly what they got - go on then break us down, was the message sent to AVB and his team. After Spurs had proved themselves unable to do so, the Hammers picked off their opponents clinically. A match in which your opponents have just five shots on target should never end in 3-0 defeat, but at the top level that is the reward you receive for taking your opportunities efficiently.
As I say, this is a compliment, if anything. One of the results of Spurs' transformation from Top Four hopes to Top Four expectations is that more teams will arrive at White Hart lane with securing a point as their initial aspiration. Spurs' multitude of attacking midfield options dictates that the opposition (particularly those currently sat in the bottom half) must look for protection over adventure.
This provides Tottenham with a rather tricky issue. Players such as Andros Townsend, Gylfi Sigurdsson and Christian Eriksen promise to be devastating on a counter attack (as seen during the recent game against Cardiff in which Spurs dominated), but their approach needs to be altered when faced with rigidity and solidity.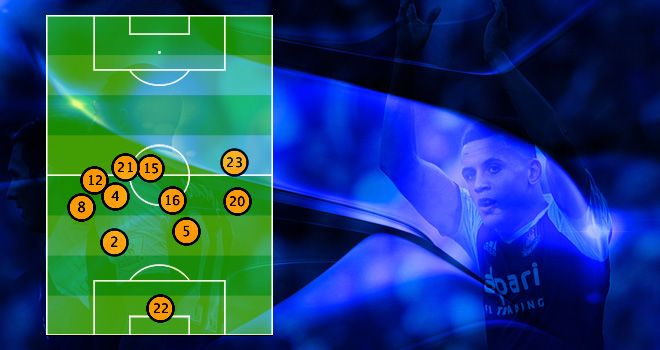 Ravel Morrison was part of a 4-6-0 formation for West Ham
One of Spurs' biggest issues this season has been the involvement of the centre forward. Roberto Soldado made just four passes in 77 minutes against Chelsea last weekend, and the Spaniard paid for his inactivity with a place on the bench, but his replacement Jermain Defoe initially didn't fare much better. Eight touches in a first half in which your side has had 60% of the ball is a worrying statistic.
One option is to play Defoe and Soldado as a partnership, something Villas-Boas resorted to after his side had fallen two goals behind. Doing so at least avoids the issue of isolation, and in the 15 minutes in which they played together the two had 13 touches, close to the 16 Defoe had in the other 75 minutes. Something to work on in training, one suspects, and a plan B which may well have greater legs if the club purchase a further option in January.
A second issue that much be addressed is that of patience. Andros Townsend is clearly a fine talent (and may well make his England debut this week), but he, amongst others, is often guilty of shooting off target from range. Despite having the most shots of any Premier League, Spurs have a lower shot accuracy of any other team in the top eight, and their shot conversion rate of 6% is lower than every team except Stoke City.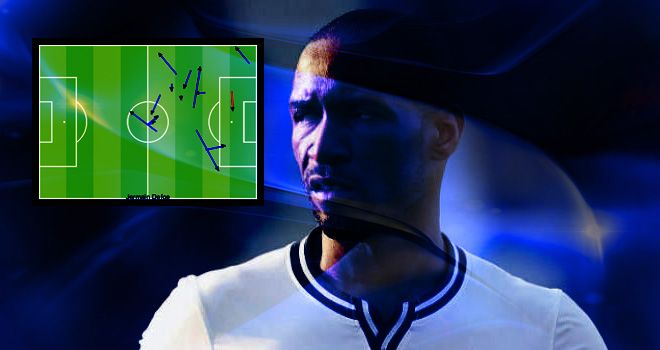 Jermain Defoe replaced Roberto Soldado but struggled to get into the game
Against West Ham, Spurs had 14 shots on goal, but only four on target. The fact that eight of their efforts came from outside the area demonstrates a reluctance to patiently work an opportunity. Townsend was again the most guilty party, with none of his four shots requiring a save. It is a self-evident statement, but every shot off target marks the end of a move. Spurs' midfielders would do well to remember that at times.
In fact, this struggle to break down teams at home is nothing new. Last season (AVB's first) Spurs scored 29 goals in 19 home games, lower than any of the top nine teams. The aforementioned 3-1 victory over West Ham was one of only three home games in which they scored more than two goals. As teams look to hold firm against a talented side, altering that is only likely to get more difficult.
This piece wasn't or isn't intended to be wholly negative. Tottenham supporters are enjoying perhaps their most hopeful Premier League season, and sitting three points off top spot is a positive start. Unfortunately, success breeds expectation, and with many sides viewing a point away at Spurs as a success, AVB must find a way for his side to become more efficient in breaking sides down. Fail to do so, and a top four place is anything but a certainty.
Latest Poll
Table
Barclays Premier League
Related