Arsenal duped
At 1-1 the draw would have been a decent result but Borussia Dortmund reeled Arsenal into playing around the edge of their box. They roped themselves a dope...
By Sarah Winterburn. Last Updated: 23/10/13 6:55am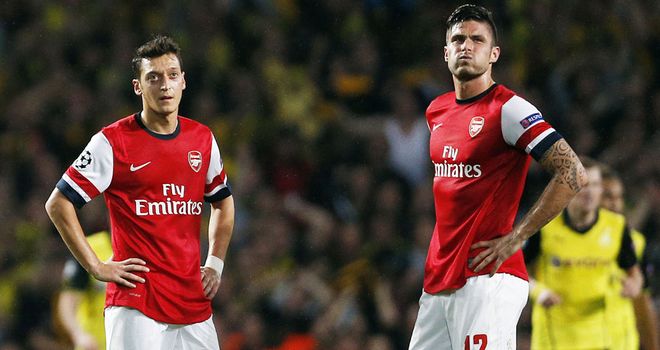 Arsenal can learn a lesson from their defeat by Dortmund on Tuesday night
'A very sterile domination' is how Arsene Wenger described Barcelona's style after visiting the Nou Camp in 2011. His argument may have carried rather more weight if Barca had not just won 3-1. Sterile? Pep Guardiola's side may have taken their time but they were clearly a class act.
Those four words ('a very sterile domination') came back to mind on Tuesday night as Arsenal claimed 58 per cent possession against Borussia Dortmund but failed to force goalkeeper Roman Weidenfeller into making a single save. Mikel Arteta may have claimed that Arsenal were playing the 'better football' at the Emirates but they were definitely not playing the most effective football. Even when Santi Cazorla came off the bench and injected some urgency into the Gunners' attack, there was a great deal of passing, an awful lot of 'nearly' and not a lot of oomph.
It was a little like watching the Gunners of old, before a change of tack this season which has seen Arsenal drop to eighth in the Premier League in terms of average possession. As the Gunners (along with Liverpool) have sacrificed some degree of control for a little more efficiency this season and have reaped the rewards with a blistering start. Against Dortmund, they allowed themselves to be drawn into the all-too familiar territory of ultimately toothless possession at the edge of the box. As Herbert Chapman once said, "The truth is you can attack for too long."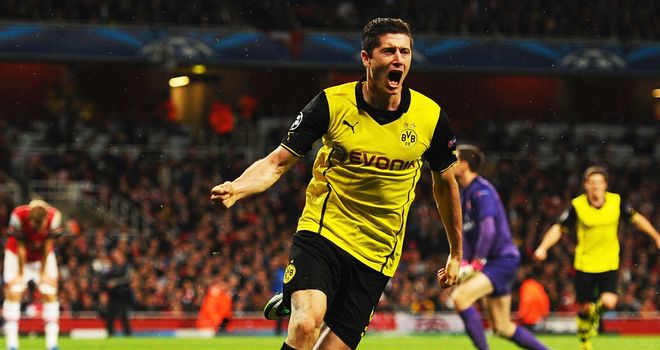 Robert Lewandowski: Scored the second goal to defeat Arsenal at the Emirates
That is particularly true when you are playing an excellent counter-attacking side like Borussia Dortmund, who have fantastic players to hurt any team who attacks for too long and leaves the back door ajar. That dynamism is allied with a work ethic that means Aaron Ramsey was offered just enough space to crash down to earth, Jack Wilshere was crowded into anonymity and Mesut Ozil struggled to find a route into the game until he wandered out wide in search of enough room to swing a boot.
This was not a poor performance from Arsenal but it was a hugely frustrating one - they must have known that Dortmund would come armed with a rope to catch themselves a dope, and the Gunners too easily fell into that trap. When 1-1 would have been a decent result, they pushed further and further forward in search of a winner. The curious side-effect of having an impressive start to the season is that increased confidence can lead to increased risk. That was certainly true of Ramsey in the build-up to Dortmund's opener. It turns out he is not invincible after all.
The good news for Arsenal as they look at a table which sees them on the same points total as two other teams is that they are equally devastating on the counter-attack. They should learn from Tuesday night and go to Dortmund armed with rope.
A version of this article first appeared on Football365
UEFA Champions League

Tue 22nd Oct - Group E

Schalke

0 - 3

Chelsea

S Bucuresti

1 - 1

Basel

Tue 22nd Oct - Group F

Marseille

1 - 2

Napoli

Arsenal

1 - 2

B Dortmund

Tue 22nd Oct - Group G

Austria Vienna

0 - 3

A Madrid

FC Porto

0 - 1

Zenit

Tue 22nd Oct - Group H

Celtic

2 - 1

Ajax

AC Milan

1 - 1

Barcelona
Tables
UEFA Champions League Group A
UEFA Champions League Group B
UEFA Champions League Group C
UEFA Champions League

| Pos | Team | P | Pts |
| --- | --- | --- | --- |
| 1 | Bayer Leverkusen | 3 | 6 |
| 2 | Monaco | 3 | 5 |
| 3 | Zenit St. Petersburg | 3 | 4 |
| 4 | Benfica | 3 | 1 |
UEFA Champions League Group D
UEFA Champions League Group E
UEFA Champions League Group F
UEFA Champions League Group G
UEFA Champions League

| Pos | Team | P | Pts |
| --- | --- | --- | --- |
| 1 | Chelsea | 3 | 7 |
| 2 | Schalke | 3 | 5 |
| 3 | Maribor | 3 | 2 |
| 4 | Sporting Lisbon | 3 | 1 |
UEFA Champions League Group H
UEFA Champions League

| Pos | Team | P | Pts |
| --- | --- | --- | --- |
| 1 | FC Porto | 3 | 7 |
| 2 | Shakhtar Donetsk | 3 | 5 |
| 3 | BATE Borisov | 3 | 3 |
| 4 | Athletic Bilbao | 3 | 1 |
Related
Arsenal v Borussia Dortmund

Olivier Giroud is confident he can cope with the demands of being Arsenal's leading frontman at home and abroad.

Jamie Redknapp says that Mathieu Flamini's tactical nous was sorely missed as Arsenal lost to Dortmund.

Jurgen Klopp believes Borussia Dortmund took 'a big step' with a UEFA Champions League victory over Arsenal on Tuesday.