Frailties return
Arsenal were fortunate to survive a second-half onslaught against Napoli to progress to the Champions League last 16. They cannot afford a repeat against Man City, writes Matt Stanger.
By Matt Stanger. Last Updated: 12/12/13 8:58am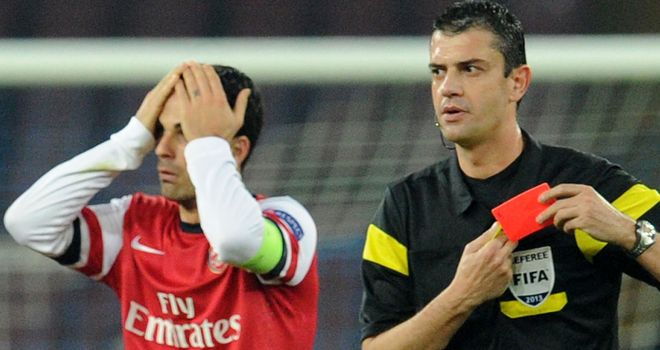 "I think when you look at Arsenal they play fantastic football, but you need to win games playing badly and I don't think Arsenal are capable of that at the moment. And maybe as well there is a lack of leadership."
Patrick Vieira's concerns about Arsenal's resilience may have seemed incongruous on Tuesday given their position at the top of the Premier League and commanding performances this season, but his opinion should now be seen as curiously prescient after the Gunners survived by the skin of their teeth against Napoli to secure second spot in Group F.
"I see it as another game we want to win, and that is the only way we can approach the game," insisted Arsene Wenger in his pre-match press conference, and for the first hour everything went to plan as Arsenal controlled possession and created the best chance of the match for Olivier Giroud. However, things quickly unravelled after the hour mark and despite trying to adapt to Napoli's resurgence, Wenger was left holding his breath in the final stages following Mikel Arteta's foolish red card.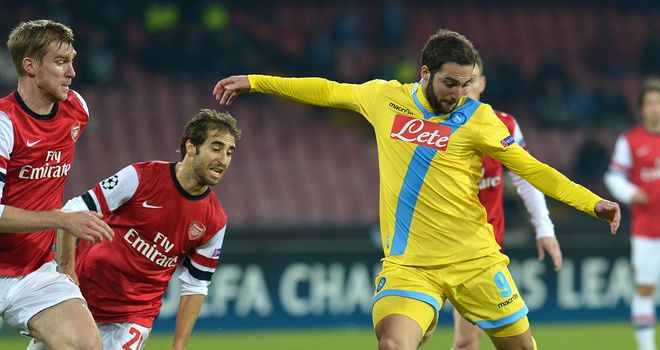 Gonzalo Higuain's goal set up a nervy finish for Arsenal in Naples
In many ways this was the Arsenal of old as former frailties reared their head at the most inopportune occasion. Despite dominating the first half, complacency crept into the Gunners' game - highlighted by a lazy mistake from Wojciech Szczesny that almost played in Gonzalo Higuain - and in the end they were somewhat fortunate to escape a three-goal defeat that would have seen them exit at the group stage for the first time since 2003. "We are happy to be through because it was very difficult," said Wenger. "The most difficult is when you are in between, do we attack or defend? As long as we didn't score, they had hope."
Perhaps the biggest concern for Wenger is that his team failed to heed his warnings after the break as Napoli began to turn the screw. In the first half the contrast between Giroud and Higuain's performances suggested that Arsenal were wise to hold on to their £32million in the summer, but in the end the Argentine almost came back to haunt the Gunners. "Higuain is a player you have to keep quiet as he is of course very dangerous, so the more we can play outside the box the easier it will be for us to keep him quiet," said Wenger on Tuesday. It was an instruction that Arsenal appeared to forget in the second half.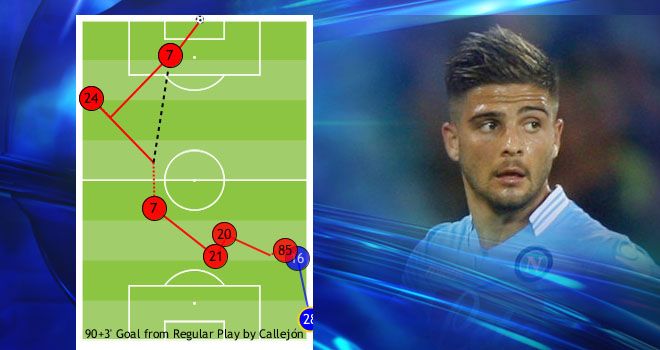 Lorenzo Insigne (24) added impetus for Napoli and helped set up their second goal
Indeed, this defeat had all the hallmarks of an implosion as nerves permeated the defence, substitutions failed to stem the tide and Arteta, normally a cool head in such situations, was guilty of a rash error of judgement. Giroud and Mesut Ozil became peripheral figures as the game wore on, with the lively Lorenzo Insigne injecting purpose into Napoli's play and combining well with Higuain and Jose Callejon to exploit the increasing gaps in the final third.
And this is a Napoli side on a poor run at present; they have won only one of their last five fixtures in all competitions and were missing the influential Marek Hamsik on Wednesday. Manchester City should provide an even tougher examination of Arsenal's resilience on Saturday and, while the Gunners haven't lost two matches in a row since February, that record will surely be tested if they repeat their second-half performance in Naples.
Wenger's view
"We are happy to be through because it was very difficult. We took it very seriously but in the second half we dropped physically a lot, we had a game on Sunday. Napoli played very well tonight but we were a little bit on edge for some minutes, it was nervous in the end, but we got through. The most difficult is when you are in between, do we attack or defend? As long as we didn't score, they had hope. Maybe what helped was that Dortmund were drawing 1-1 and maybe they put the handbrake on, that's why we didn't get too much pressure in the end."
LIVE and exclusive on Sky Sports
UEFA Champions League

Wed 11th Dec - Group B

Galatasaray

1 - 0

Juventus

Wed 11th Dec - Group E

Chelsea

1 - 0

S Bucuresti

Schalke

2 - 0

Basel

Wed 11th Dec - Group G

A Madrid

2 - 0

FC Porto

Austria Vienna

4 - 1

Zenit

Wed 11th Dec - Group F

Napoli

2 - 0

Arsenal

Marseille

1 - 2

B Dortmund

Wed 11th Dec - Group H

AC Milan

0 - 0

Ajax

Barcelona

6 - 1

Celtic
Tables
UEFA Champions League Group A
UEFA Champions League Group B
UEFA Champions League Group C
UEFA Champions League

| Pos | Team | P | Pts |
| --- | --- | --- | --- |
| 1 | Bayer Leverkusen | 0 | 0 |
| 2 | Benfica | 0 | 0 |
| 3 | Monaco | 0 | 0 |
| 4 | Zenit St. Petersburg | 0 | 0 |
UEFA Champions League Group D
UEFA Champions League Group E
UEFA Champions League Group F
UEFA Champions League Group G
UEFA Champions League

| Pos | Team | P | Pts |
| --- | --- | --- | --- |
| 1 | Chelsea | 0 | 0 |
| 2 | Maribor | 0 | 0 |
| 3 | Schalke | 0 | 0 |
| 4 | Sporting Lisbon | 0 | 0 |
UEFA Champions League Group H
UEFA Champions League

| Pos | Team | P | Pts |
| --- | --- | --- | --- |
| 1 | Athletic Bilbao | 0 | 0 |
| 2 | BATE Borisov | 0 | 0 |
| 3 | FC Porto | 0 | 0 |
| 4 | Shakhtar Donetsk | 0 | 0 |