Time to smile
David Moyes can afford to grin a little after a win over Shakhtar Donetsk which saw Manchester United win Champions League Group A and get noticeably stronger over 90 minutes. That has not happened enough times this season, writes Sarah Winterburn
By Sarah Winterburn. Last Updated: 10/12/13 11:43pm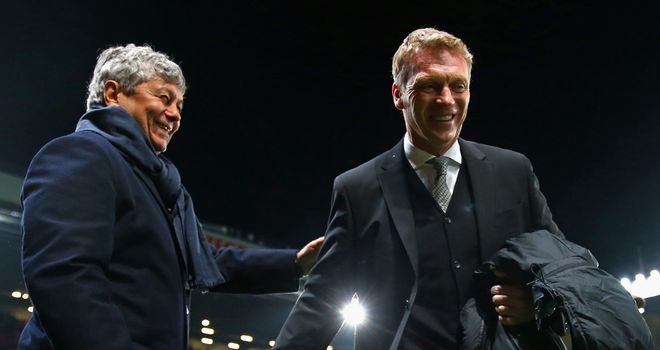 David Moyes: United got the win which meant they topped Champions League Group A
Had Manchester United failed to score, it would have been the first time they had drawn three consecutive blanks since 2007. Had they failed to win, it would have been the first time they had done so in four consecutive games since 2008. Had they lost, it would have been the first time they had been defeated in three consecutive Old Trafford games since 1962. As it was, they turned a half-time draw into a full-time win for the first time since September.
"I would like to congratulate Manchester United on their victory and wish them good luck for future games. I hope this result will help them to revive their play in the Premier League."
Shakhtar coach Mircea Lucescu Quotes of the week
It is a milestone that is nowhere near as eye-catching - it will not appear on too many back pages - but it should give some much-needed comfort to United fans who can barely glance at the Premier League table without feeling nauseous. For the first time in longer than many can cope with contemplating, United visibly improved as the match against Shakhtar Donetsk, in which victory ensured they won UEFA Champions League Group A, wore on.
David Moyes' United had started ponderously, seemingly playing at half-pace in a misguided attempt to make the match last half as long. It was all too painfully slow, and Wayne Rooney's eight touches in the opening 25 minutes illustrated all too well that United were not using their superior possession for anything remotely constructive.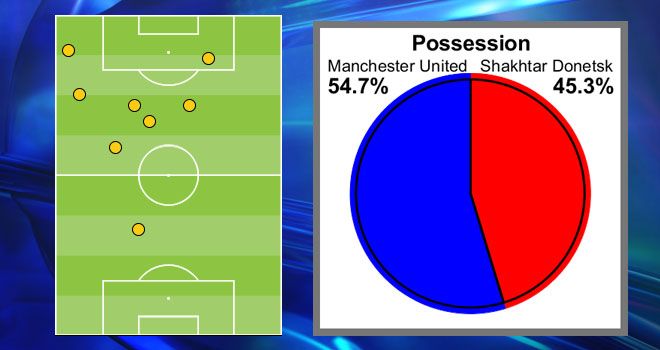 Wayne Rooney touched the ball only eight times in the first 25 minutes (l) but United had better possession overall
As well as being ponderous in attack, they were ponderous going backwards, allowing Shakhtar to stride through the midfield with minimal pressure. You can understand why a lack of confidence would stymie the imagination but there was simply no excuse for a lackadaisical attitude when out of possession. It looked desperate.
Moyes may be a long way from earning his keep in the context of the whole season but whatever he said at half-time at Old Trafford worked as a new, improved United emerged for the second half. Even Ashley Young did something impressive - a reverse pass into the path of Rooney - before he was withdrawn in an inevitable double substitution. Moyes took off the right players (the wasteful Young and the sloppy/slow Ryan Giggs) and brought on the energy of Tom Cleverley and the inspiration of Robin van Persie.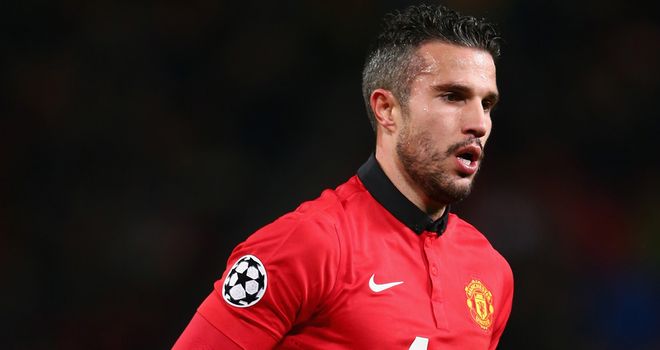 Robin van Persie: Came on in the second half and inspired United at Old Trafford
It matters not whether the Dutchman directly contributes to a goal for United; it is enough that he is on the pitch. United - and particularly Rooney - immediately look visibly more confident when the partnership is complete. United have won six and drawn two of the eight games they have started together this season, while five games have been lost when one or the other is missing.
Yes, they are over-reliant on the pair and it is worrying that their central midfield have produced neither goal nor assist in the Premier League this season, but that over-relied-upon pair - if they stay fit - could be enough to take them through to the quarter-finals of the UEFA Champions League and a finish in the top four of the Premier League. Right now, that would have to go down as a roaring success.
"No matter what the result was tonight we'd qualified, and I think we would have taken that when the draw first came out. When you get near the top you want to win the group. We had the game in Sociedad where we should have won and we ended up drawing, so we maybe would have had this wrapped up long before now."
UEFA Champions League

Tue 10th Dec - Group A

Man Utd

1 - 0

Shak Donetsk

Sociedad

0 - 1

Leverkusen

Tue 10th Dec - Group B

Galatasaray

A - A

Juventus

FC Cop'hagen

0 - 2

R Madrid

Tue 10th Dec - Group D

Plzen

2 - 1

CSKA Mosc

Bay Munich

2 - 3

Man City

Tue 10th Dec - Group C

Olympiakos

3 - 1

Anderlecht

Benfica

2 - 1

PSG
Tables
UEFA Champions League Group A
UEFA Champions League Group B
UEFA Champions League Group C
UEFA Champions League

| Pos | Team | P | Pts |
| --- | --- | --- | --- |
| 1 | Zenit St. Petersburg | 1 | 3 |
| 2 | Monaco | 1 | 3 |
| 3 | Bayer Leverkusen | 1 | 0 |
| 4 | Benfica | 1 | 0 |
UEFA Champions League Group D
UEFA Champions League Group E
UEFA Champions League Group F
UEFA Champions League Group G
UEFA Champions League

| Pos | Team | P | Pts |
| --- | --- | --- | --- |
| 1 | Schalke | 1 | 1 |
| 2 | Sporting Lisbon | 1 | 1 |
| 3 | Chelsea | 1 | 1 |
| 4 | Maribor | 1 | 1 |
UEFA Champions League Group H
UEFA Champions League

| Pos | Team | P | Pts |
| --- | --- | --- | --- |
| 1 | FC Porto | 1 | 3 |
| 2 | Athletic Bilbao | 1 | 1 |
| 3 | Shakhtar Donetsk | 1 | 1 |
| 4 | BATE Borisov | 1 | 0 |
Related
Man Utd v Shakhtar Donetsk

Ashley Young says the Manchester United players deserve plenty of the blame for the club's current poor run of form.

Phil Jones admits Man Utd secured a 'massive win' over Shakhtar and hopes it proves to be a spark in their season.

David Moyes was happy to see Man Utd progress in the Champions League as group winners after a victory over Shakhtar.