Fellaini fits in
It is easy to say that Mesut Ozil would have been a better buy but Marouane Fellaini's first start illustrated his importance - freeing Wayne Rooney to do his damage...
By Sarah Winterburn. Last Updated: 18/09/13 6:11am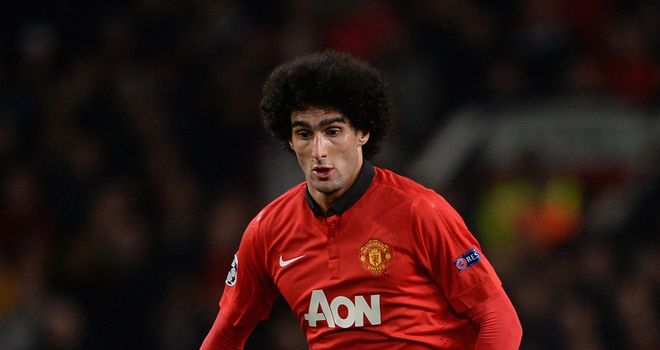 Marouane Fellaini: Proved vital in creating space for Wayne Rooney against Leverkusen
"I think Fellaini is too similar in a way to Michael Carrick, but I love Michael Carrick as a player, he makes things tick. It makes you think, 'where is Fellaini going to play?' If you spend £28million on someone you would expect them to be playing," said Teddy Sheringham this week.
Sheringham's point was that United should have signed Mesut Ozil instead of Fellaini but that is an attacking player talking. Yes, United could have used Ozil and his unquestionable creative talents. But Real Madrid are possibly the only team in Europe who could seriously claim to have no use for Ozil. And most people think even they have made a big mistake.
Ozil would have been a lovely addition to United's creative ranks - though Wayne Rooney's performance against Bayer Leverkusen (barring the missed open goal) in the UEFA Champions League on Tuesday night would give some pause for thought about the right choice for the No. 10 position if Ozil had been signed. But they undoubtedly needed an orthodox central midfielder more. They won the Premier League despite their central midfield last season, when Carrick looked exceptional largely because he was doing the work of two men.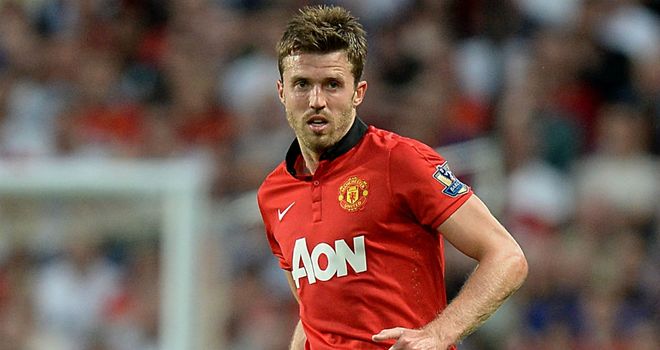 Michael Carrick: Should be pleased to have powerful team-mate in central midfield
Carrick must have been astounded to be finally playing with a central midfielder who was not lightweight, overweight or ancient. His workload was almost immediately halved. Last season he averaged 77 passes per game in the Premier League while Tom Cleverley racked up less than 50. That is nowhere close to being an even distribution of work. Against Bayer Leverkusen, as himself and Fellaini controlled the game, they had both made 84 passes when the Belgian left the field after 80 minutes. Fellaini had touched the ball more, wrestled back possession more and created more chances (okay, it was 1-0, but that is still more) than Carrick.
Meanwhile, United's domination of central midfield allowed United's front four more freedom. Rooney was freed to wreak havoc without dropping deep to be a third central midfielder, Antonio Valencia shocked many by not only taking on the Leverkusen full-back but delivering the ball into dangerous areas and Robin van Persie did what the Dutchman does with awe-inspiring regularity, pulling off a remarkable finish that only he would even contemplate. The only disappointment for United fans was that Shinji Kagawa toiled on the left, presumably to the sound of Jurgen Klopp's sobbing.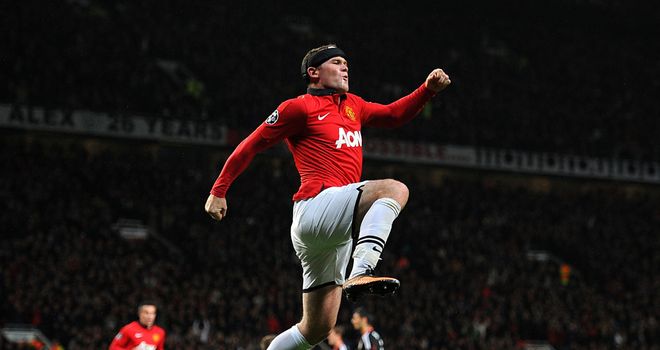 Wayne Rooney: Will grab the headlines but Fellaini was influential
While Rooney will undoubtedly dominate the headlines after his two strikes saw him hit the 200-goal mark for the club, it is Fellaini's full debut that should really lift the spirits of United fans. After all, everybody knows that Rooney is capable of dominating average defences and most vaguely remember Valencia being effective on the counter-attack, but it has been an awful long time since they have seen United field a physically impressive, dynamic and yet disciplined central midfielder.
There are much sterner tests ahead - one awaits on Sunday at Manchester City - but the future certainly looks brighter with Fellaini alongside Carrick rather than Cleverley. Those United fans who were sniffy about the Belgian and his supposed lack of United class have had a glimpse of what he can offer and they should be prepared to nibble at a few of their words.
A version of this article first appeared on Football365>
UEFA Champions League

Tue 17th Sep - Group A

Man Utd

4 - 2

Leverkusen

Sociedad

0 - 2

Shak Donetsk

Tue 17th Sep - Group B

FC Cop'hagen

1 - 1

Juventus

Galatasaray

1 - 6

R Madrid

Tue 17th Sep - Group C

Olympiakos

1 - 4

PSG

Benfica

2 - 0

Anderlecht

Tue 17th Sep - Group D

Bay Munich

3 - 0

CSKA Mosc

Plzen

0 - 3

Man City
Tables
UEFA Champions League Group A
UEFA Champions League Group B
UEFA Champions League Group C
UEFA Champions League

| Pos | Team | P | Pts |
| --- | --- | --- | --- |
| 1 | Zenit St. Petersburg | 1 | 3 |
| 2 | Monaco | 1 | 3 |
| 3 | Bayer Leverkusen | 1 | 0 |
| 4 | Benfica | 1 | 0 |
UEFA Champions League Group D
UEFA Champions League Group E
UEFA Champions League Group F
UEFA Champions League Group G
UEFA Champions League

| Pos | Team | P | Pts |
| --- | --- | --- | --- |
| 1 | Schalke | 1 | 1 |
| 2 | Sporting Lisbon | 1 | 1 |
| 3 | Chelsea | 1 | 1 |
| 4 | Maribor | 1 | 1 |
UEFA Champions League Group H
UEFA Champions League

| Pos | Team | P | Pts |
| --- | --- | --- | --- |
| 1 | FC Porto | 1 | 3 |
| 2 | Athletic Bilbao | 1 | 1 |
| 3 | Shakhtar Donetsk | 1 | 1 |
| 4 | BATE Borisov | 1 | 0 |
Related
Man Utd v Bayer Leverkusen

Wayne Rooney says it is an honour to have scored 200 goals for Man United and has thanked the fans for their support.

Wayne Rooney has yet to produce the best form of his Man Utd career, says Graeme Souness.

Wayne Rooney has yet to produce the best form of his Man Utd career, says Graeme Souness.