Dream debut for Matri
Last Updated: 19/01/14 4:33pm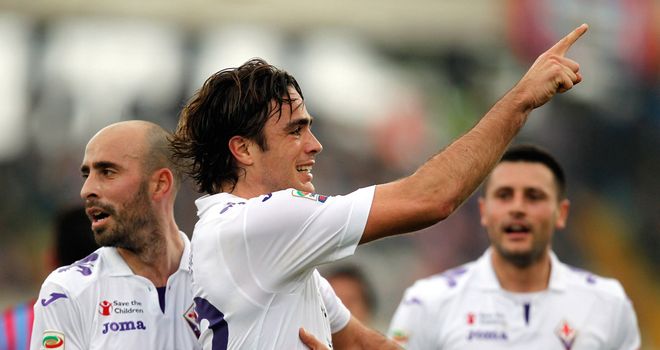 Alessandro Matri celebrates his first goal
Alessandro Matri made a dream debut and Catania coach Rolando Maran a dismal return as Fiorentina thrashed the Sicilians 3-0 to reduce the arrears on third-placed Napoli to three points.
Matri, who joined the Viola from AC Milan in midweek, scored twice in the first half after an opening goal from Matias Fernandez put Vincenzo Montella's men on their way to victory.
The on-loan Milan striker left the action early in the second half having done enough to earn Fiorentina a win which leaves Catania rooted to the foot of the table.
Catania showed a certain willingness in the opening exchanges, but Fiorentina laid bare the difference between the two sides, illustrated by the 24 points which separated them in the standings at kick-off, by taking the lead with their first chance.
Fernandez struck the ball on a half-volley to surprise Alberto Frison in the Catania goal.
Just two minutes later, Matri opened his account in a Viola shirt with his first sight of goal for his new club.
Another low cross from Manuel Pasqual was met by Matri, who got a toe-end to the ball and that was enough to guide the ball in past Frison.
Pasqual created the third goal like he had created the first two, with another incursion down the left, this time for Fernandez, whose shot was saved by Frison, but only as far as Matri, who accepted the gift for his second goal.
There was little let up in the second half either with Fernandez hitting the crossbar with a free-kick from almost 30 yards out
Having already demonstrated their clear superiority, Fiorentina showed some signs of mercy, playing the clock down to a whistle which both sides were looking forward to hearing - Fiorentina to celebrate a win which keeps them in the hunt for a top-three finish and Catania merely to end yet more misery.