Fiorentina draw a blank
Last Updated: 12/01/14 1:43pm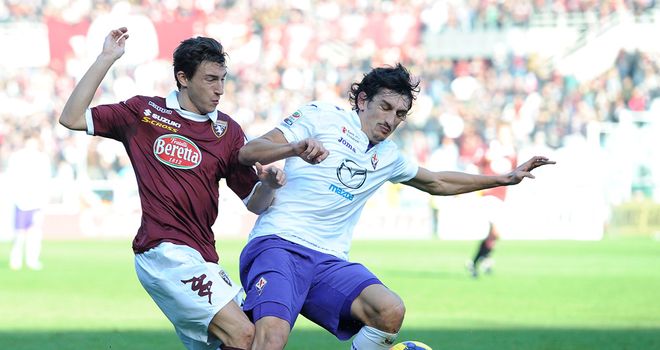 Matteo Darmian and Stefan Savic tangle
Fiorentina may have to step up their search for a new striker to fill in for the injured Giuseppe Rossi and Mario Gomez after drawing a blank in a 0-0 draw at Torino on Sunday.
For only the third time this season the Viola failed to find the back of the net, although Borja Valero did his utmost to convince coach Vincenzo Montella of his attacking worth.
Alessio Cerci was Torino's most dangerous player but neither could supply the winning blow as Fiorentina edged a point closer to third-placed Napoli and Torino reduced the deficit on sixth-placed Inter Milan to five points.
Facundo Roncaglia volleyed the first chance over in the 15th minute as Fiorentina made a bright start at the Stadio Olimpico.
Five minutes later, Valero, celebrating his 29th birthday, almost curled a delicate shot inside the far post but missed the upright by inches as Fiorentina maintained steady pressure.
The Spaniard went even closer to the left-hand upright with his next shot just prior to half-time with Cerci testing Neto for the third time in the game soon after.
The half came to an end with another Valero effort going only narrowly wide.
In the absence of the injured Rossi and Gomez, the Spanish midfielder was revelling in his more advanced role, providing the first shot of the second half also, this time hitting the target, but not causing too big a problem to Daniele Padelli.
All of Fiorentina's chances fell Valero's way but he lacked the killer instinct which characterises the players he was replacing in the forward line.
Ryder Matos came on to try to give the Viola attack an edge, but chances remained few and far between with a goalless draw the inevitable outcome.