Tale of two Belgians
The battle between fellow countrymen Kevin Mirallas and Jan Vertonghen was a key contest in Sunday's stalemate between Everton and Tottenham. We use Opta data to analyse the contest
By Peter Fraser - Follow me on Twitter @SkySportsPeteF. Last Updated: 03/11/13 5:51pm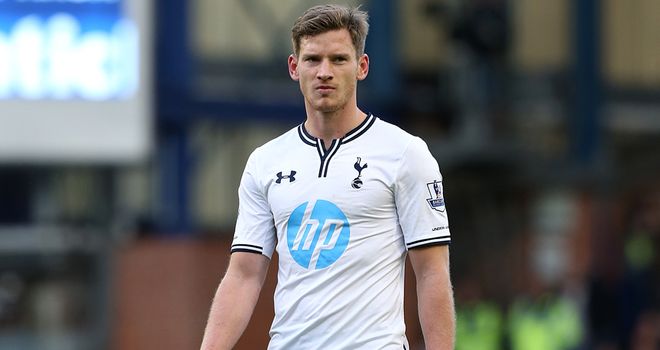 Jan Vertonghen: Named man of the match for his performance at Goodison Park
Belgian footballers are the current hot topic in the game as they boast impressive potential ahead of next summer's World Cup. And in Sunday's 0-0 draw between Everton and Tottenham Hotspur there was a story of both the good and the bad of the men from one of the Low Countries.
It was a forgettable Premier League stalemate at Goodison Park, where Everton continued their formidable home form by taking a 29th point from their last 11 games, and influential in the result were both the home team's Kevin Mirallas, for the wrong reasons, and Tottenham's Jan Vertonghen.
Both Roberto Martinez and Andre Villas-Boas will have to be content with the point. But the former will have been extremely disappointed with the performance of the unusually out-of-sorts Mirallas while the latter saw Vertonghen once again demonstrate he is one of the most versatile defenders around the globe.
Selection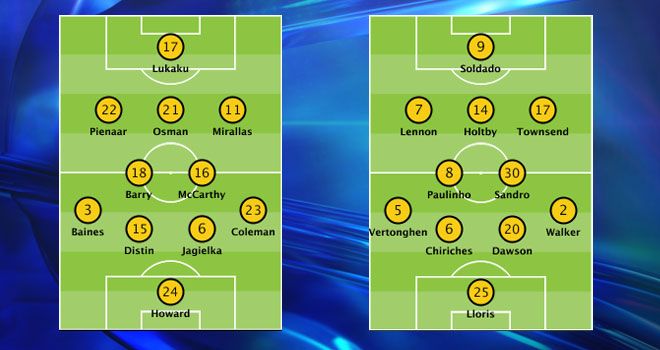 Everton v Tottenham starting line-ups
Everton made one change to the starting XI which began against Aston Villa, with Leon Osman, who scored in that 2-0 win, preferred ahead of Ross Barkley. However, boss Martinez reversed this decision in the 60th minute when replacing Barkley with Osman in a substitution. Romelu Lukaku stayed as the lone striker.
Tottenham named the same team which beat Hull City in their last Premier League outing. That again meant Vertonghen started at left-back while Lewis Holtby was given the freedom to drift behind main striker Roberto Soldado.
Story of the game
Tottenham made a super start, dominating possession, passing accuracy and duels - and the key man was Vertonghen. Again playing out of position at left-back to cover for Spurs' injuries, the Belgian got forward at every opportunity in the first 25 minutes. In that period, he had touched the ball 27 times, which was equal with Holtby as the highest number by any player on the pitch. Vertonghen went on to finish the first half having created two chances, had one blocked shot, enjoyed 41 touches of the ball and a good 71 per cent success rate from his seven duels.
Much has been made of centre-back Vertonghen, who was unfortunate not to win a first-half penalty from a clumsy Seamus Coleman challenge, playing at full-back as a source of Tottenham's bemoaned recent negativity. However, to compensate for Spurs' inverted wingers, Aaron Lennon and Andros Townsend, Vertonghen had clearly been ordered by Villas-Boas to attack with overlapping runs in this particular game. As demonstrated by Spurs' attacking locations, almost half of their forward advances came down the left in the opening 20 minutes.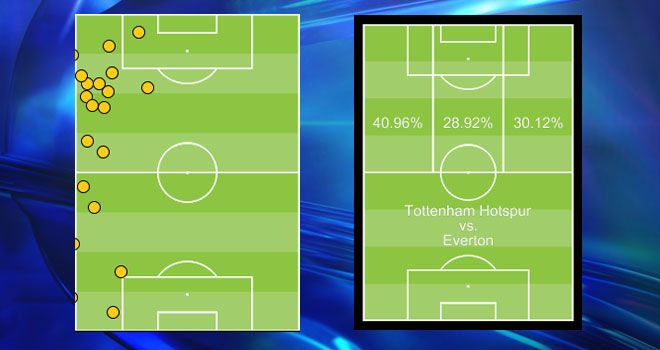 Vertonghen got forward (l) and Spurs attacked down the left in the early stages (r)
With Vertonghen attacking, it meant Everton's right winger, Mirallas, who went into the weekend with four goal assists - a Premier League high, was a mere spectator in the first half and touched the ball only 11 times, a lower number than any other player. With Tottenham playing a very high, pressing tactic - on average winning possession 42 metres from their goal - to stop Everton's passing, combined with Mirallas' inactivity, the consequential impact left Lukaku isolated and the striker lost possession 12 times before the interval. It meant Everton had only two shots to Tottenham's 10 in the first half, failing to hit the target with any of those efforts while Spurs were accurate with four.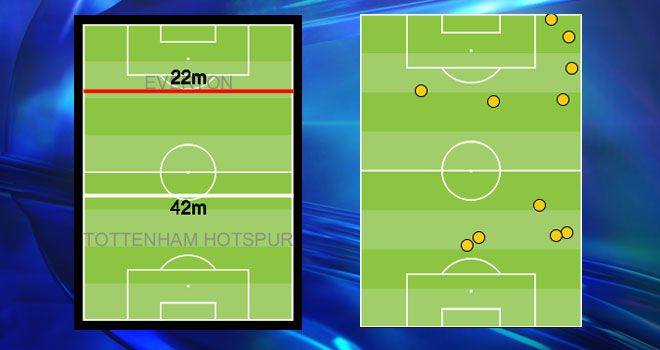 Tottenham won possession 42m from their goal in the first half (l) while Mirallas was ineffective (r)
Everton improved with the ball after half-time and in the 10 minutes following the break they had a 61.7% majority of possession compared with their 41.7% minority in the entirety of the first half. And, in the 66th minute, the fortune of the first half was reversed when this time Vertonghen was very lucky to avoid giving away a penalty for bringing down Coleman.
Mirallas' poor afternoon had ended three minutes earlier, when he was taken off to be replaced by Gerard Deulofeu while Barkley had come on for Osman. Mirallas' performance had seen him have just 19 touches while he had only a 16.7% success rate in his six duels. The changes helped Everton and they finished the game having improved their possession statistics by more than 20% on the first half.
However, the nasty head injury suffered by Tottenham goalkeeper Hugo Lloris in a collision with Lukaku brought a long break in play and snubbed Everton's momentum. Likewise, goal-shy Tottenham, who have now not won at Goodison Park in their last seven visits, could not break the deadlock as Roberto Soldado again looked off the pace in an issue which has been a story of their season. Soldado had just two shots in the entire game and failed to hit the target with either. Everton finished the game with just one shot on target.
In contrast to Mirallas' bad afternoon, Vertonghen had been essential for Spurs and the defender finished the game having created three chances - Tottenham's joint highest total with Townsend - 70 touches, gaining possession nine times and making three tackles.
"In the first half, we found it a little bit hard to keep the ball but we defended really well. Spurs are a very good side and work extremely hard when they lose the ball. That probably upset our rhythm a little bit but then we found that rhythm in the second half. We imposed ourselves and created clear opportunities in terms of positions in the final third, and, on another day, we may have found that final pass."
"We had a very good first half but Everton put in a big effort in the last 30 minutes. I think we had the better opportunities but I would say it is a fair result and for us a good point. We wanted to put them under real pressure. We just could not make the most of the mistakes we forced but it was still a great performance from the team."
"Coleman is maybe not sure if he is going to get the penalty. He should get the penalty but he also has half a chance in the box on his left foot. Maybe he made the referee's mind up by the fact that he carried on. We are giving the referee a bit of stick for not giving the penalty but his positional play is fantastic. But you think, 'how has he not given it?'. He is not unsighted. Really, we should be talking about two penalties that have been given."
LIVE and exclusive on Sky Sports
Table
Barclays Premier League
Related
Everton v Tottenham

Tim Howard has paid tribute to the methods of manager Roberto Martinez, with the Everton squad brimming with belief.

Arsenal boss Arsene Wenger would welcome a change to the laws of the game which would allow an additional substitution.

Roberto Martinez has defended Romelu Lukaku in the wake of criticism aimed at him by Tottenham boss Andre Villas-Boas.