Match analysis
West Brom and Arsenal played out an intriguing 1-1 draw on Super Sunday. Adam Bate takes a look at the Opta data to evaluate Jack Wilshere's mixed day and the impressive midfield efforts of Youssouf Mulumbu and Claudio Yacob...
By Adam Bate - Follow @GhostGoal. Last Updated: 07/10/13 9:56am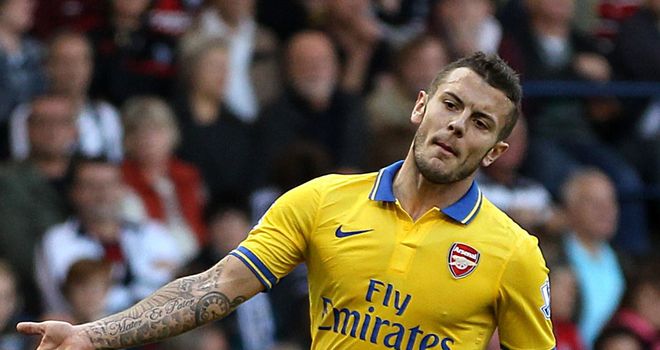 Arsenal's eight-game winning run away from home came to an end at the Hawthorns as they were held to a 1-1 draw by West Brom. Claudio Yacob put the home side in front in the second half but a deflected effort from Jack Wilshere levelled things up.
It was a somewhat fortunate escape for the Gunners given that old boy Nicolas Anelka had wasted two good chances for the Baggies. Here we take a look at the Opta data to examine a strong performance by the Albion midfield duo, Arsenal's struggle for width and a mixed performance by Wilshere...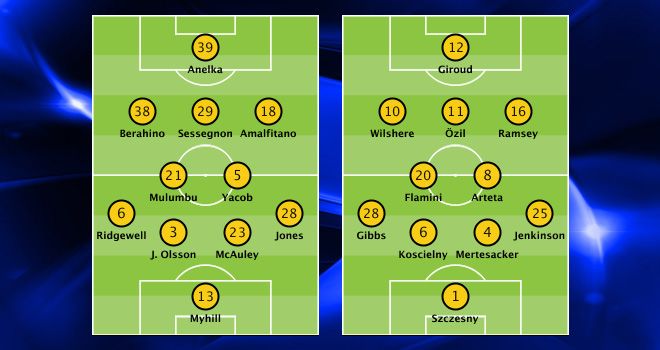 West Brom v Arsenal starting formations
Selection
After impressing from the bench with a goalscoring performance at Manchester United last week, Saido Berahino was rewarded with his first Premier League start on the left wing for West Brom in place of the injured Scott Sinclair.
With Victor Anichebe also unavailable, Anelka also came into the side against his first English club to take the striking duties. Stephane Sessegnon provided the support for the Frenchman with Morgan Amalfitano wide on the right.
Arsene Wenger attempted to cram much of his central midfield talent into the same team as he struggles for wing options with Santi Cazorla, Lukas Podolski and Theo Walcott all injured. That meant Wilshere and Aaron Ramsey playing in the wide positions.
At the back, Kieran Gibbs was preferred to Nacho Monreal at left-back, while Carl Jenkinson deputised for injury victim Bacary Sagna on the right.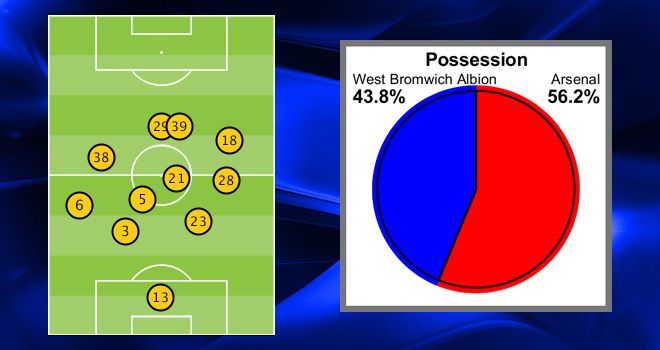 West Brom left Yacob (5) and Mulumbu (21) to deal with Arsenal's midfield men and the visitors dominated the ball
Story of the game
The immediate consequence of Arsenal's abundance of central midfielders was that they dominated the ball. Ramsey and Wilshere both looked to drift inside swamping the middle of the pitch. "They're getting outnumbered in there," said Alan Smith on co-commentary. "It's a position Arsenal can dominate you in if you are not careful."
While that was reflected in the possession statistics, Albion's midfield pairing of Yacob and Youssouf Mulumbu were hugely impressive. Although Sessegnon was nominally playing in the hole in support of Anelka, the home side frequently appeared to be playing a 4-4-2 with Yacob and Mulumbu expected to deal with Arsenal's attacking midfield combination play. Remarkably, they did a fine job of it.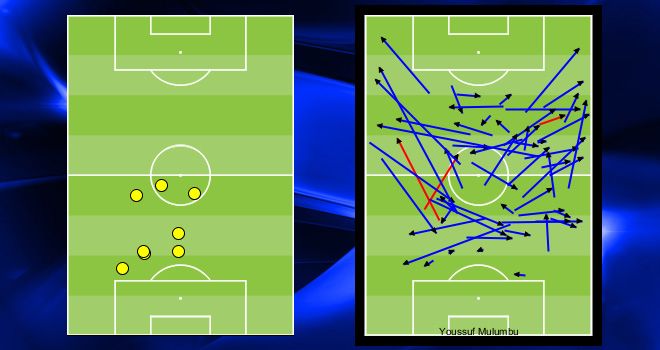 Yacob made eight tackles and interceptions in key areas, while Mulumbu used the ball well
Match Video
Sky Sports subscribers can watch highlights of West Brom v Arsenal online. Click here for more
Yacob made no less than eight tackles and interceptions, while Mulumbu's use of the ball was always reliable - successfully completing 56 of his 59 passes in a characteristically athletic performance. The duo have quietly formed one of the more effective midfield partnerships in the Premier League and, as Steve Clarke acknowledged after the game, provide the platform for the team to play.
There was simply no way through for the Gunners. "The space for Arsenal is out wide," said Jamie Carragher at half time. "There's no space in the middle and that's forcing Ozil deeper." The German showcased all of his trademark touch and finesse, angling passes to team-mates and generally looking a class act. But West Brom succeeded in ensuring much of it was done in areas that didn't directly trouble their back line.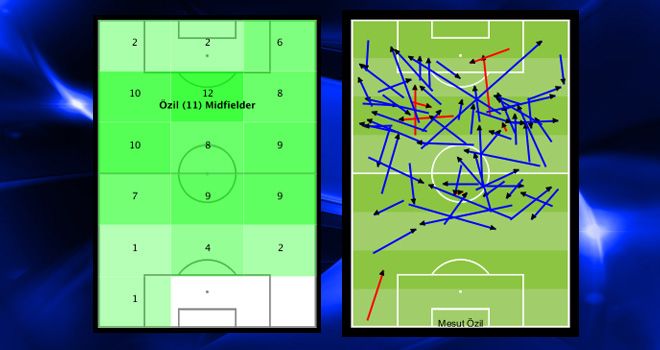 Carragher believes Ozil dropped deeper in his search for space at the Hawthorns
The real problem for Arsenal - and one Wenger might have to solve if he is to maintain a plausible title challenge - is that this particular version of his team lacks the pace in wide areas. Wilshere, in particularly, looked desperately uncomfortable in a woeful first-half performance. "Wilshere has given the ball away every time he's got it," said Jamie Redknapp in the studio. "He's lost every tackle. That's not good enough and he's got to change it."
They were strong words but ones backed up by the statistics. Wilshere lost an astonishing 11 duels in the first 45 minutes. No other player on the pitch lost more than eight all afternoon. "It was a tough day for me," admitted the midfielder in his post-match interview. "I'm not used to playing on the wing."
Arsenal - First-half duels lost
Player
Duels lost
Jack Wilshere
11
Carl Jenkinson
3
Kieran Gibbs
2
Aaron Ramsey
2
As Wenger put it, Wilshere struggled to "find the rhythm of the game" and in the early stages of the second half it seemed the rest of his team-mates had the same problem. After enjoying over 58 per cent of the possession before the break, the visitors suffered a reversal after the interval as Albion had 57 per cent of the ball up to the hour mark - finding space in wide areas.
Amalfitano peppered the Arsenal box with crosses and while Mertesacker & Co were largely successful in repelling the threat, there was no surprise that Clarke's side found the breakthrough courtesy of that right flank with Amalfitano swinging the ball in for Yacob to expertly head past Wojciech Szczesny.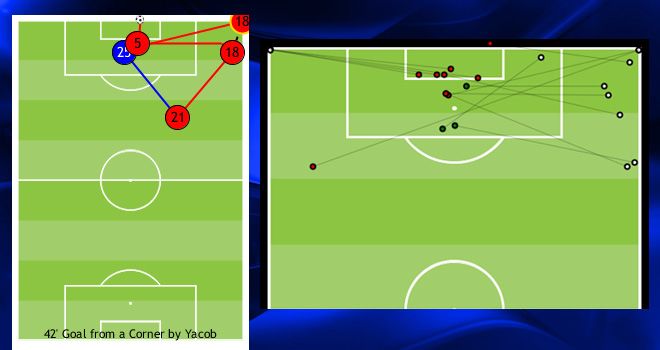 Amalfitano's crosses (right) were a feature of the match and paid off for the opening goal
With the introduction of Tomas Rosicky just before the hour, Arsenal changed their shape and it proved vital. The arrival of the Czech player in a narrow wide left role allowed Wilshere to take Ramsey's berth playing from the right and the England man soon appeared more comfortable in being able to cut inside onto his stronger foot.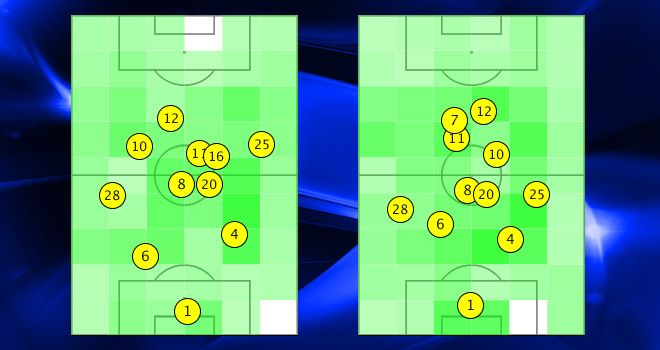 Arsenal's shape changed in the second half and it helped Wilshere get into better areas
The impact came within four minutes of the change. Rosicky provided the lay off and Wilshere's snap shot from distance took a deflection off Jonas Olsson and past the wrong-footed Boaz Myhill. It was incongruous given his performance up to that point but Wilshere deserves praise for showing character when things weren't going his way.
The same could be said for Arsenal. Wenger is keen to talk up the character of this group and it is surely an encouraging sign that they were able to get something out of this game after falling behind for the first time since the opening day. The mental strength is there. The midfield balance may take longer to find.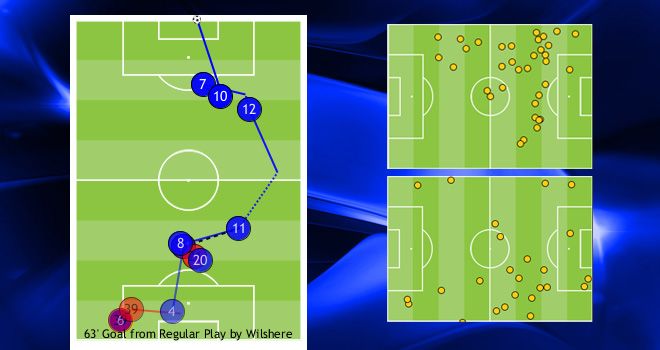 Wilshere equalised. His touch maps show the change of role from first half (top) to second (bottom)
"We started slowly this year. The last four games have been much better, we played to a good level. We gave as good as we got and we stood toe to toe with one of the better teams in the division and for us that's a big thing to take into the rest of the season. Claudio is dangerous in the air - he's a good size and attacks the ball well. We've used him in a lot of set plays and we haven't quite had the end result, but we have today and at that stage I thought we deserved to be in front."
"Over the whole game, I think it's a fair point. Over the last half-an-hour, I have some regrets, because we could feel we had the opportunities to score a second goal. We again have shown character to come back into this game and in the second half being a goal down to equalise. He (Wilshere) had trouble today to find the rhythm of the game. But he has character as well. He doesn't give up, he continues to play his game and got a great goal. I believe he was fouled a few times, pushed over and didn't get the fouls he deserved."
"I have been Wilshere's biggest fan but the way he played first half was not up to the standards he has set over the years. He was caught in possession, kept giving the ball away and never won his 50/50 challenges. So Arsene Wenger deserves credit for not taking him off but Jack deserves it as well for reacting, as all good players do. He didn't hide, got in a position to score a goal and played the pass of the match to Olivier Giroud. He was much more effective in the middle as wide left doesn't suit him because he doesn't have the pace of a Theo Walcott. But with Santi Cazorla coming back and Mikel Arteta and Mathieu Flamini forming that defensive two, you wonder where Wenger will fit everyone in."
Mulumbu got the nod as man of the match ahead of his more understated partner Yacob. Both men were crucial in stifling Arsenal. "They haven't got the quality of Arsenal's old pairing of Emanuel Petit and Patrick Vieira," said Carragher. "But they are very organised, always very close together and gave Arsenal no space, which is why Ozil had to drop deeper and deeper. They were both involved in West Brom's goal, too, with Mulumbu helping set it up and Yacob heading it in, and it was very close between the pair of them for Man of the Match."
LIVE and exclusive on Sky Sports
Table
Barclays Premier League