Match analysis
After Liverpool beat Manchester United 1-0 at Anfield on Sunday, Adam Bate examines what is becoming a familiar scoreline as the Reds showed that early pressing and second-half containment are now just as much a feature of a Brendan Rodgers side as the possession game.
By Adam Bate - Follow @GhostGoal. Last Updated: 01/09/13 8:53pm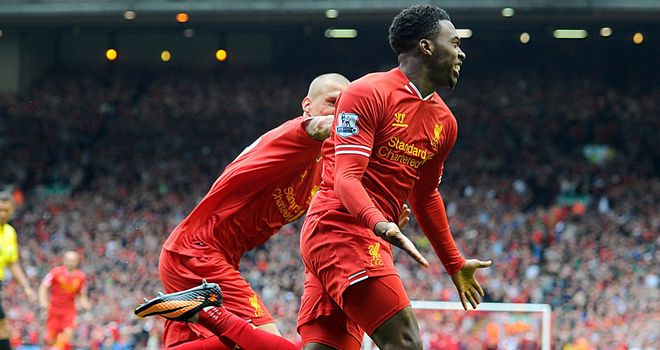 Birthday boy Daniel Sturridge was the hero again as Liverpool beat Manchester United 1-0 at Anfield on Sunday. It was Liverpool's third win out of three by that scoreline so far this season with Sturridge, 24 on the day, netting the goal in each of them and gave the home side a fitting victory to also mark the 100th anniversary of Bill Shankly's birth on Monday.
For David Moyes, this was his first defeat in charge of United and aside from one miscued effort by Robin van Persie late on, his team rarely looked like breaching the Liverpool defence. Lots to think about for the new United manager. Here we take an in-depth look at how the game unfolded and the key factors in Liverpool's win...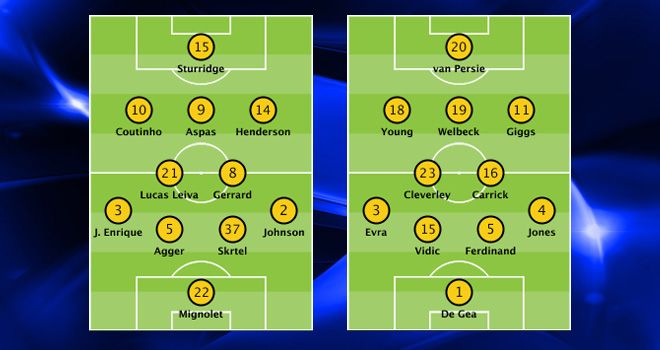 Liverpool v Manchester United starting formations
Selection
There were no surprises in the Liverpool line-up as Brendan Rodgers opted for the same starting XI that secured 1-0 wins over Stoke City and Aston Villa but for the one enforced change. Kolo Toure was unavailable with a hamstring injury so Martin Skrtel came in as his replacement.
The Manchester United selection was more intriguing as Wayne Rooney was ruled out with a head injury suffered in training. Ryan Giggs came back into the team on the right wing with Ashley Young on the left. Antonio Valencia missed out, while Shinji Kagawa and Wilfried Zaha were not in the squad.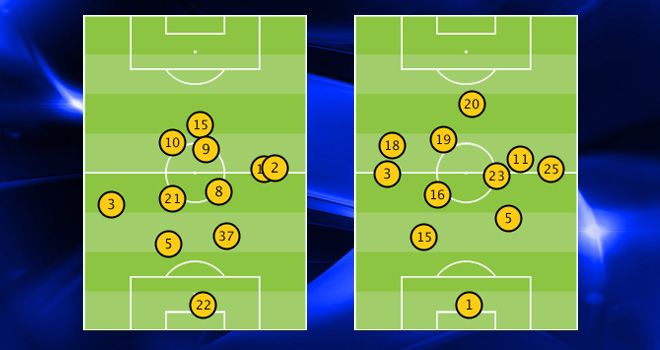 Liverpool v Manchester United average positions
Where it was won and lost
Right from the start Liverpool were pressing Manchester United high up the pitch and it was an early example of this that led to the decisive goal. Michael Carrick surrendered possession and then put Ashley Young in trouble in the left-back position. Young should have cleared the ball at the first opportunity but his indecision was indicative of United's day - he was too slow.
Jordan Henderson harried well and the ball was lost with Liverpool scored from the resulting corner. Daniel Agger beat Rio Ferdinand to the first ball and Sturridge showing impressive anticipation to react quickest and divert his header into the net. "Rio is a great centre half," said Graeme Souness. "But attacking things in the air is not his strength and never has been."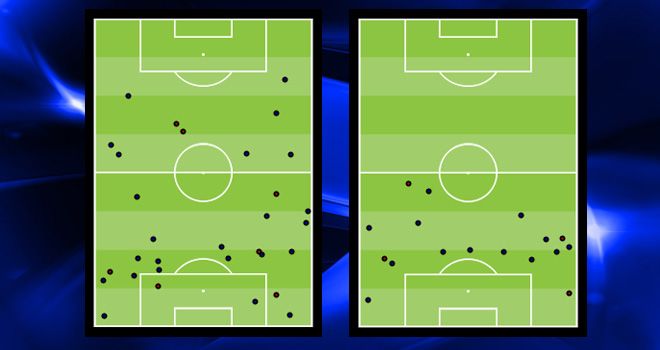 Liverpool won tackles far higher up the pitch than Manchester United thanks to their pressing
The pressure exercised by the home side was a feature of the game. "Liverpool are all over Manchester United in that midfield area," said Gary Neville on commentary. Later adding: "This is where Liverpool have been having some joy. United not moving the ball quickly enough out of that defensive third." The stats bore this out. Liverpool made nine tackles in the opposition half. United made none.
Since going behind, United have found it pretty easy to get in behind Liverpool's midfield.

- Tony Barrett (@TonyBarretTimes) September 1, 2013
While Liverpool's high tempo approach early on was key to their success, United did dominate possession in both halves. In fact, it was a remarkably open start with Danny Welbeck finding lots of space in the hole as Liverpool went searching for the ball. Welbeck completed seven passes in the first 10 minutes - more than any United player. It was something Rodgers had to stop.
He did so as Liverpool reverted to a familiar strategy of containment once ahead and the game settled down after the initial excitement. Steven Gerrard and Lucas Leiva dropped slightly deeper and Welbeck's involvement decreased. In fact, he made fewer passes in the remaining 35 minutes of the first half than he'd managed in the opening 10 minutes. The average position diagram above shows how Gerrard (8) and Lucas (21) occupied that space.
One tackle by Gerrard as he tracked a Welbeck run summed this up. Indeed, he and Lucas made three interceptions each in the first half with the rest of the Liverpool team making two between them. Nobody on the field made more tackles than the midfield pair in the first period. This was exemplified by Lucas making a double interception to deny Van Persie the ball midway through the first half before tackling the Dutchman shortly afterwards, sparking a booking for the forward when he lunged at Agger out of frustration.
Van Persie is going to have to be careful. Already booked. Getting wound up. Main frustration should be with team-mates. No service. HT 1-0

- Oliver Kay (@OliverKayTimes) September 1, 2013
You could understand how Van Persie was feeling. "United just haven't served him," said Neville. Van Persie made fewer passes in the first half an hour than any United player with even De Gea seeing more of the ball.
An injury to Phil Jones towards the end of the first half gave Moyes the chance to change things around, which he did by introducing Valencia in favour of the more defensively-minded Chris Smalling. The switch made sense given that Jones was getting forward well and with both direct opponent Philippe Coutinho and nominal right winger Giggs drifting inside there was scope to get a free run down the flank.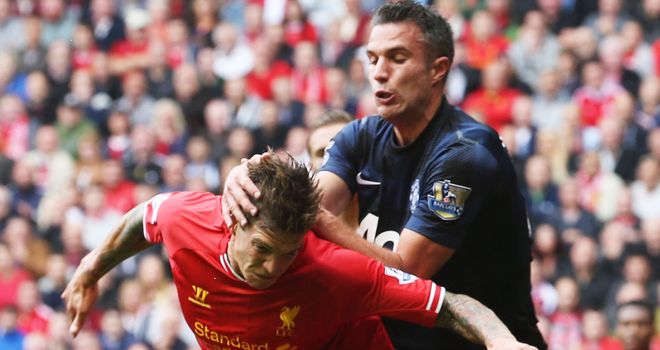 Robin van Persie struggled to get to grips with the game
It certainly coincided with a dominant spell in the early part of the second half, with the visitors enjoying 76 per cent of possession in the immediate period after the interval. Van Persie and Young both had shots blocked as Liverpool hurled themselves at the ball but United's inability to break down their opponents highlights the long-held concerns of supporters about their midfield.
While Tom Cleverley and Michael Carrick made 131 passes between them at a combined accuracy just shy of 82 per cent, they managed just one key pass leading to a chance. In contrast, Gerrard's 51 passes included three that led to a chance - and this was not the 'Hollywood pass' version of the Reds skipper either given that he maintained that same 82 per cent passing accuracy. He epitomised what United lacked.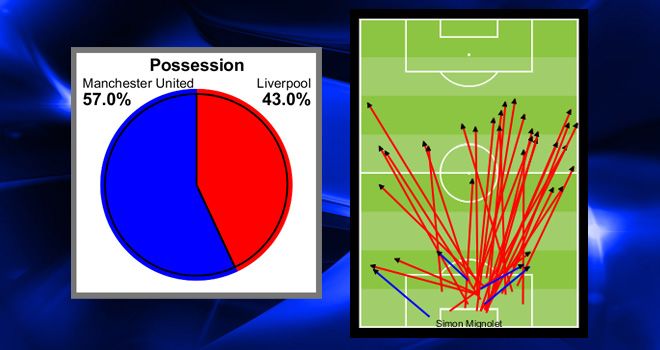 Liverpool surrendered possession after the break with Simon Mignolet opting to kick long
"When you're playing against a team that are dropping in like Liverpool are, you really need to move the ball quickly across the pitch," said Neville. Despite bringing on Nani for Young, that proved tricky until the introduction of Javier Hernandez for the disappointing Giggs late on. Not only did the Mexican stretch the back-four but his through-ball led to the chance that Van Persie had been waiting for, only for the Premier League's top scorer of the past two seasons to miscue badly at the near post.
It was that sort of day for Moyes and Manchester United. But given that this was a third 1-0 win in a row for Liverpool, that shouldn't be dismissed as a coincidence. This is a well-drilled team that is now showing it can win by digging in and soaking up pressure as well as dominating the ball. That's an intriguing development for a Rodgers side and one that could take Liverpool further than anticipated this season.

1 - @ManUtd have only failed to score once in their last seven Premier League trips to Anfield. Shy.

- OptaJoe (@OptaJoe) September 1, 2013
Rodgers' view
"Our mentality was key. We didn't play as well as we have and Manchester United played some really good football, but our defensive mentality gets better all the time. The resolve we have in the group was evident. The players have been outstanding. We worked hard in pre-season to get this start. We have four from four and we are getting the rewards for how hard we're working. I am so proud of them."
Moyes' view
"I thought we played really well. Liverpool were resolute and made it hard for us to score. We maybe didn't quite create the best with the crossing. We got two or three opportunities in the second half and were just a little bit unfortunate that we didn't take them. We will try and do it (sign players before the transfer window closes), but from what I saw of the players, I'm more than happy with the players I've got. I thought they played really well, probably the best we've played this season."
Jamie's view
"It might have been a good performance from Manchester United in terms of possession but very rarely did they trouble Liverpool apart from the Van Persie chance at the end. David Moyes says that's the best performance of the season but I watched them away to Swansea and they won 4-1 there. They've knocked the ball around today but I wouldn't say that was a great Manchester United performance. It wasn't a typical Liverpool or Brendan Rodgers performance either. At times he has been criticised for talking about the possession stats and his team having a lot of the ball but not winning. Today was the opposite. Liverpool didn't play much football today but the most important thing is always the result."
Player ratings
Martin Skrtel got the Barclays champagne for a gutsy defensive performance on his return to the side but our award goes to Glen Johnson. The Liverpool full-back not only dealt with the threat of Ashley Young comfortably enough but also got forward well himself and provided an outlet for Liverpool in the first half down that right side. With six tackles, more than any other player on the pitch, he also showed his combative side on a day in which the home team harassed United in all areas.
LIVE and exclusive on Sky Sports
Table
Barclays Premier League