Bore draw in Berlin
Last Updated: 01/12/13 2:22pm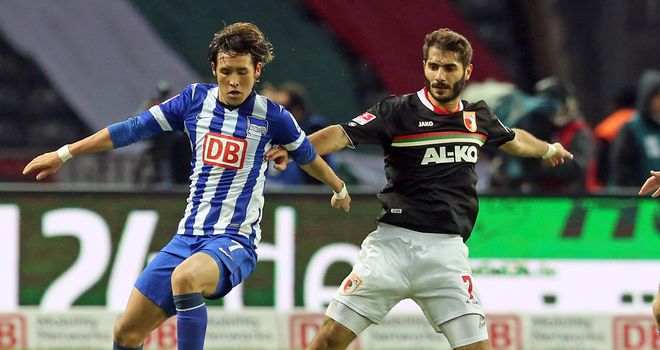 Hajime Hosogai fends off Halil Altintop
Hertha Berlin and Augsburg split the spoils in a goalless draw that lacked any real highlights in the Bundesliga.
Berlin came into the match with three losses in their last four matches but improved to 19 points.
Augsburg snapped a four-game losing streak on the road to move to 16 points.
Berlin had the first chance in the ninth minute but Adrian Ramos' shot went just wide right.
The hosts were close again nine minutes later but Anis Ben-Hatira blasted his attempt just off target.
Augsburg refused to push forward and Berlin at least made the match interesting with Augsburg's goalkeeper Marwin Hitz fending away Marcel Ndjeng's shot in the 37th minute.
Hitz again was in fine form 10 minutes after the break with a superb save from Ramos' shot after a Ben-Hatira free kick.
There was still no sign of an Augsburg chance but Berlin figured they may as well give it a try but Ramos' long blast went just wide in the 80th minute.