Braunschweig stun Leverkusen
Last Updated: 02/11/13 5:04pm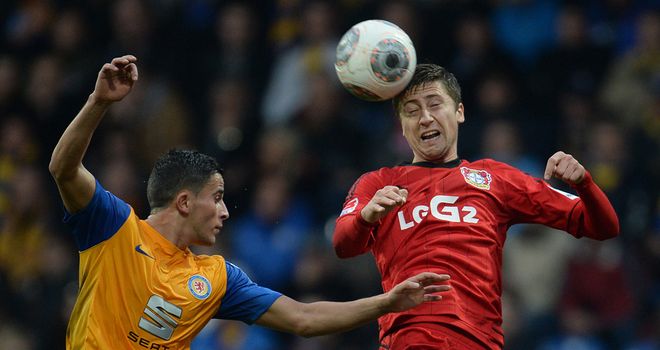 Jens Hegeler gets in a header
Eintracht Braunschweig stunned third-placed Bayer Leverkusen with Domi Kumbela's goal enough to earn them only their second win of the season, their first at home.
Kumbela struck his first Bundesliga goal on home soil with only nine minutes remaining as Braunschweig gave their crowd something to celebrate for the first time since returning to the top flight in the summer.
Leverkusen, who started out with a weakened side, suffered even more misery at the death when Lars Bender was shown a red card.
Leverkusen coach Sami Hyypia made drastic changes to his side with one eye on their midweek Champions League tie.
His reliable front three of Stefan Kiessling, Sidney Sam and Heung-Min Son were all left on the bench to start with, Eren Derdiyok making his first start of the season with Robbie Kruse alongside him.
It was the first time in almost two years that Kiessling was left on the bench, and it certainly seemed like Leverkusen's attack was lacking something.
They created very few chances in the first 45 minutes with Jens Hegeler's shot the closest they came to scoring, but Kruse was unable to make the most after Daniel Davari only blocked the ball.
Hyypia threw Kiessling and Sam on in the 64th minute as his side came increasingly under pressure from a confident Braunschweig.
The changes did not have the desired effect, though, with both forwards rarely receiving the ball as the hosts continued to push for a goal, which they found in the 81st minute.
Norman Theuerkauf made a hash of his shot, but it turned into an assist for Kumbela, who was the quickest to react to convert at the far post.
Leverkusen threw caution to the wind and it was desperate defending for Braunschweig in the final 10 minutes of the game.
They held out, though, with Bender leaving the field just seconds before the rest of the players after picking up a second yellow card for a foul in midfield.