Reims stun soggy Lyon
Last Updated: 24/08/13 10:32pm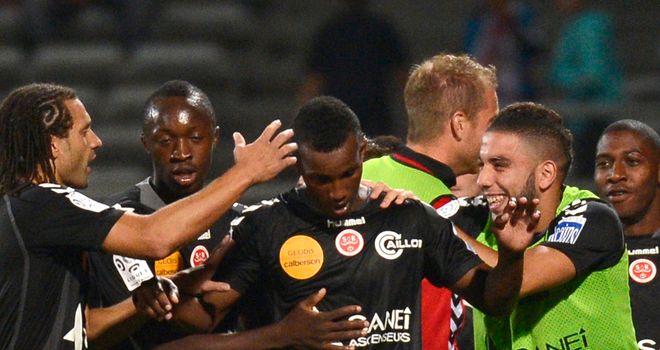 Reims celebrate what turned out to be the winner
Reims made a big splash at a waterlogged Gerland by stunning Lyon in a match that was close to being abandoned at half-time.
Odair Fortes scored the only goal, in the 75th minute, four minutes after Lyon's Clement Grenier failed with a penalty kick.
Heavy rain had cast doubt on whether the match would be completed when the second half had to be delayed due to the pitch becoming unplayable, the ball no longer bouncing and holding up on the pitch due to the surface water.
After the players spent 45 minutes in the dressing rooms, with groundstaff frantically doing their best to render the surface suitable for football, they were able to resume, and Reims will be glad they did.
Until the goal, it had been a match that Lyon dominated.
They had early chances, the first coming in the ninth minute when Alexandre Lacazette played in Gueida Fofana who hit an instant left-footed shot that goalkeeper Kossi Agassa blocked.
Lacazette made the next clear chance too, flicking the ball to Yoann Gourcuff who was driving forward but saw Agassa make another block.
Miguel Lopes was the next player to be thwarted by Agassa, with his header from Fares Bahlouli's cross repelled by the goalkeeper.
The torrential rain was becoming a threat to the fixture, yet there was a determination for it to continue.
After referee Ruddy Buquet approved the work carried out to clear away the water, the players were able to resume, with Lyon still on top.
Lacazette ventured into the penalty area with the ball at his feet and set up Gueida Fofana for a close-range shot that Agassa smothered.
Gourcuff was the next to take aim, this time with a free-kick from the left that he curled right-footed at goal, with Agassa getting behind the ball.
Lyon's big chance arrived when Gaetan Courtet brought down Jordan Ferri inside the penalty area, but substitute Grenier cleared the crossbar with his spot-kick.
Reims pinched the points when Courtet played in Fortes down the left and he fired a right-footed shot that Anthony Lopes could not keep out, seemingly hindered by a deflection off Milan Bisevac.
Lyon, also beaten at home by Real Sociedad in their Champions League play-off in midweek, were left with an inevitable sinking feeling.