England watch
With ten Englishmen starting Southampton's game with Everton in front of an observant Roy Hodgson at St Mary's, we look at how those in contention for a place on the plane to Brazil got on...
By Alex Dunn. Last Updated: 28/04/14 9:50am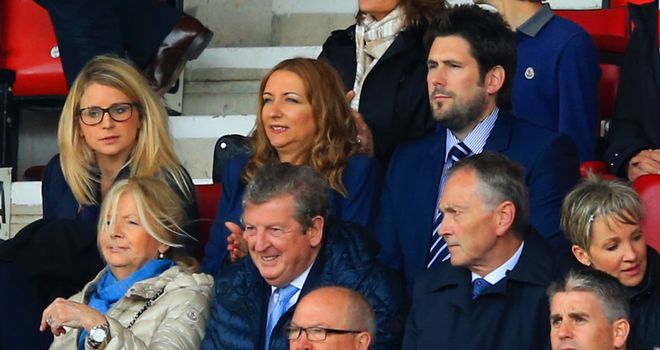 A resplendent day on the South Coast that drew an appearance from Roy Hodgson at St Mary's proved as English an affair as cream tea and scones, as no less than ten players available to the England manager started a contest that saw Southampton's superiority sound the death knoll of Everton's Champions League aspirations.
Here, we assess which of those on show will likely have impressed the watching England boss and who endured an afternoon to forget, as the home side proved full value for a 2-0 victory.
Stones stopped rolling
A pair of own goals almost Shakespearian in their tragicomic proportions left Roberto Martinez to rue the absence of first choice centre-half pairing Sylvain Distin and Phil Jagielka in his post-match appraisal, but for Hodgson an opportunity to see John Stones starting alongside a partner he's not used to playing with will have proved invaluable.
The 19-year-old will have better days at the office; if he's as good as many are saying he'll have few worse.
Prior to Saturday's game Stones has been largely immaculate since stepping in for the injured Jagielka; part of a back four that has secured three cleans from four April fixtures - with Manchester United and Arsenal both having drawn a blank at Goodison.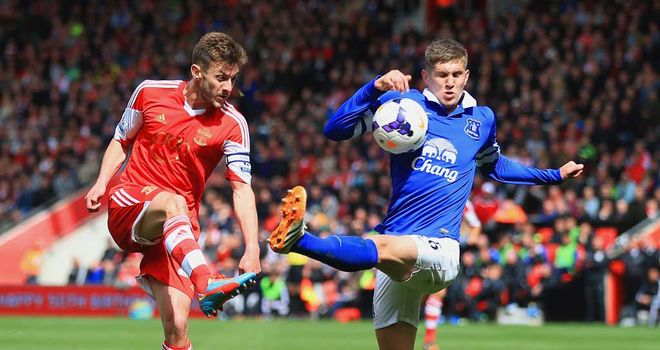 Distin started each of those games and without a senior statesman to talk him through key situations, Stones looked greener than Bruce Banner at times. Antolin Alcaraz's needlessly conceded own goal on just 53 seconds set the tone and the pair, whilst both comfortable in possession, looked ill at ease in unison throughout.
It was Stones who was badly at fault for Southampton doubling their advantage before half-time. His failure to head clear a clipped cross from Nathaniel Clyne on the stretch culminated in an unsighted Seamus Coleman putting through his own goal. Leighton Baines failed to cover himself in glory either, as he failed to get in a block.
Hodgson is hardly notorious for being a risk taker and whilst Brazil will almost certainly come too soon for Stones, the youngster's conviction to stay true to the principles instilled in him by his club manager in terms of playing out from the back will not have gone unnoticed. An ability to keep possession in stifling humidity will be key over the summer and Stones' pass completion rate of 90 per cent from 30 first half passes (only Jack Cork played more) suggests even when not at his best defensively, he's still reliable at picking a pass.
Shaw thing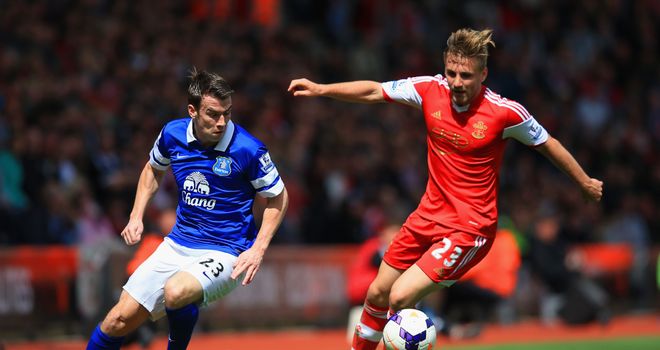 Given that on Tuesday evening in a Champions League semi-final Ashley Cole made a decent case for the claim put forward by Matt Dickinson of The Times that he remains England's best defensive left-back, this was a big opportunity for Luke Shaw to make a counter-claim of his own.
Shaw has had and will have again more eye-catching afternoons but Hodgson cannot but have been impressed with an 18-year-old who already has the purr of a Rolls Royce.
Although checking his buccaneering forays somewhat, especially in the first half to keep a watchful eye on Everton's own bullet train of a full-back Coleman, this was another performance of such assured presence and maturity it seems almost unthinkable he isn't one of the best 23 players in the country. If he isn't, Hodgson was right to look as relaxed as he did in the Southampton sun.
Twice in the first half he showed excellent positional play and strength when Romelu Lukaku pulled wide after struggling to make an impact through the middle, whilst his standout moment came in the 34th minute when after ceding possession to Coleman he made light of the five yards he'd given his man to outpace and then outmuscle the Irishman before playing a lovely pass infield to set Southampton off again.
When Southampton realised Everton's second half counter punches were barely registering he began to be more adventurous and three slaloming bursts from the back, lightly reminiscent of Gareth Bale in his early years, again hinted at what advantage he now has over Cole in an attacking sense. That Shaw made 30 of his 50 passes in Everton's half gives an indication of what he prefers to be doing, but defensively he was as sound as he's been all season.
Sky Sports Squad Selector
Did any of those on show during Southampton's defeat of Everton do enough to force their way into your England squad? Play the Sky Sports Squad Selector and share with your friends and fellow managers
Baines, like the rest of his team-mates, was nothing like at his best but in putting over 10 crosses to Shaw's seven, at least showed an inclination to push on the overlap wherever possible.
Better than either Shaw or Baines was Saints right-back Clyne. Responsible for his side's second goal with an excellent delivery from right on the byline, Clyne - who such is Southampton's ceaseless production line of young talent has spent the second half of the season fending off 19-year-old Calum Chambers to start - dominated the ineffective Romelu Deulofeu to the extent the Spaniard was substituted on 58 minutes, before he made similarly light work of replacement Aiden McGeady.
Clyne won 80 per cent of his 15 duels (bettered only by Cork's 81 per cent of 11) and made 61 sprints over the 90 minutes compared to his nearest rival Steven Naismith on 51. Glen Johnson and Klye Walker seem fairly secure in their roles as first choice right-back and understudy respectively but Clyne, 23, is certainly one Hodgson will be keeping a careful eye on.
Criminally underrated?
Amid the understandable clamour to eulogize over every Adam Lallana fleet-footed feint or flick, the measured promptings of Jack Cork can go unnoticed. They are almost certainly underappreciated.
St Mary's regulars though have long-since championed Cork's cause and on Saturday he was arguably his side's best player. Comfortable both holding in front of his back four or operating in an advanced position, Cork's (18) role was essentially a hybrid of two as he occupied the space between Lallana (20) and the deeper Victor Wanyama (12). Neither Gareth Barry nor James McCarthy could seem to quite work out where he was playing in a narrow and congested middle third, with Cork the player most often who found space.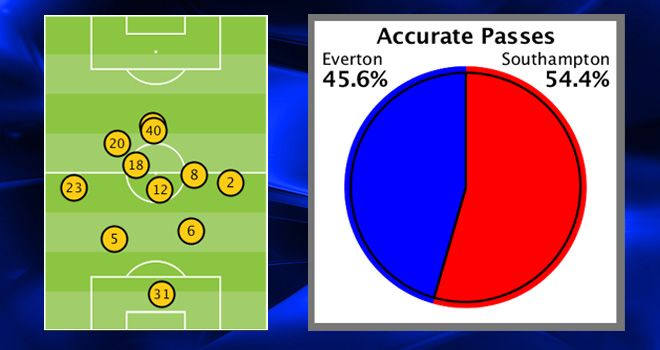 Jack Cork (18) was key for Southampton, with the home side's passing crisper all afternoon
Over the 90 minutes he topped the polls in terms of number of passes made (66, with an accuracy of 86.4 per cent), touches (83) and duels won (81.8 per cent from 11). In clocking up 12.82km he also covered more ground than any other player. Throughout his interchanges with his fellow midfielders were cute and inventive without being over ambitious; in short just the type of player we'll likely be ruing having a dearth of come June 14.
Captain Lallana's effervescent flitting between the lines were typically beguiling, if at times lacking in an end product, but his understanding with Rickie Lambert is borderline telepathic at times and could yet help his team-mate usurp Andy Carroll to land what looks to be the fourth and final striker spot behind Wayne Rooney, Daniel Sturridge and Danny Welbeck.
It was Lambert's ability to come deep and work his team-mate into the game that laid the foundation for Southampton's opener and whilst he'll rue the thickness of a post that denied him a goal from a daisy-cutter of a free-kick, it was an accomplished enough performance in front of Hodgson.
Bad day for Barry and Barkley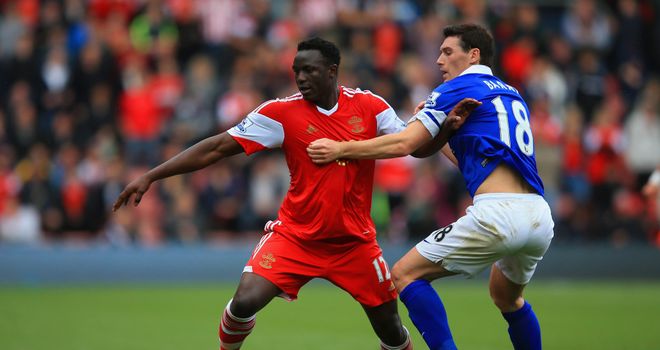 If the interchangeability and fluidity of Southampton's midfield was positively luxurious, Everton's was lumpen in comparison.
Barry has been one of the signings of the season but his afternoon's work was best summed up by a booking incurred for a clumsy challenge on Lallana after being caught in possession just before half-time.
At times he looked a little flat footed, tired more than anything, but in his defence still made more passes than any of his team-mates on 55 (at 89.1 per cent accuracy). The ghost of Mesut Ozil skipping past him in Bloemfontein four years ago deserves to be exorcised and is all too often lazily regurgitated but the sight of Lallana too easily jinxing round him cruelly brought to mind the Stone Roses line 'The past was yours, but the future's mine' from She Bangs the Drums.
There has been plenty banging of Ross Barkley's drum this season but he was entirely peripheral and his withdrawal at half-time could not have come at a worse time given the day's guest of honour.
Off the pace, he managed to win just 16.7 per cent of his six duels and of his 34 touches few - if any - will live in the memory. Plenty have though over the course of the season and whether to include a player Martinez has labelled 'unique' remains arguably Hodgson's biggest call of all.
Table
Barclays Premier League
Related
Related Profiles