Premier League: Everton's John Stones delivers another classy display in defeat of Sunderland
A combination of game awareness, passing ability and speed make John Stones a major prospect for club and country. Peter Fraser watched the defender in Everton's victory at Sunderland...
Last Updated: 12/04/14 6:39pm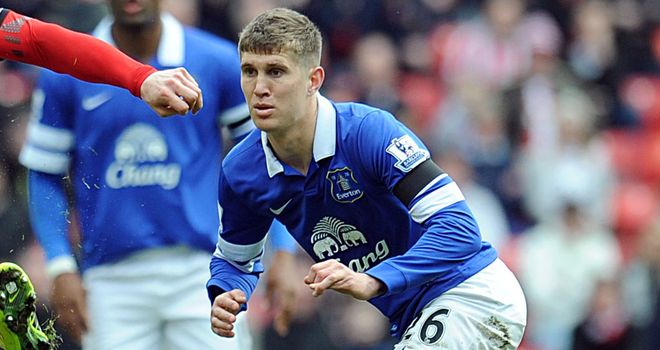 John Stones: At just 19 years of age, the defender has all the attributes of a modern centre-back
The best defenders do not tackle. It is not a new debate in football but it is one of which John Stones is a perfect example.
At only 19 years old, the Everton and England Under 21 youngster still has a long way to go before he has truly proven himself, however, there is also no doubt he looks a class act. When watching the former Barnsley player, it is impossible to ignore the hugely flattering comparisons in style which have already been drawn to Barcelona and Spain centre-back Gerard Pique.
Stones will face much tougher tasks than Saturday's 1-0 victory at the Premier League's bottom club, Sunderland, and, as was the case against Arsenal last weekend, he is still guilty of the occasional lapses in concentration which would be expected of a player of his age. But he still looked one of the best players on the field at the Stadium of Light.
Amid all the praise of Ross Barkley, Gerard Deulofeu or Steven Naismith over recent weeks, Stones' development has also been a recurring theme and, prior to the defeat of Sunderland, it was no coincidence the teenager had helped his club to six successive successes in the Premier League after coming in for the injured Phil Jagielka.
Roberto Martinez will be delighted with the latest win, as Everton moved two points ahead of Arsenal in fourth place having now played the same number of games in the race for the UEFA Champions League, and the Spanish manager could be further vastly satisfied with Stones.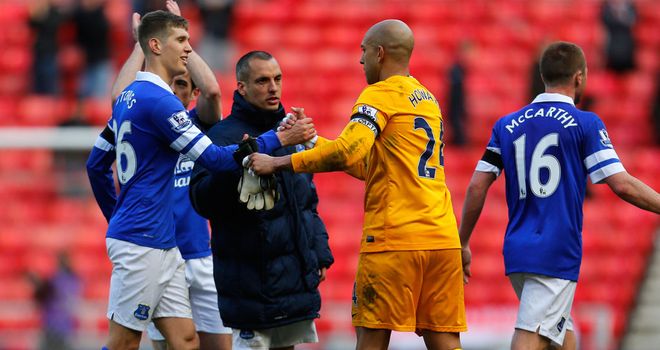 Stones will benefit from playing with experienced team-mates, such as goalkeeper Tim Howard
Martinez tried to sign the defender in 2013 from Barnsley when in charge of Wigan Athletic only to be beaten to the deal by Everton. It is therefore a quirk of fate that they are now together at Goodison Park and Martinez is perhaps a perfect manager for nurturing in terms of philosophy.
Stones' strengths are simple to identify; he reads the game remarkably well for a teenager, possesses superb passing ability and is capable of a very useful turn of pace. All of that together promises a brilliant, modern centre-back in the making.
This was evident against Sunderland. Stones does not wildly commit to challenges and instead studies the play to make well-timed blocks and interceptions. It was not until the late stages of the second half when Stones made his one and only tackle versus Sunderland; remember the best defenders do not tackle. 
To further underline how Stones reads the game before needing to commit to a tackle, he made nine clearances and five blocks; both of which were totals more than any other player on the field. Two of those clearances also demonstrated his maturity. In the first half, he was back on the goalline to stop the danger after Fabio Borini had rounded Tim Howard and, in the second half, he again helped out his goalkeeper by sliding in to remove the ball after his team-mate had only half stopped a shot. 
This pace is a factor why Stones has previously played as a full-back. That versatility is another of his attributes and his understanding of the full-back position explains why, versus Sunderland, he was also so efficient at covering the space behind Seamus Coleman whenever the right-back went forward. Newspaper speculation suggests Arsenal are considering a summer move for Stones and it is his pace which is another reason why he is an appealing prospect. At Sunderland, his speed over the ground was fully visible when regularly proving too quick for opposing striker Connor Wickham.
Before kick-off on Wearside, Stones was already Everton's most successful passer this season in their current Premier League squad with an accuracy average of 90.2 per cent. Admittedly this was from a sample size of fewer games (16) than some of his team-mates but there is no questioning his elegance.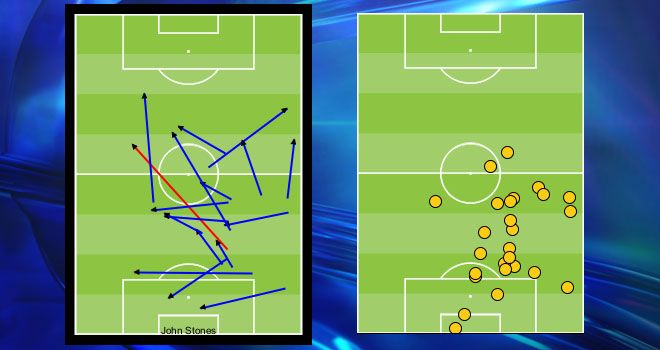 Stones' first-half passing (success: blue; fail: red) and touch map show his attacking thinking
Unlike many centre-backs, Stones' passes are not simple, square balls and instead tend to be expansive, forward manoeuvres designed to transfer defence from attack. These passes are also more often than not towards Leighton Baines on Everton's left flank and help move the team forward (see above). 
Stones is extraordinarily comfortable with the ball at his feet for a player of such a young age. Against Sunderland, he only lost possession on five occasions. In the first half, his passing success stood at a tremendously impressive 94.7% before dropping to a still excellent 82.1% at the final whistle.
Playing alongside and in front of players of almost double his age, 36-year-old Sylvain Distin and 35-year-old Howard, will also only further help Stones' development. Combine this with Martinez's nurturing and the possibility of Champions League football next season and it all suggests Everton and England could have a major player.
Table
Barclays Premier League
Related