Dare to dream
Liverpool captain Steven Gerrard is playing the best football of his career after a heroic midfield performance, thinks Peter Fraser
By Peter Fraser - Follow me on Twitter @PeteFraser_. Last Updated: 14/04/14 3:55pm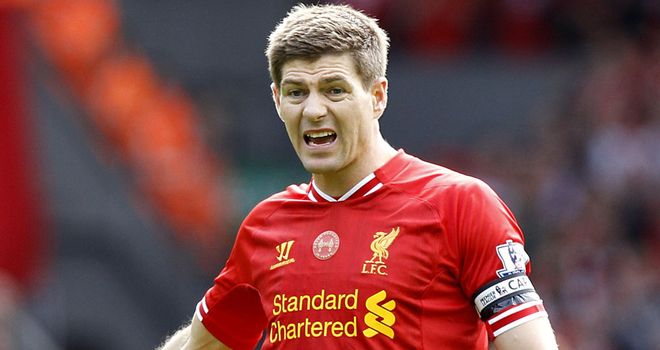 Steven Gerrard: The Liverpool captain's determination to win the title is almost tangible
It was as early as the 10th minute when you could see how much this game meant to Steven Gerrard. Delivering orders to a team-mate, a Manchester City attack was snubbed out before Liverpool's captain played a beautifully delicate pass up field along the touchline with the outside of his boot.
The tears of the midfielder at the final whistle were a more obvious sign of his feelings as he continues the intense desire of his pursuit of a first Premier League trophy, however, that above passage of play more accurately personified an individual display in Sunday's 3-2 win over City which ranks among his very best.
Gerrard's present performances are not the one-man army heroics of those against Olympiakos, Istanbul's UEFA Champions League final of 2005, the FA Cup final versus West Ham United of 2006 or many more, but they are instead displays of responsibility and dominance that are proving just as inspirational.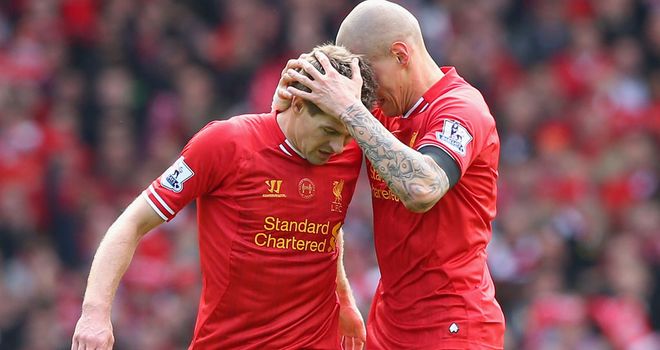 Martin Skrtel celebrates with Gerrard after the Liverpool captain's goal assist in the first half
In fact, given the measured-yet-influential manner of Gerrard's current efforts, there is an argument to say that a player who will turn 34 years of age at the end of May is producing the best, most consistent football of his career. Certainly in terms of the effectiveness of Liverpool as they now sit two points clear at the top of the Premier League with Norwich City, Chelsea, Crystal Palace and Newcastle United left to play, it is tough to dispute.
The reason is Gerrard's deep-sitting midfield role. Previous managers, such as Rafa Benitez, had not trusted the Englishman in this position due to a perceived inability to maintain the required discipline both in terms of positioning and mentality. Part of that lack of trust in past seasons was also perhaps within Gerrard himself when at times he looked like a player who felt he constantly needed to show inferior team-mates, 'I'll do this by myself'.
But now it is different. Liverpool have a surprisingly strong squad and current boss Brendan Rodgers is working with Gerrard as a player for whom the cruelty of time means he is no longer capable of the box-to-box rampaging while this has been replaced by the virtue of maturity.
When Gerrard was first shifted to his deeper role, against Aston Villa in the Premier League and Bournemouth in the FA Cup at the turn of 2014, it looked like a short-term experiment given the shaky nature of his operations. However, ever since the Merseyside derby thrashing of Everton in late January and then this weekend's epic against City, Gerrard's reinvention has been a masterstroke.
When facing City on a day of raw emotion at Anfield, when the stadium and football community paid tribute to the 25th anniversary of the Hillsborough tragedy - of which Gerrard's cousin, Jon-Paul Gilhooley, was one of the 96 victims - his passion on the final whistle was understandable. It was also a sign of the apparent team spirit which has been embraced among this Liverpool squad which is unlike many in recent memory.
Gerrard told Sky Sports after the match: "That was the longest 90 minutes I have probably ever played in. I kept flashing back to how long the clock was taking in cup finals and big games I have played in before. It felt like the clock was going backwards at some points in that game. That is such a big result for us."
The reason for the on-field drama was a game in which Liverpool had thrown away a 2-0 half-time lead, courtesy of Raheem Sterling and Martin Skrtel, as City came back in the second half to draw 2-2 through David Silva and a Glen Johnson own goal. City then looked favourites to go on and win the game but Philippe Coutinho again tipped the balance in Liverpool's favour.
It was a hurricane of a match, one which moves Liverpool on to a 10-game winning run and on course to end the long wait for a first top-flight title since 1990, but Gerrard had never let himself get carried away in the 96 minutes, including injury time, from start to finish.
While the likes of Sterling and Coutinho take the headlines in this new generation at Liverpool, England captain Gerrard is the perfect mixture of motivator and on-the-ball calmness.
It was only from set-pieces at which Gerrard touched the ball in City's third of the field, whether taking corners - one of which provided an assist for Skrtel's goal; Gerrard's eighth assist from dead-ball situations this season is a record in the current Premier League - or meeting them with an unmarked header from which he should have beaten England colleague Joe Hart.
Other than that, Gerrard remained superbly controlled in holding his position. Comparing his touch map against Manuel Pellegrini's team to the scattered nature of his game against Crystal Palace in the first half of the season before he had been given his reinvented position provides a perfect example of his defined role (see below).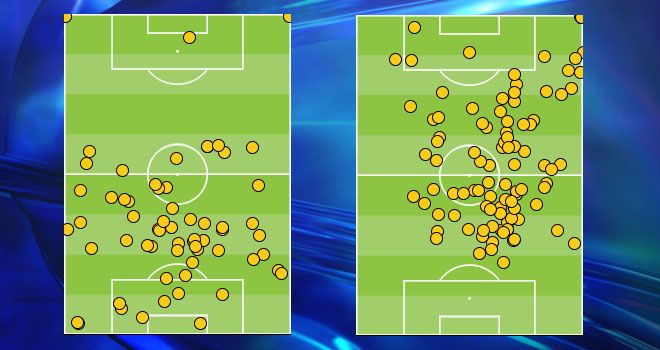 Gerrard's touches versus City (left) were much deeper than before his new role against Palace (right)
If Yaya Toure had not been forced off through injury in the first half, Gerrard might have had a more difficult afternoon against City. Without that challenge it was only Pellegrini's tactical switch of pushing Silva further forward and to the left in the first 15 minutes of the second half which gave Gerrard and Liverpool their biggest test.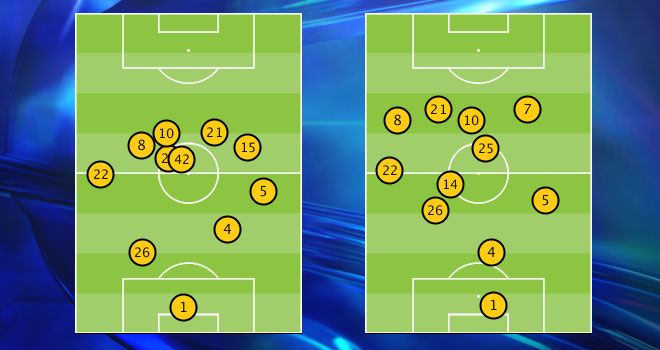 City moved Silva (No.21) further up the field and to the left in the 15 minutes after half-time (right)

Brilliant Spaniard Silva was the main factor in City's fight back and Gerrard was consequently forced further over to Liverpool's right side of the pitch, having previously been guiding his young team-mate, Jon Flanagan, through the game on the left. But, again, Gerrard had the awareness to do so and Silva's huge threat to Liverpool had decreased even before Coutinho's goal halted what had looked like winning momentum for the visitors.
It had become a bit of a panic for Liverpool in the quarter-of-an-hour after half-time but Gerrard, despite his emotions, had not lost his head. At West Ham last weekend, his calmness was personified in raking passes and match-deciding penalty kicks, which took his tally to 12 goals from dead balls this season; another Premier League record for the campaign. Against City, Gerrard was more the rock on which Liverpool's win was built.
Sitting as the deep midfielder in Rodgers' diamond 4-1-2-1-2 formation, Gerrard misplaced just one pass in the first half with a completion rate of 96.6 per cent from 29 attempts. He was dropping back in between splitting centre-backs Skrtel and Mamadou Sakho to pick up the ball, particularly from the latter, and setting the tone for his team-mates to attack.
This was exactly what Rodgers planned when he first moved Gerrard in January. Indeed, the Liverpool boss said of his captain in February in an interview with Sky Sports pundit and former Anfield defender Jamie Carragher: "I just thought this is a guy who is one of the best passers in world football, whose game intelligence over many years of playing has grown. I always spoke to Steven about it [the new role]. I was always going to do it but it had to be the right time and the players to make it work."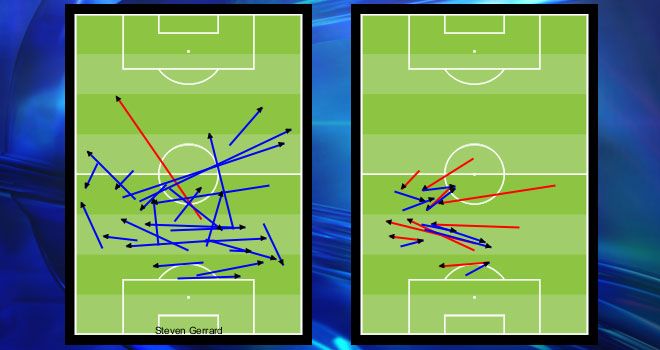 Gerrard misplaced just one pass in the first half (left in red) and linked up with Mamadou Sakho (right)
Credit must go to Rodgers. The right players to whom he referred include the energy and creativity of Coutinho, Sterling and, particularly, Jordan Henderson, whose late red card against City and subsequent suspension will be a major absence in some of the remaining games of the season.
Gerrard, though, is the one who has embraced his duty for his team. Undoubtedly as a consequence, his passing accuracy average this season (86.1%) is his best in the Premier League since Opta records began in 2003. Against City, his passing accuracy was even better at an average of 90.5%, which was more than any of his team-mates.
Steven Gerrard's Top Five Premier League Passing Averages (since 2003)
| | |
| --- | --- |
| Season | Passing Accuracy (%) |
| 2013/14 | 86.1 |
| 2012/13 | 85.5 |
| 2011/12 | 83.2 |
| 2008/09 | 80.5 |
| 2010/11 | 80.4 |
That Gerrard was capable of performing to this level in perhaps the most important league game Anfield has seen in 25 years perhaps says it all. Gerrard's determination to win the title is almost tangible and that he is embracing this pressure is yet another of his attributes.
"Exactly the same. We go together. Come on," were among the words which Gerrard tearfully roared at his squad-mates in their post-match huddle on the Anfield pitch after beating City. With their captain in this form and mind set, fans and players alike can dare to dream.
LIVE and exclusive on Sky Sports
Latest Poll
Table
Barclays Premier League
Related
Liverpool v Man City

Jon Flanagan knows Liverpool must keep performing at the same level if they are to become Premier League champions.

Edin Dzeko expects the title race to run until the final day despite Manchester City's defeat at Liverpool.

Liverpool have won the match of the season and are full of confidence, says Jamie Redknapp.