England's 'big man'?
Rickie Lambert was again impressive but, with Southampton playing attractive football, will he miss out on the World Cup..?
By Daniel Storey - @danielstorey85. Last Updated: 23/03/14 5:00pm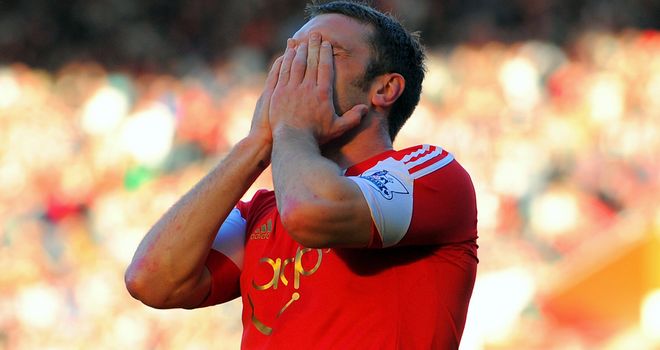 Rickie Lambert: Could Southampton's style of play harm the striker's World Cup hopes?
At a time when competition for places within England's World Cup squad has reached a fervour (just ask Ashley Cole, Leighton Baines, Luke Shaw, Kieran Gibbs and even Jon Flanagan at left-back), it seems that the best bet of getting on the plane to Brazil is to be Roy Hodgson's 'big man' up front. England have perennially favoured such a position, especially at tournament football.
Sense dictates that teams must have a secondary, Plan B option, particularly when Plan A has the potential to be distinctly underwhelming, and for England this has recently always been provided by height or physical presence on the bench. Since the 1990 World Cup, when Bobby Robson took just three strikers to Italy (Gary Lineker, Peter Beardsley and Steve Bull), every major tournament squad has contained the 'big man' - from Les Ferdinand to Andy Carroll via Emile Heskey and Peter Crouch. This summer looks no different, with Hodgson likely to take four forwards: Wayne Rooney, Daniel Sturridge, Danny Welbeck and A. Bigman. What is more, it looks to be a straight shootout between Andy Carroll and Rickie Lambert.
Carrroll seemed the obvious answer. His performances in Euro 2012 (particularly against Sweden) earned him significant praise from his international manager, the striker's aerial threat allowing Danny Welbeck, Ashley Young and Steven Gerrard to feed off a lot more than just crumbs.
However, Carroll's extended absence this season with a foot injury created an opening for England's alternative option. Whilst he has started just four Premier League games this season (and played just 17 minutes of England's World Cup qualifying campaign), Rickie Lambert has once again impressed at Southampton with his blend of determination, presence and genuine quality.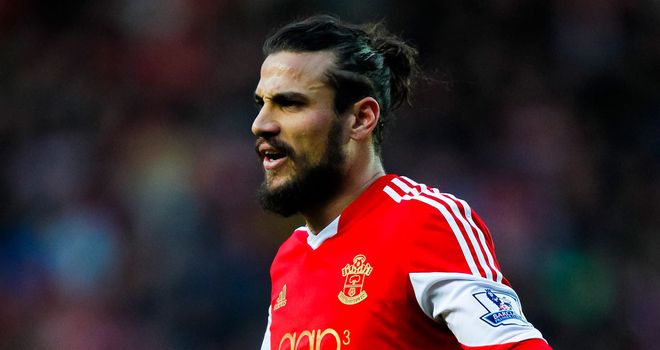 Dani Osvaldo: Was expected to provide competition for Lambert but left on loan under a cloud
That is not to say that it has been the smoothest of seasons for Lambert. The big-money arrival of Dani Osvaldo last summer led to a concern that he would find himself utilised as little more than a back-up option, but the striker saw off the competition from the tempestuous South American-born Italy international, to such an extent that Osvaldo was permitted to join Juventus on loan in January after just nine league starts.
Instead, Lambert continued what he does best. He may have scored just 10 times for the Saints this season (after 15 last season), but his nine assists in the Premier League is a total bettered by only Wayne Rooney and Luis Suarez. That is startling for a player perceived to be principally renowned for his power rather than finesse, and has helped Southampton to threaten their highest ever Premier League finish. Whether it is enough for England and Hodgson, however, is a very different question.
Speaking before Sunday's match against Spurs, Lambert spoke almost exclusively in clichés regarding his World Cup hopes. "Trying my hardest to score for Southampton is the foremost thing on my mind whenever I step out on to the pitch. It is great to be involved with England and, of course, I would love to go to Brazil with the lads. But once I step on to the pitch I am simply focused on being alert and trying to get an opportunity to help my team."
Textbook, I am sure you will agree, but, unfortunately for Lambert, there is the potential that his impressive displays for Southampton could actually harm his England chances.
In front of the watching Hodgson, Southampton were excellent during a first half at Tottenham Hotspur in which three of their England hopefuls (Lambert, Jay Rodriguez and Adam Lallana) were at the heart of the away side's attacking impetus. Lambert himself set up captain Lallana for the second, whilst Rodriguez scored the opener after Kyle Naughton had failed to deal with Artur Boruc's long ball forward.
Lambert Q&A
Rickie Lambert recently discussed his new role in Southampton's evolving style of play while also talking about his World Cup ambitions. Read more.
Some of the link-up between the three Englishmen was both intricate and mesmeric, but bizarrely that may be Lambert's biggest drawback in Hodgson's eyes. If he is to be required at the World Cup (in place of Carroll), it will be to provide a physical presence in the latter stage of matches, but, for Mauricio Pochettino, Lambert is expected (and happy) to fulfil a very different role.
At White Hart Lane, Lambert drifted out to both the right and left wings as he, Rodriguez and Lallana interchanged positions regularly. In fact, the average position map actually had him operating in a deeper position than Lallana, and whilst the other two members of the triumvirate had seven shots between them, Lambert had just one.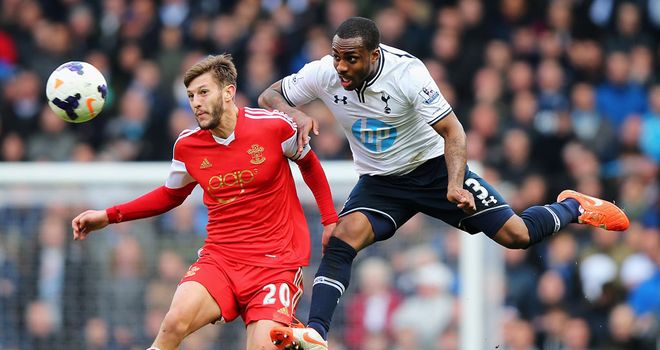 Adam Lallana: The England international had another impressive game for Southampton
In addition, both Carroll and Lambert would be expected to offer a significant aerial threat, and again the statistics read unfavourably for the Southampton man. Whilst Carroll has won 56 aerial duels in his seven appearances this season, Lambert has the same number in his 30 matches. Though it is through no fault of his own, that may stick in Hodgson's mind.
There are no two Premier League teams with more diverse styles of play than Southampton and West Ham United and, whilst Lambert may have yet again impressed at St Mary's this season, one cannot help feel that the attractive and fluid style of football played under Pochettino may be harming Lambert's chance of being Hodgson's 'big man' option - he will struggle to get on the plane in any other capacity.
This is a striker comfortable drifting out wide and with ball at feet, able to provide for his team-mates and with an enviable penalty record and free-kick ability. It may sound incredibly harsh (and be a shame, actually), but there seems every chance that Lambert may be cast as England's jack of all trades, when all Hodgson wants is a master of one.
A version of this article first appeared on Football365
LIVE and exclusive on Sky Sports
Latest Poll
Table
Barclays Premier League
Related
Tottenham v Southampton

Southampton boss Ronald Koeman 'didn't agree' with his club's fans chanting abuse at former manager Mauricio Pochettino.

Mauricio Pochettino felt Tottenham showed a lot of fight and teamwork in their win over his former club Southampton.
Mauricio Pochettino says he still 'loves' Southampton despite leading new club Tottenham to a victory over them.