Pressure on Wenger?
Another unforgivable Arsenal display, another big occasion on which Chelsea proved their title credentials. Here's Matt Stanger with analysis from the Blues' huge victory...
By Matt Stanger - Follow on Twitter @MatthewStanger. Last Updated: 22/03/14 7:37pm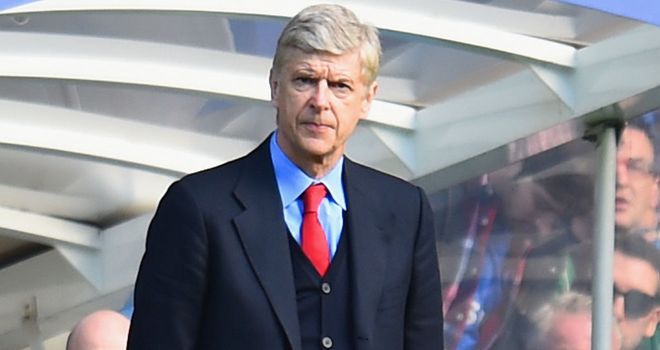 Arsene Wenger: Does the manner of the defeat by Chelsea raise questions over the Arsenal manager's future?
It is only right to begin by praising the winners after a ruthless Chelsea display fortified their position at the top of the Premier League. While this was billed as a day of celebration for Arsene Wenger on his 1,000th match in charge, the Blues were here to do a job. It began with an intensive pressing game that did not allow Arsenal a moment to settle and continued with a thoroughly professional performance to ensure they squeezed as much as possible out of their desperate opponents.
The story of the day from a Chelsea perspective is that they are firmly back on track in the title race after last week's shock defeat by Aston Villa. They did not show any signs of anxiety after a difficult encounter at Villa Park, nor fatigue following the midweek test at home to Galatasaray. Significant winning margins for Manchester City and Liverpool on Saturday may have reduced Chelsea's hopes of pegging back their rivals' goal difference, but that should not dampen the mood on a day of stolen celebrations. Once again, the Blues proved their title credentials; once again, they left Arsenal and Wenger embarrassed at their shameful inadequacy.
Arsenal's winless run against Jose Mourinho's Chelsea now stretches to 11 meetings, while the Blues' performances against their rivals at the top have been a key feature in the title race. The two victories over City could be the decisive factor in winning the league, but wins at home to Arsenal, Manchester United and Liverpool, plus draws against the first two away, have played a significant part in the Blues being a year ahead of schedule, according to Mourinho.
The trip to Liverpool on 27th April has the potential to be a mouth-watering title-decider, and few would bet against Chelsea earning another vital result.
And so to Arsenal, and a dying title challenge that was finally put out of its misery. While we can expect to hear a lot more about referee Andre Marriner's nightmare on Saturday - in just a few words' time, in fact - that should not detract from another risible effort from the Gunners. The thrashing at City in December was a tough lesson, the first-half shocker at Anfield a harsh reminder - but to allow such dramatic failures to become a predictable pattern is unforgivable, both on the part of the players and the manager. Arsenal looked like a house pet released back into the wild to fend for itself. They were there to be hunted, but the speed of the evisceration was still shocking.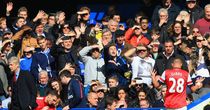 Kieran Gibbs: Red card
Perhaps that was the cause of Marriner's confusion, as the referee visibly struggled with the pace of Arsenal's implosion. Firstly, Alex Oxlade-Chamberlain's handball clearly did not deny a goalscoring opportunity, as Eden Hazard's strike was sailing wide of the post. But it would be unfair to be critical of Marriner for not correctly judging the flight of the ball in real time. Indeed, it appeared that he missed Oxlade-Chamberlain's handball completely, given the delay over his decision and the influence of the assistant. Perhaps this points to poor positioning, but it was a crowded penalty area and these things happen - that was not the biggest issue involved.
That was, of course, dismissing the incredulous Kieran Gibbs, who was the victim of a horrible case of mistaken identity. As the incident played out, it seemed that Marriner was advised by his assistant that it was Gibbs who committed the offence and, despite protestations from the Arsenal players, the referee relied on the information he had been given. Perhaps he should have taken more time to consult his assistant; perhaps, if he doubted the integrity of the Arsenal players complaining, he could have asked the thoughts of a Chelsea player to see if they were consistent with the argument made by Gibbs and Oxlade-Chamberlain. There were ways around this error, but they were dependant on time and consideration that the pressures of refereeing such a high-profile game do not often allow.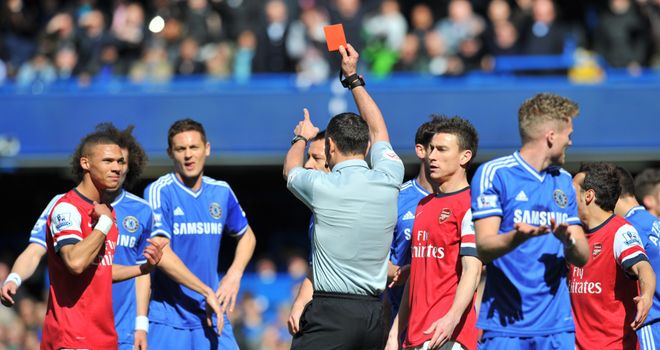 Kieran Gibbs: Sent off by referee Andre Marriner in controversial circumstances at Stamford Bridge
There is an argument that Marriner could have been in even more bother had he favoured the advice of the Arsenal players over his assistant. What if it had been a naughty attempt to trick the referee, with the players knowing they had no replacement left-back on the bench? Once he had been told it was Gibbs by his assistant, Marriner was placed in an enormously difficult situation.
It was encouraging to see the Football Association respond almost immediately to the incident on Twitter, clarifying what should happen next: 'Clubs can appeal mistaken identity to The FA, although The FA can pro-actively review also. Following a red card clubs can also review possibility of a wrongful dismissal claim to The FA, unless dismissal is for 2 yellow cards.'
There was another case of mistaken identity earlier in the season, as Preston North End midfielder Neil Kilkenny was wrongfully red carded instead of striker Joe Garner against Port Vale. Garner went on to score both goals in a 2-0 victory, but he was handed a retrospective three-match ban by the FA, while Kilkenny was cleared. Gibbs and Oxlade-Chamberlain can surely expect the same treatment.
Arsenal Out-Gunned
Jamie Redknapp says Arsenal's failure to score at key moments is why they are now out of the title race. Read more
Moving on from an incident that will be discussed at length over the coming days, it is much more enjoyable to talk about Arsenal's spectacular implosion on an occasion when you thought they might finally get it right for their celebrated manager.
But Wenger did not help matters with his starting line-up. Despite being arguably the perfect option for the game, Mathieu Flamini was left on the bench for a third consecutive match as Mikel Arteta and Oxlade-Chamberlain were preferred in midfield. Not only did this ensure that Arsenal lacked bite and sufficient protection for the back four against an opponent who can counter-attack at great speed, it also meant that the Gunners were without a player who has proven to be an important leader this season. For all Flamini offers in his positioning and careful distribution, he is even more valuable as someone who can motivate his team-mates and get their heads back in the game after a setback. It is worth remembering that he was also missing when Arsenal fell 4-0 behind to Liverpool inside 20 minutes in February's 5-1 mauling.

Flamini's absence was not the only problem, of course. Arsenal may not have been allowed time to settle by Chelsea's ferocious pressing, but they were guilty of sloppily conceding possession in the build-up to the first two goals. Firstly Oxlade-Chamberlain lost the ball, allowing Andre Schurrle to break and feed Samuel Eto'o, and then Santi Cazorla was robbed by Nemanja Matic, who assisted Schurrle to make it 2-0.
The mistakes continued in the second half as Tomas Rosicky set up Oscar to make it 5-0, with Wojciech Szczesny failing to judge the bounce of the Brazilian's drive. Yet again, it was a catalogue of errors in which the Ox's handball proved to be the piece de resistance - or should that be Marriner's decision to send off Gibbs?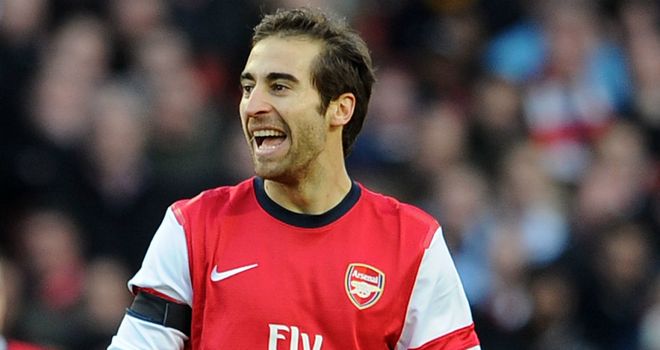 Mathieu Flamini: The experienced midfielder was sorely missed from Arsenal's starting line-up
Let's not take too much away from Chelsea, though. Their frenetic pressing game was even more impressive considering that Willian and Ramires - two players usually crucial to the system - were missing.
Schurrle excelled in a role normally fulfilled by Willian, harrying Arsenal's midfield, surging forward through the centre to set up Eto'o, and then firing in an excellent strike of his own. The German international may have expected to contribute more in his first season at Stamford Bridge, but his performances in the victories over Arsenal and City at home have both proved telling, and there have been other occasions - notably his recent hat-trick at Fulham - when he has demonstrated his talent. To have Schurrle coming into form at this stage of the campaign is a real boost for Mourinho.
While Schurrle ensured that Willian's absence had little impact on Chelsea's performance, Ramires should also be worried at how well the team performed without him. The Brazilian started in central midfield in both matches against Manchester United, the 0-0 draw at the Emirates, and the home wins over Liverpool and City, but it seems his role in the tougher tests is now under threat.
Following Matic's arrival, Ramires was pushed out to the wing for the 1-0 win at the Etihad, and the Matic-David Luiz axis proved to be a decisive factor again in the destruction of Arsenal. While Luiz made the second-highest number of tackles on the pitch, Matic was crucial in winning the ball back on two occasions in the build-up to Chelsea goals. He recorded two assists and created the highest number of shooting chances for team-mates (four), along with Fernando Torres and Rosicky.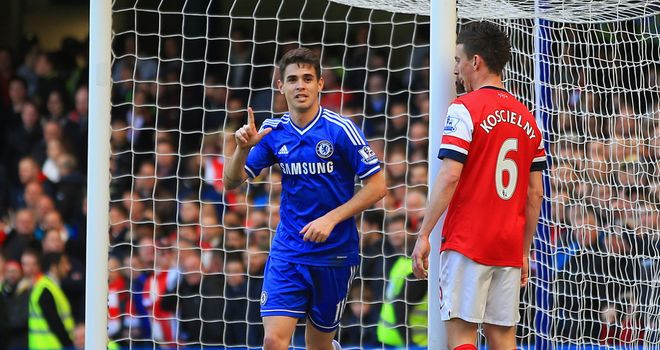 Oscar: Two goals meant the Brazilian enjoyed a day to remember against Arsenal
It is also worth noting that Oscar looked back to his old self, playing a key role in attack and scoring a brace from his position as Chelsea's No. 10. His neat finish in the first half was the first time he had scored or assisted in the Premier League since 1st January, hinting at a welcome return to form ahead of the run-in.
Should we count Arsenal's injury list as a mitigating factor? After that performance, it is difficult to suggest any excuses, but it would surely not have been the same result had Wenger been able to name his strongest team. But saying that, Chelsea were also missing two regular starters, and Wenger has passed up plenty of opportunities to prepare his squad for potential injury crises.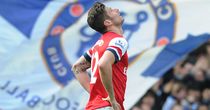 Olivier Giroud: Missed chance
That point is exemplified by the tale of two strikers on Saturday. Considering the events that followed, it is quite easy to forget that Olivier Giroud spurned a fantastic chance to open the scoring for Arsenal. His scuffed shot failed to test Petr Cech and moments later, Eto'o's sublime finish gave Chelsea a lead from which they never looked back. It is a point often made, but if Wenger had serious plans to challenge for the title this season, he should have ensured that he had enough cover in his squad. To pursue Luis Suarez, fail in that pursuit, and then not sign an alternative either before the end of the summer or in January is alarming negligence that will continue to raise doubts over whether the manager should extend his contract.
And after that performance - and the story of Arsenal's season - the questions over Wenger's renewal should not be answered in a manner as simple as the manager signing the paperwork. Wenger may have said before Saturday's heavy defeat that he wants to stay, but is that still the right decision for both the manager and the club?
Victory in the FA Cup might argue that it is, but, should that juncture arrive, it might also be the perfect time for Wenger to bow out with dignity. Arsenal have improved this year, but they have still been kept at arm's length in the title race and at the moment there is little hope that the status quo will change next season.
A version of this article first appeared on Football365
Barclays Premier League

Sat 22nd Mar

Chelsea

6 - 0

Arsenal

Cardiff

3 - 6

Liverpool

Everton

3 - 2

Swansea

Hull City

2 - 0

W Brom

Man City

5 - 0

Fulham

Newcastle

1 - 0

C Palace

Norwich

2 - 0

S'land

West Ham

0 - 2

Man Utd
Table
Barclays Premier League
Related