Skrtel reborn
Centre-back Martin Skrtel has scored more Premier League goals than former team-mate Fernando Torres this season and the Slovakian epitomises Liverpool's flawed-but-fantastic performances. Peter Fraser analyses Saturday's thrilling win at Cardiff City...
By Peter Fraser - Follow me on Twitter @SkySportsPeteF. Last Updated: 23/03/14 5:10pm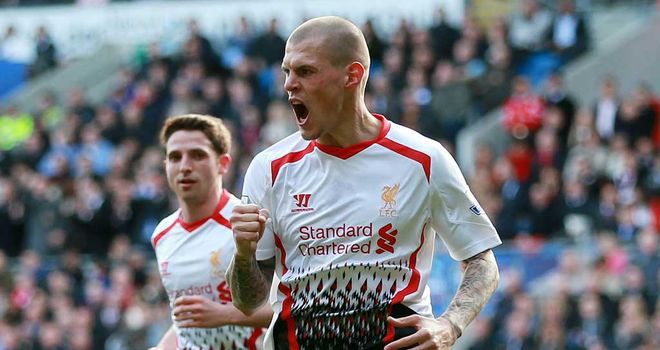 Martin Skrtel: The Slovakian has become an important part of Brendan Rodgers' Liverpool this season
Last summer, having grown disillusioned at a total of just 25 Premier League appearances and seven outings in the Europa League in 2012/13 under Liverpool boss Brendan Rodgers, Martin Skrtel almost left Anfield. The centre-back confesses he nearly quit Merseyside at a time when he was being linked with a return to Zenit St Petersburg or a reunion with his former Liverpool manager, Rafa Benitez, at Napoli.
But Skrtel said this February regarding the 2013/14 campaign: "Before this season started, I just said to myself, 'I will fight and work very hard to try to show people I am able to play and start the games'. I tried to work very hard in training every day and when I got a chance to play, I tried to do my best to help the team."
It was not until last September that the Slovakia international, who joined Liverpool in a £6million deal from Zenit in the January of 2008, got that chance - starting in the 1-0 home win over Manchester United - but he has since not looked back.
Skrtel has now made 31 appearances in all club competitions this season when it is only March and he has become a vitally important part of Rodgers' Liverpool. At the same time, he epitomises the flawed-but-fantastic, wonderfully entertaining and ultimately successful nature of his club's performances in the current Premier League - not to mention an ongoing title challenge.
The 31st of Skrtel's appearances came in Saturday's goals-galore 6-3 victory at relegation-threatened Cardiff City, when he scored his fifth and sixth goal of the season to keep Liverpool in the mix with Chelsea and Manchester City after three successive away games - despite the scare of Rodgers' men having to come from 1-0 and 2-1 down in Wales. Skrtel scored from his only two shots and importantly equalised at 2-2 just before half-time prior to putting Liverpool in front at 3-2 after half-time.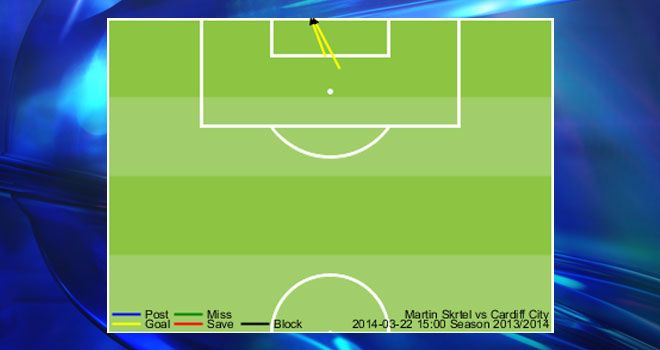 Skrtel scored twice from just two efforts at goal against Cardiff in Wales
No defender has scored more goals than Skrtel in the Premier League this season and, to put that in further context, he has even scored two more league goals than his former team-mate and striker, Chelsea's £50m Fernando Torres, in 2013/14.
Skrtel scores his first goal
It had previously taken Skrtel until the August of 2012 to score a total of six league goals in a Liverpool shirt and his increased haul undoubtedly owes much to the attacking tactics of Rodgers. To epitomise this, Skrtel's double at Cardiff came just 42 days after he had also scored twice in the demolition of Arsenal. His second at Cardiff further underlined Liverpool's threat in aerial positions as it came as their 12th headed goal of the season in the league.
With 82 goals, Liverpool have already scored more times than in any of their previous individual Premier League campaigns and Chelsea's record of 103 in a season is not out of the question. That has been aided by Skrtel's goals from centre-back and it is a big bonus for Liverpool given that every successful team in Premier League history often relied on a contribution of goals from centre-back - from Manchester United's Steve Bruce to Chelsea's John Terry. Goals from defence can be just one of the fine margins by which silverware is decided.
Of course, though, there is often a ying to that yang - and that has regularly been the case with Liverpool this season amid what has been a gung-ho approach. While Skrtel is contributing a career-best total of goals in a Premier League season, he is part of a defence which has conceded only one less goal than 17th-placed Crystal Palace.
It is no secret that it has been thanks to the world-class attacking pair of Luis Suarez and Daniel Sturridge that Liverpool's defence has been bailed out on several occasions this season and this was again the case at a goal-shy Cardiff - with the former scoring a hat-trick. If Liverpool do not win the title this season, the blame will fall squarely on their defence.
Three of those goals Liverpool have conceded this season have also come from Skrtel's own goals. That underlines a feeling which has existed ever since his first Liverpool start, a horror show in a nervy 5-2 FA Cup win over non-league Havant & Waterlooville in 2008 - when the score had even been 2-2 at half-time - that when he is bad, he is really bad.
But it would be unfair to isolate Skrtel, who, before kick-off against Cardiff, had contributed the most clearances on average per game by a single player in the Premier League this season (11.5). The 29-year-old had also averaged more blocked shots per game (one) than any of his Liverpool team-mates while that total also ranked him as the seventh most successful player in the league in that discipline.
Likewise, before the win over Cardiff, Skrtel had helped Liverpool keep consecutive clean sheets for the first time since September, which was seemingly no coincidence to the fact he had played full back-to-back games with Daniel Agger. The pair give Liverpool the balanced right foot; left foot combination in the heart of defence while it was also thought Skrtel was benefiting from again having Agger, Liverpool's vice-captain, as a partner with more experience of their club as opposed to the frequently changing partners of comparative new-boys Kolo Toure and Mamadou Sakho. Skrtel does seem to struggle when he has the responsibility of being the dominant, lead, vocal centre-back. Conceding three times at Cardiff, though, gives this argument less weight. It is another confusing element to this current Liverpool crop.
It is more to do with Rodgers' offensive tactics, the incredibly advanced full-backs, which leave Liverpool's centre-backs exposed. This was particularly the case against Cardiff, when the home team's opening two goals inside the first 25 minutes took advantage of the space around Liverpool left-back Jon Flanagan. Cardiff's third goal, a consolation in the 88th minute, then raised question marks about Skrtel's marking, when he was out of position and allowed Kenwyne Jones to assist Jordon Mutch.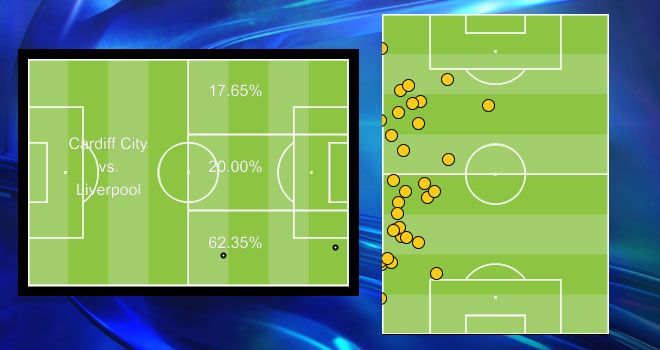 Cardiff's attacking in the first 30 minutes (left) exposed the spaces left by the advanced Jon Flanagan (right)
"We were probably too deep in the first half and the pitch was stretched too much, which gave them too much space. But I think anybody watching Liverpool today would see the real attacking threat we have. We were wonderful with the ball at times."
Brendan Rodgers Quotes of the week
Skrtel, though, did stand up to the trademark aerial threat of Cardiff, winning 71.4% of his aerial duels - which was more than any other player on the field who had contested seven or more. Likewise, Skrtel made a characteristic 13 clearances in the game, more than double any other player in the match, and won possession nine times, more than any of his Liverpool team-mates.
Last season, there was a sense that no Liverpool player had struggled more than the no-nonsense Skrtel to adapt to Rodgers' policy of passing the ball out from the back. Remember his back-pass to Carlos Tevez in Rodgers' first Premier League home game in charge? And there remains a thought that Skrtel would more often than not prefer to send the ball sailing skywards up field than pass out to his full-backs.
However, at Cardiff, Skrtel boasted Liverpool's most impressive passing statistics. The centre-back played 57 passes at a success rate of 96.5 per cent. He lost possession just twice, which was fewer than any of his team-mates. Skrtel even contributed an assist with a more characteristic long ball forward for Suarez's hat-trick and Liverpool's sixth goal. Skrtel, meanwhile, was the man to see more of the ball than centre-back partner Agger, suggesting he is now the man Rodgers tasks with passing out from the back.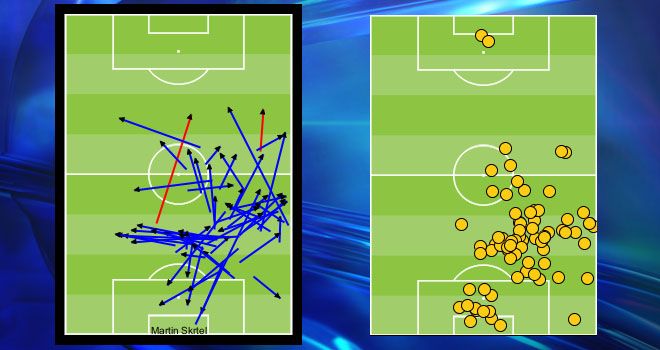 Skrtel was Liverpool's best passer against Cardiff (left) and he touched the ball more than Daniel Agger (right)
Ultimately, Skrtel looks a player reborn. He has been challenged to bring different elements to his game under Rodgers and is consequently blossoming. As a part of a struggling Liverpool defence, there, too, is a sense he represents the overall conundrum of this astonishingly interesting team as a whole - there are things wrong but it just works. That is the thing with this Liverpool squad, they are baffling yet brilliant and Skrtel is a case in point. It could yet result in the title.
Barclays Premier League

Sat 22nd Mar

Chelsea

6 - 0

Arsenal

Cardiff

3 - 6

Liverpool

Everton

3 - 2

Swansea

Hull City

2 - 0

W Brom

Man City

5 - 0

Fulham

Newcastle

1 - 0

C Palace

Norwich

2 - 0

S'land

West Ham

0 - 2

Man Utd
Table
Barclays Premier League
Related
Cardiff v Liverpool
Cardiff boss Ole Gunnar Solskjaer remained optimistic that he could still save the club from Premier League relegation.

Glenn Hoddle says Luis Suarez's 'telepathic' partnership with Daniel Sturridge is one of the best.

Luis Suarez insists Chelsea and Manchester City remain the favourites for the Premier League title.