Up in the air
Aston Villa did not make the most of Christian Benteke's aerial strength against Stoke and paid the price in a miserable 4-1 defeat. Peter Fraser analyses Sunday's game at Villa Park
By Peter Fraser - Follow me on Twitter @SkySportsPeteF. Last Updated: 23/03/14 7:35pm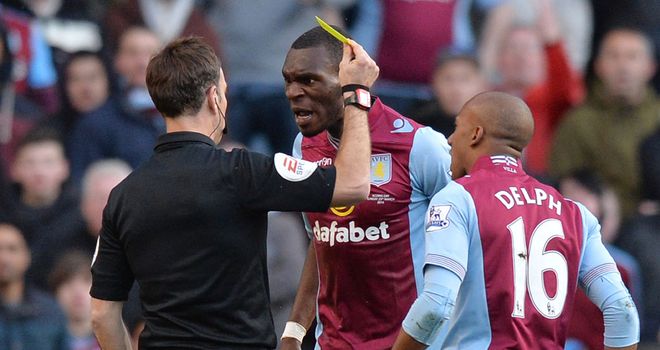 Benteke: The Villa striker opened the scoring but it was then a frustrating afternoon
It might not be attractive, it might not be fashionable but when you are good at long-ball football, keep doing it.
Aston Villa's success against league leaders Chelsea earlier in March was due to the fact they disrupted their visitors' style of play with a route one approach. Paul Lambert's game plan was simple if uninspired; get it up to the big man. Going direct is unstylish but it, targeting the aerial strength of Christian Benteke, has been a hallmark of Villa.
It was therefore strange that Villa abandoned this method in their miserable 4-1 defeat by Stoke City on Sunday. Perhaps it was because they felt they could not beat Stoke at what is, wrongly or rightly, perceived as the Britannia Stadium club's own game? Perhaps it was because Villa thought they could out-play Stoke on the deck compared to table-topping Chelsea? Perhaps it was because Villa scored early this weekend? Whatever the reason, Villa attempted an alternative type and it did not work.
Against Chelsea, Villa goalkeeper Brad Guzan hit 16 long balls to Benteke, who was playing to the right of the centre of the field. Chelsea even tried to counter this tactic by man marking Benteke at aerial balls with Nemanja Matic. Versus Stoke, that same Guzan-Benteke combination happened on just five occasions, with the latter more frequently playing on the left of the pitch.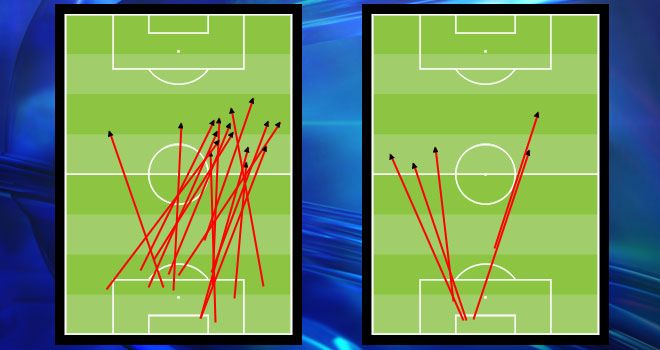 Guzan hit 16 long balls to Benteke v Chelsea (left) but played just five v Stoke (right)
That policy of Guzan going long to Benteke in the win over Chelsea, who were admittedly playing with a numerical deficit in personnel for the last 22 minutes, meant Villa were then able to surround their striker with Gabriel Agbonlahor and Andreas Weimann, who grabbed the knockdowns and sent Villa on the attack.
This was not the case in the loss to Stoke as Weimann was forced off just after the half-hour mark with a dead leg while Agbonlahor was positioned further away and this left Benteke isolated.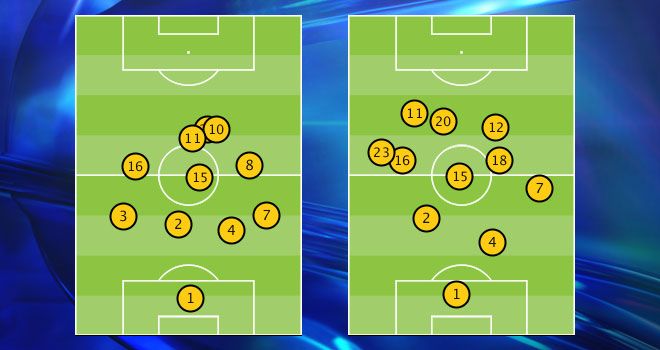 Benteke (No.20) supported by Agbonlahor (No.11) & Weimann (No.10) v Chelsea (left) but isolated v Stoke (right)
Villa have averaged 35 long balls per game this season, more than any other team, but against Stoke they played less than half with just 17. Villa had instead clearly decided they needed to try and out-pass Stoke and, although they opened the goalscoring in the game with Benteke's well-worked strike from nice build-up, it ultimately backfired. They played 466 passes against Stoke in comparison with just 300 against a Chelsea team who, it should be repeated, were playing with 10 men or less from the 68th minute.
This proved to be the downfall of Villa versus Mark Hughes' men. Lambert's side had previously been on a roll after also beating Norwich City at Villa Park before the win over Chelsea. However, Villa have now still not won three successive home games in the Premier League since October 2007 - giving Stoke their first away win in the league in 14 attempts in the process.
That makes it all the more confusing why this inconsistent and inexperienced Villa changed their policy from going long to Benteke combined with the alternate positioning on the pitch from right to left of the Belgian. The loss of Weimann may have had an impact but Villa should still have not been ashamed to have gone direct to their powerful forward, Benteke.
Players with most aerial duel wins by European league
| | | | | | | |
| --- | --- | --- | --- | --- | --- | --- |
| Division 2013/14 | Premier League | Serie A | La Liga | Bundesliga | Ligue 1 | Eredivisie |
| Player (Aerial duels won per game) | Christian Benteke (8.9) | Giulio Migliaccio (4.3) | Christian Stuani (5.5) | Adrian Ramos (6.5) | Bruno Ecuele Manga (4.3) | Michael Higdon (6.2) |
Benteke's aerial prowess is incredibly effective and, combined with Villa's style of play, he has the best record this season for winning aerial duels of any player in Europe's top leagues - the Premier League, La Liga, Serie A, the Bundesliga, Ligue 1 and the Eredivisie (see above table).
With such a weapon at their disposal, it is a mystery why Villa did not try to utilise the tactic more frequently versus Stoke. Lambert should be ruing the decision.
LIVE and exclusive on Sky Sports
Latest Poll
Table
Barclays Premier League
Related
Aston Villa v Stoke 2014

Stoke City chairman Peter Coates believes his side's display against Aston Villa was their best away from home.

Captain Ron Vlaar says Aston Villa must cut out the mistakes if they are to avoid a nervous final few weeks.

Stoke City boss Mark Hughes hopes midfielder Stephen Ireland will sign a new contract with the club soon.