The real Soldado?
Roberto Soldado scored his first Premier League goal from open play at White Hart Lane in Sunday's victory over Cardiff but Peter Fraser thinks the Tottenham Hotspur striker must do more if he is to be a long-term success in England's top flight...
By Peter Fraser - Follow me on Twitter @SkySportsPeteF. Last Updated: 03/03/14 9:48am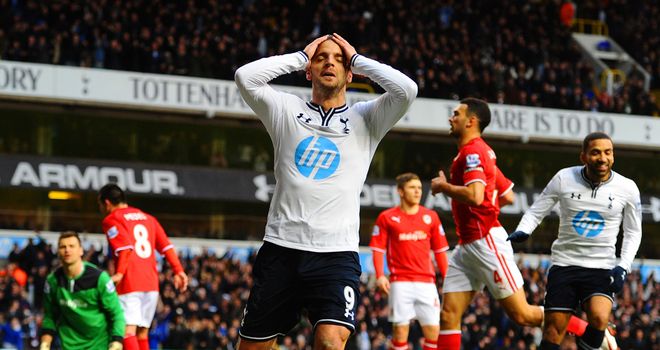 Roberto Soldado scored his first league goal from open play at the Lane but was otherwise disappointing
When Ole Gunnar Solskjaer scored his first goal in the Premier League as a Manchester United player back in August 1996, Tim Sherwood was in the opposing Blackburn Rovers team at Old Trafford.
The Norwegian came off the bench to score United's second equaliser in a 2-2 draw in what was to become a trademark role for the 'Baby-Faced Assassin' in netting at important times as a substitute.
Jump forward almost 18 years and, on Sunday afternoon, Solskjaer and Sherwood met as Premier League bosses for the first time. However, it was another imported striker who was achieving a first in England's top flight.
Roberto Soldado's 28th-minute goal in the narrow 1-0 victory over relegation-zone occupants Cardiff City was his first from open play in the Premier League at White Hart Lane. It was also the £26million summer 2013 signing from Valencia's first goal in any form in 2014.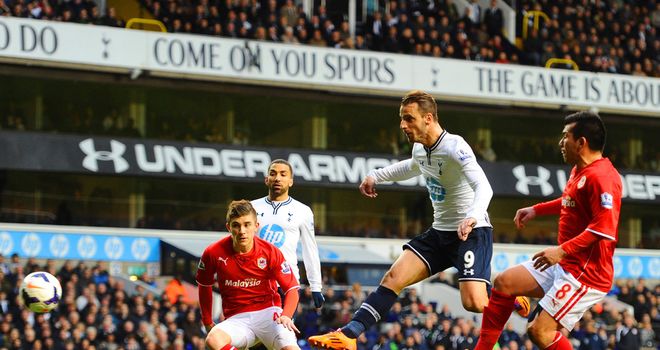 Soldado's goal proved to be the winner and it was a good moment of striking instinct in the 28th minute
The goal could finally be a start which the 28-year-old - whose three previous league goals at the Lane had come from the penalty spot - needed. But, worryingly for Spurs fans, there was also little else in the victory to silence concerns he is simply not cut out for the Premier League.
In what was Soldado's first start for Spurs in the league since the draw at Hull City on February 1, Sherwood maintained his policy of a 4-4-2 formation - giving the striker the partner which many believe he requires along with the flying wingers of Andros Townsend and Aaron Lennon to, in theory, provide the service.
Emmanuel Adebayor was Soldado's strike partner and they linked up well for the goal which secured the win and moved Spurs to just six points behind third-placed Arsenal with the North London derby only two weeks away.
After receiving Adebayor's pass, Soldado controlled the ball with a flicked first touch before a quick, volleyed finish from close range. It was a good bit of individual skill and epitomised Soldado as the goalscorer who netted 24 times in La Liga last season.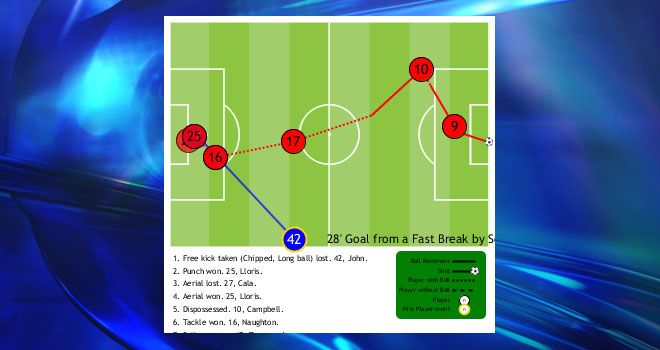 Emmanuel Adebayor (No.10) provided the pass for Soldado (No.9) to score what proved to be the winner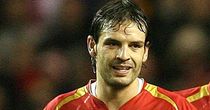 Fernando Morientes: Disappointed
But otherwise in the first half, the former Getafe, Osasuna and Real Madrid man looked off the pace. Watching Soldado does create memories of Fernando Morientes' disappointing spell at Liverpool in the Noughties - when the Spanish striker arrived at Anfield with a big reputation, but failed to adapt to the speed and physicality of the Premier League.
Up against the Cardiff defenders of the likes of former Spurs man Steven Caulker, who was returning to White Hart Lane for the first time since his summer move, and Ben Turner, Soldado won a woeful total of just 14.3 per cent of his seven first-half duels.
Soldado also touched the ball only 27 times, which was less than any other outfield Tottenham player before half-time. It is not uncommon for a striker to have touched the ball less than other players, but combined with the fact he attempted only two shots, including his goal, before the interval makes for an unconvincing performance.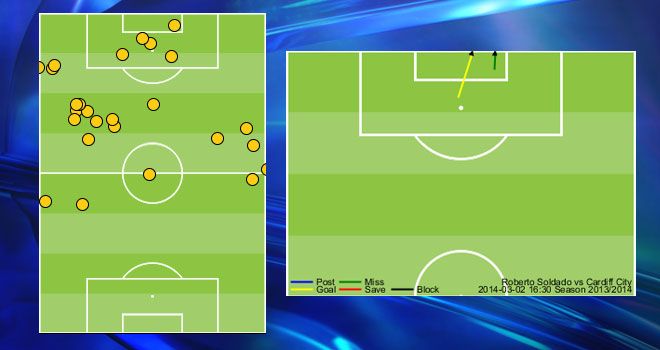 Soldado touched the ball just 27 times in the first half (left) and managed only two shots in the game (right)
The same can be said of Spurs throughout the game. They won and that is of course what matters but, with his team's confidence clearly dented by that defeat at Norwich City, Sherwood is now certainly discovering management in the Premier League is far from straightforward. Spurs looked nervous, lacking in ideas and edged to this victory against a team who are widely expected to be relegated.
Soldado was substituted in the 83rd minute and in the second half had not managed to add to his tally of two shots. This was not aided by his team-mates, who still seemed to lack the direction which Sherwood was appointed to address. There was an abundance of fast, attack-minded players but, as has so often been the case over recent weeks, they seemed to simply dash around the field with little or no strategy.
At 92.9%, Soldado did have the best success rate for passes in the opposition half among any of the players who had started the game on either side, having attempted 28, but not one of these was a pass into the penalty area. His only forward pass inside the penalty area during the game also failed. In addition, 12 of Soldado's overall passes were simple lay-offs to advancing right-back Kyle Naughton.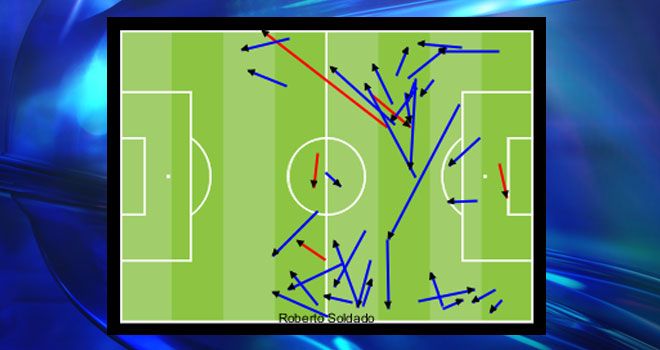 Soldado's only forward pass in the area was failed (red) despite a good record in the opposition half
When he went off, Soldado had improved his record in duels, winning 40% of his 10, but he was still too easily knocked off the ball in general during the game by the strength of Cardiff's defenders. He was once again found lacking for the power of the Premier League.
Soldado is generally recognised as a penalty box player, that clichéd 'fox in the box', who requires service. But he needs to do more if he is to be a long-term success at Spurs and in the Premier League. On this evidence, he might not be up to it. That this was his first goal from open play at White Hart Lane in the league almost seven months into the season perhaps says it all.
Latest Poll
Table
Barclays Premier League
Related
Tottenham v Cardiff
Jan Vertonghen believes March will make or break Tottenham's bid for a top-four finish.

Roberto Soldado admitted he was 'ecstatic' after scoring Tottenham's winning goal in the 1-0 victory over Cardiff City.

Emanuel Adebayor was happy to see Tottenham team-mate Roberto Soldado score his first goal in nine matches.