Credentials crumbling
Arsenal had just two shots on target in their defeat at Stoke as they appeared to pay the price for resting Alex Oxlade-Chamberlain. Peter Fraser analyses a side painfully lacking in pace in their latest day of misery at the Britannia Stadium...
By Peter Fraser - Follow me on Twitter @SkySportsPeteF. Last Updated: 02/03/14 2:57pm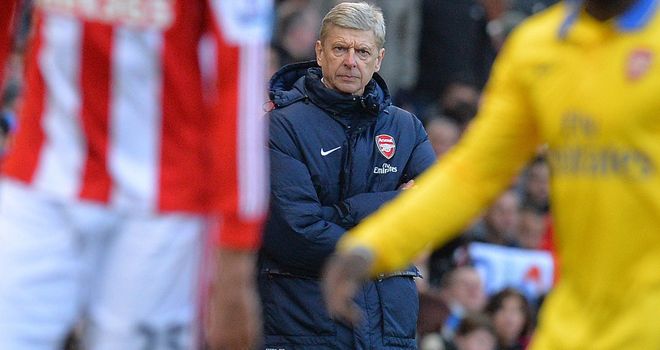 Arsene Wenger: Arsenal have failed to win in their last four visits to the Britannia Stadium
The tortoise does not always win the race. Arsenal's Premier League title hopes were dealt another devastating blow in Saturday's 1-0 defeat at Stoke City and the loss should see Arsene Wenger's tactics come under scrutiny.
Arsenal's manager appeared to believe slow and steady would lead to success at their bogey ground of the Britannia Stadium, where his side have now failed to win in their last four league visits, but the dropped points only further underlined the need for some spark and speed.
It is all very well Wenger's squad boasting the enviable pass masters, such as Santi Cazorla, Jack Wilshere, Mikel Arteta, Tomas Rosicky or Mesut Ozil, who returned off the bench in the second half, however, they need to be surrounded by pace.
Jonathan Walters' 76th minute penalty ultimately decided the game, and Wenger will no doubt point to the uncompromising style of Stoke and the debate around the spot-kick, but the unfavourable verdict for Arsenal is that they never looked like winning. The defeat only emphasised their deficiencies and lack of strength in depth along with why their title credentials are crumbling.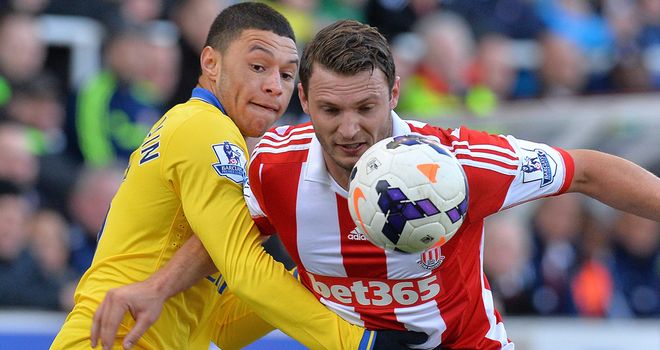 Alex Oxlade-Chamberlain: The youngster came on with just 16 minutes plus stoppage time remaining
The sight of Wenger putting on his dreadful overcoat midway through the first half told the story of the match. There was nothing to warm the heart on the field from an Arsenal perspective, particularly in a first half that was a contender for the worst period of football in the Premier League this season.
Unusually, Arsenal (225) were ever so slightly out-passed by Stoke (230) in that first half but the visitors' greatest problem was that excruciating and complete lack of pace.
With Theo Walcott injured since January, a need for speed is not a new concept for Arsenal and so that made Wenger's decision to start with Alex Oxlade-Chamberlain on the bench, particularly in a period when the youngster had not played since the defeat by Bayern Munich on 17th February and would not be in action again for his club until next weekend's FA Cup game versus Everton, all the more confusing.
Wenger will be conscious of the probability of Oxlade-Chamberlain playing for England against Denmark next week. But, even for a player who will admittedly still be working his way back to full fitness after missing the first half of the season through injury, that does not seem like too much of a workload for a 20-year-old.
Arsenal's lack of pace meant the likes of Cazorla, playing as the central man in the advanced midfield three of a 4-2-3-1 formation, had few options when looking for the attacking pass. The Spaniard did not misplace a pass until the 36th minute and finished the half with 32 passes, more than any other player, but too many of those passes were short, simple and sideways.
Santi Cazorla (left) played too many sideways passes (blue - success / red - fail) while Stoke defended high (right)
As a result of Arsenal's one-gear, predictable build-up, Mark Hughes' Stoke, who have also beaten Chelsea and Manchester United at the Britannia this season, could hold a high defensive line. They were well aware Oliver Giroud did not have the ability to run behind them and could therefore push up the field. The average position in which the home side won possession in the first half was 35 metres from their own goal.
The one attacking Arsenal player with a bit of pace, Lukas Podolski, was consequently isolated on the left, touching the ball only 14 times in the first half - which was less than any other player. That was also half the number of first-half touches of Arsenal left-back Kieron Gibbs (28), who was guilty of not moving the ball forward to his team-mate. In the first half, Gibbs played just one pass to Podolski.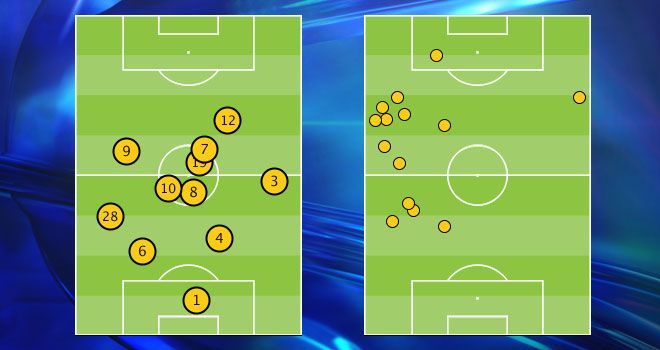 Lukas Podolski (nine) was isolated on the left while he touched the ball only 14 times in the first half (right)
Podolski unsurprisingly lasted just past the hour mark before he was replaced by Ozil but even the German, amid his apparent crisis in confidence, could not rescue Arsenal either side of Walters' penalty. Ozil operated further forward than Cazorla and tried to play more passes into the penalty area but they were largely without success.
Oxlade-Chamberlain finally came on in the 74th minute, taking Rosicky's place on the right of the advanced midfield three, and his speed and power created two chances in his 16 minutes plus stoppage time - including Yaya Sanogo's poor, last-gasp scoop over the crossbar. That total of two chances created was more than any other single Arsenal player in the entire game. Oxlade-Chamberlain also played further forward and wider than is natural for Rosicky and that was a main reason in his increased effectiveness.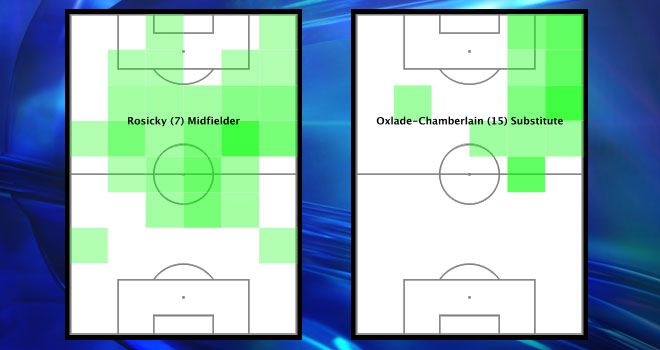 Oxlade-Chamberlain's action areas (right) were wider and higher than Tomas Rosicky (left) when he came on
But the damage had already been done for Arsenal. Wenger's team did not manage a shot on target in the second half, meaning they had just two shots on target in the match. Arsenal made their own mistakes and they have now slipped four points behind Chelsea at the top of the table after winning just two of their last six Premier League games. Slow and steady does not always win the race.
"It was a tight game that we lost unfortunately on a very generous penalty. Apart from that, I felt that in the first half we had opportunities where we made the wrong decision and chose to take a shot instead of giving the ball, in two or three occasions. In the second half, when we started to really push them back in the final third, a counter-attack on the long ball got them a penalty."
"I thought we were excellent from start to finish. We restricted Arsenal to very few opportunities. We had really good chances ourselves as well, apart from what was obviously a clear-cut penalty - I think there is no doubt about that. We are delighted. It is difficult when you go up against a team like Arsenal - they will try and probe and create, but I thought we coped fairly well with them."
Table
Barclays Premier League
Related
Stoke v Arsenal

Stoke City chairman Peter Coates has described the FA's decision to charge midfielder Charlie Adam as "appalling".

Asmir Begovic considers Stoke City's victory over Arsenal to be 'huge' and says he is now back to full match fitness.
Arsenal manager Arsene Wenger feels it will be difficult for his team to catch current league leaders Chelsea.